The beloved oreo cookie and ice-cream together in this homemade waffle bowl and cone…what could be better? I really can't think of anything right now. I have a huge love for ice-cream and homemade is my favorite as long as it's made correctly. This ice-cream was so rich, and creamy and delicious the two little love birds below couldn't resist it even after they both said "oh we are so full", yep one lick and it got them. Soon after clicking my mandatory photos they were off for a movie date and I know that popcorn got snubbed that night.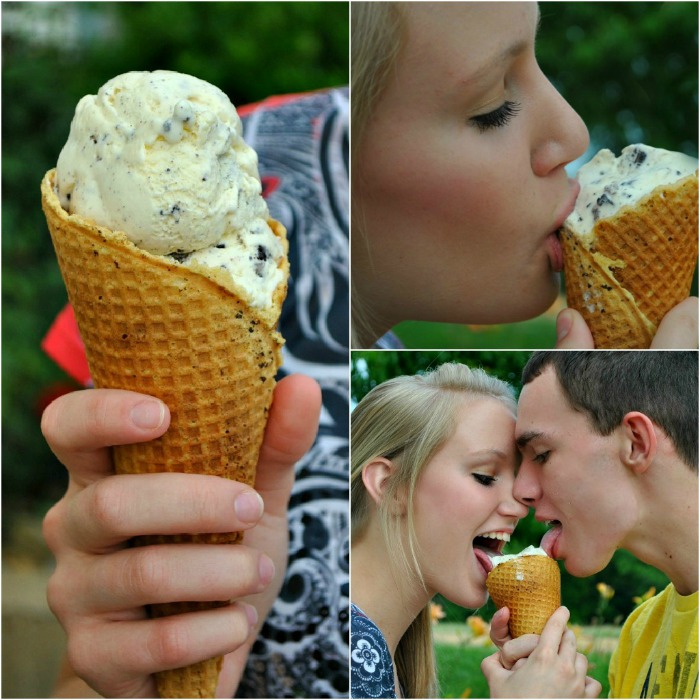 I have been wanting to share my neat new kitchen toy my waffle cone iron that I found for $7.00, I know what a steel and it was new too. I didn't get it at a garage sale either, not that those are bad because they aren't. Anyway it was still winter when I found this waffle cone iron so I have been patiently waiting to tell you all about it. I love to make my own waffle cones, especially since we live in the country and  we can't just go down to my current favorite ice-cream store (Marble Slab) and get one of these yummy treats. Needless to say I'm loving my waffle cone iron. Lucky for me I had experience not just eating waffle cones but in making them too, I was employed at Baskin Robbins for the better part of my teenage years. I made waffle cones every morning when the store opened for the day and of course had to sample the ones that didn't turnout just right :). If  you don't own a waffle  cone iron no biggie just buy the pre-made ones at the store they aren't bad or skip them all together and just make the fabulous ice cream.  Enjoy the Summer and all the fun it has to offer.
Ice Cream Bloghop: "Cookies-n-Cream Ice Cream" and Waffle Cones
Ingredients for Ice-Cream:
2 eggs
3/4 cup sugar
2 cups heavy whipping cream
1 tsp. vanilla extract
pinch of salt
1 1/4 cup crushed chocolate sandwich cookies about 12 cookies
Directions:
Step 1: In medium mixing bowl beat eggs until light in color then slowly add sugar until beaten well and mixture is thick.
Step 2: Slowly add the cream to the egg and sugar mixture then add vanilla and salt.
Step 3: Pour the mixture into the ice-cream maker and turn on. When the ice-cream is almost done add the cookie crumbs. When the ice-cream is done take the ice-cream out of the ice-cream maker and put into a freezer safe bowl and cover let harder for several hours or over night.
Ingredients for waffle cones:
3 egg yolks
1 cup flour
1 T. vanilla extract
1/2 cup butter melted and cooled 4 oz.
1 tsp. baking powder
3/4 cup sugar
Directions:
Step 1: Beat eggs, and slowly add sugar and beat until smooth.
Step 2: Add cooled butter and vanilla to egg mixture.
Step 3: Sift flour and baking powder together, then blend into the egg mixture until smooth. Batter will be thick.
Step 4: Pour about 1/4 cup or a little less into the waffle cone machine and cook until the light turns off, or follow the manufactures directions on your machine.
Step 5: When the waffle is done, carefully remove I use a butter knife to help me get it to slide over, then I put it done on a the counter and quickly roll up using the plastic cone. It will cool quickly then you can start the process over again. To make a bowl I just put the cooked waffle into a bowl and let it cool. I tried draping it on the outside of the bowl but found that it didn't work out well with my bowls.  Recipe for waffle cones from Rival Recipe book that came with my waffle iron.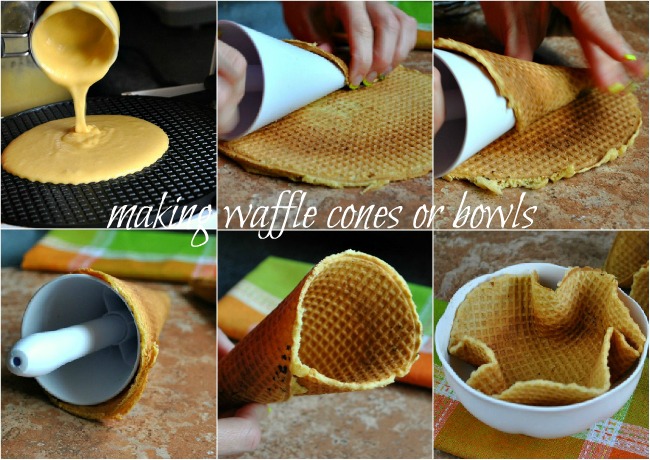 Okay now it time for you join me along with the other hosts  below in sharing your favorite ice cream recipe because June is #icecreamlove month!
Astig Vegan
Baker Street
Baking and Cooking, a Tale of Two Loves
BigFatBaker
Bon à croquer
Cake balls, cookies and more
Cheap Ethnic Eatz
Georgiescakes
Hobby And More
No One Likes Crumbley Cookies
Pippi's in the Kitchen Again
Rico sin Azúcar
Soni's Food for Thought
That Skinny Chick Can Bake!!!
You Made That? 
Please join in on the #icecreamlove fun by linking up any ice cream recipe from the month of June OR July 2012. Don't forget to link back to this post, so that your readers know to come stop by the #icecreamlove event! The twitter hashtag is #icecreamlove.