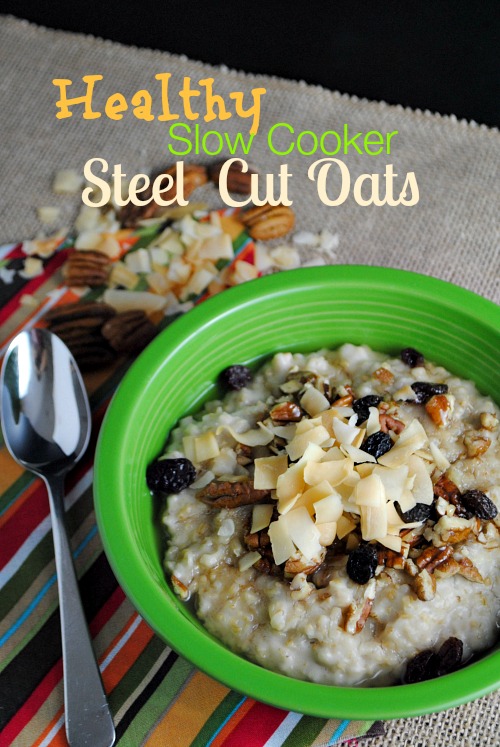 I have been wanting to try steel cut oats for a while so I did and I love them, of course I am an oatmeal lover. Steel cut oats are the whole oat groat cut into pieces by a steel buhr mill. Other names for steel cut oats are Irish oats or pinhead oats. Steel cut oats are a bit more chewy than regular oats and they seem to fill me up longer than regular whole oats. I love the fact that I can cook these over night while I'm sleeping and wake up to a hot breakfast without much effort. There are endless possibilities of how to enjoy oats and what to put into them. I stuck with healthy ingredients and skipped the brown sugar but replaced it with raw honey. The oats were already sweetened from the coconut milk and water I used and needed very little honey per serving to give added sweetness. The raisins gave my oats an added chewiness while the crunch from the nuts and coconut chips made this breakfast perfectly balanced.
I wanted to share a little about what inspired me to make this recipe.  I was asked to try these wonderful coconut chips by Bare and at the same time was asked to review some organic Cocozia coconut water from Epicurex.  I loved both products and can see using them often in my cooking and baking as well as for a healthy lifestyle.  I enjoy using organic and all natural products because I know it's better for my overall health and for our environment.  Anytime that I can use a products that have very few ingredients listed and I can pronounce all of them I feel like they are much better for me.  Knowing what we take into our bodies and using less preservatives is always a good thing.  Our bodies were not made to ingest comicals and they don't know what to do with them.  My opinions are mine and I was not compensated in anyway from either of the above companies.  I do hope you will give both of these products a try they will not disappoint you.  Do some research on the health benefits from coconuts and you might find yourself looking into these delicious products and using them in your regular cooking and healthy living routine.
I've posted links above and below with the companies that supplied me with the ingredients and where to find the coconut water and coconut chips I used in my recipe.  You may find alternative places to buy them and that is fine.   Since I live in a rural area it's much easier for me to order things that I can't find at my local grocer and buy them online.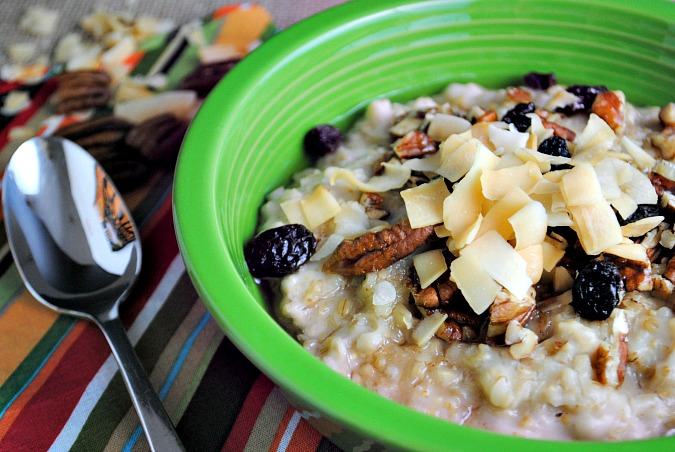 Healthy slow cooker steel cut oats
Ingredients:
1 cup
steel cut oats
2 cups 
Cocozia coconut water
or plain water
2 cups coconut milk
dash salt
Toppings:
Tablespoon raw honey
raisins
cinnamon
nuts of your choice
Bare Coconut Chips
Directions:
Step 1: Use a bowl big enough bowl to fit the inside of your crockpot but low enough that you can put the lid on. Add the oats, liquid and dash of salt.
Step 2: Take a piece of foil and put under the bowl and put into the crockpot. Fill the crock pot with water about half way up the bowl, put the lid on and turn onto low. Go to bed and wake up in the morning and you will have cooked and ready to eat oatmeal.
Step 3: Put the toppings of your choice on or the ones I listed above.