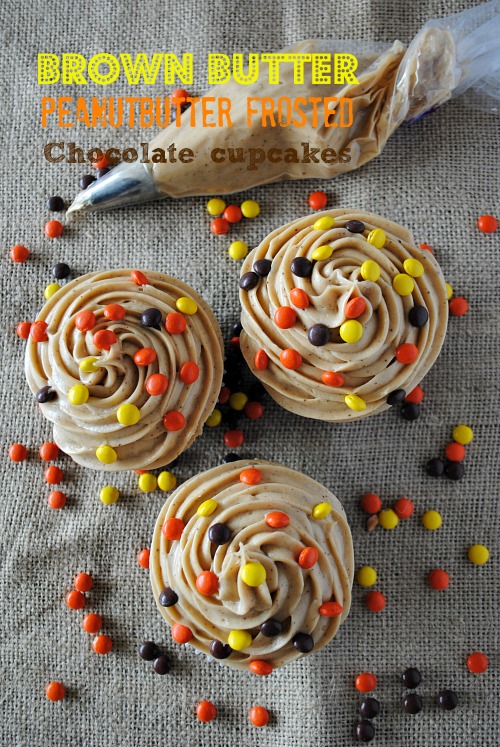 I am sharing this recipe today in honor of my blog's 5th anniversary. It's hard to believe that my blog is that old but some 409 posts later and I still love to do it.   It's a very gratifying and satisfying hobby that keeps me reaching to be a better cook and baker.  I truly appreciate everyone who reads my blog and makes the recipes or just dreams of making them, like I often do with cooking.  I love that cooking/baking is for all ages and gender and is something we can share for a life time with family and friends.  Thanks everyone for being a part of my journey.
If you look closely at the the photos here you will see some little brown flecks in them, that is the brown butter. I recently made these cupcakes for a Scout auction and I wanted to make them a little more special and the idea came to me to use brown butter. Brown butter is just delicious in food, I can only tell you how it makes a difference but until you give it a try you don't really get it. A good friend of mine last year tried browned butter in one of her veggie pasta dishes and she had to text me right away and tell me I was right, browned butter makes the difference! It adds this nutty flavor that can't be described and a richness that has you wanting more.  If you are a peanut butter lover then this frosting is awesome but even better with brown butter instead of regular.
I never grew up eating much peanut butter but it has grown on me over the years and peanut butter is one of my cravings now. Who doesn't like chocolate and peanut butter together? Whoever came up with that combination was genius, and it was a match made in heaven. Naturally this brown butter peanut butter frosting goes perfectly with dark chocolate cupcakes. I cheated on my favorite homemade cupcakes and used a box mix for these, sometimes time is of the essence. When I do cheat I always try to use buttermilk in the cake box recipe instead of water for the liquid, and I always pair the box mix with homemade frosting so it taste homemade. Most people can't tell the difference between box mix and homemade but seasoned bakers can. For theses cupcakes I used my extra large muffin pan and liners, it yielded 9 large cupcakes. I ended up with just a little frosting left over, enough to eat by itself. If you plan to make these you can use a regular muffin pan and the frosting should give you enough to frost all of them since the surface area is much smaller than a large cupcake. I highly recommend this frosting for chocolate cupcakes or a cake, you will be pleasantly surprised at how wonderful it turns out. Happy Baking!
Brown butter Peanut butter frosted Chocolate cupcakes
Ingredients:
1/2 cup browned butter
1 cup creamy peanut butter (I used honey roasted)
3 cups powdered sugar
1 tsp. vanilla
1/3 – 1/2 cup half and half
dash of salt
Mini baking Reese's pieces for garnish
Directions:
Step 1: Get a small saucepan and put the butter in, cook on medium-low heat stirring often until the butter begins to smell nutty and look brown with bits on the bottom of pan. Turn off heat and take pan off burner, let cool to room temperature.
Step 2: In a large mixing bowl add the butter, peanut butter and vanilla and cream together, then add half the powered sugar and half the half & half and beat well. Add the remaining sugar and liquid and beat until soft and fluffy. Frost cake or cupcakes with knife or by using a pastry bag with star tip. Store any remaining frosting in air tight container in the refrigerator.