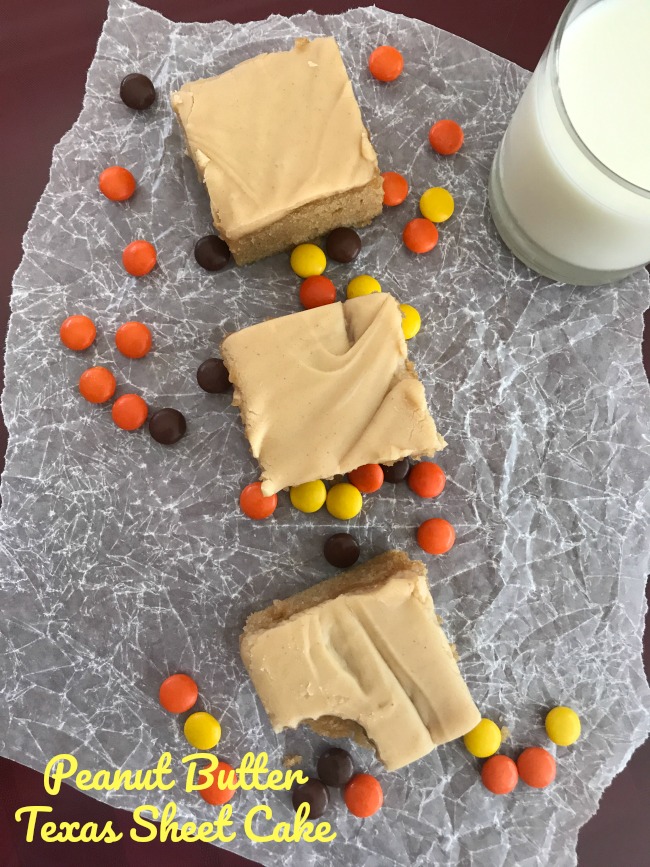 Peanut butter is one of the best kind of butters I know. I didn't think this growing up, in fact I never really even liked peanut butter that much (crazy..huh). I wasn't a PB fan until I was an adult…go figure! Now, I have to limit my peanut-butter in-take (ha ha) who knew that would happen. I actually feel so sorry for all those people allergic to peanuts. If you are not allergic then read on and make these rich and delicious cake bars.
I remember the first time I made these delicious bars, I fell in love. I probably ate most of them too. I made these for a road trip and was so happy I did. The fact that this recipe is a sheet cake makes them easy to take for a family get together or taking to a BBQ or picnic. One thing that is sure to happen is that these Peanut Butter Texas sheet cake bars will get eaten up quickly and people will be asking for the recipe.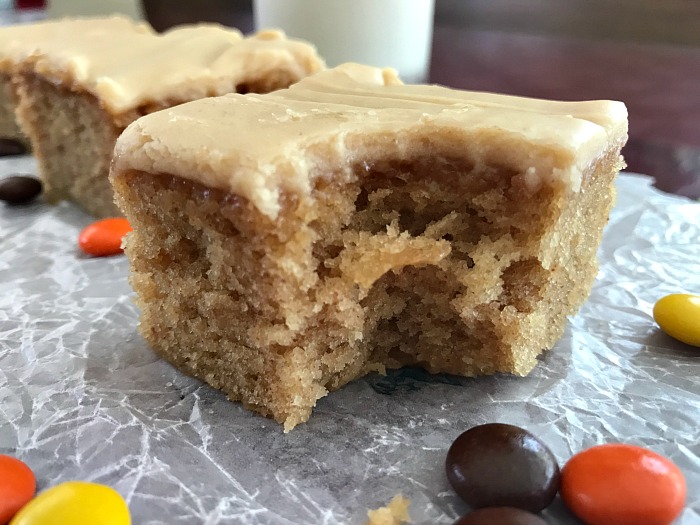 Peanut Butter Texas Sheet Cake
Ingredients:
2 1/2 cups sugar
1 1/2 teaspoon baking soda
3 cups flour
1 teaspoon salt
2 sticks butter
1 1/2 cup water
1 1/2 cup peanut butter
1 cups milk
2 teaspoon vanilla
3 eggs
Frosting:
1 stick butter
½ cup peanut butter
6 teaspoons milk
1 tsp. vanilla
1 pound powdered sugar
Directions:
Step 1: Preheat oven to 400 F.
Step 2: In a large bowl, mix together sugar, baking soda, flour and salt. Set aside.
Step 3:Combine butter, water and peanut butter in a saucepan and bring to boil. Pour over flour mixture.
Step 4: Add milk, vanilla and eggs. Mix.
Step 5: Pour into large sheet cake pan 13 in X 18 in.. Bake at 400 F for 25-28 minutes. Remove from oven when cake is done.
While the cake is baking make frosting:
Step 1: Bring butter, peanut butter and milk to boil in a saucepan.
Step 2: Add the powdered sugar and until combined. Pour frosting over cake and spread with butter knife or cake spatula.
Makes about 32
Recipe adapted from: Tasty Kitchen