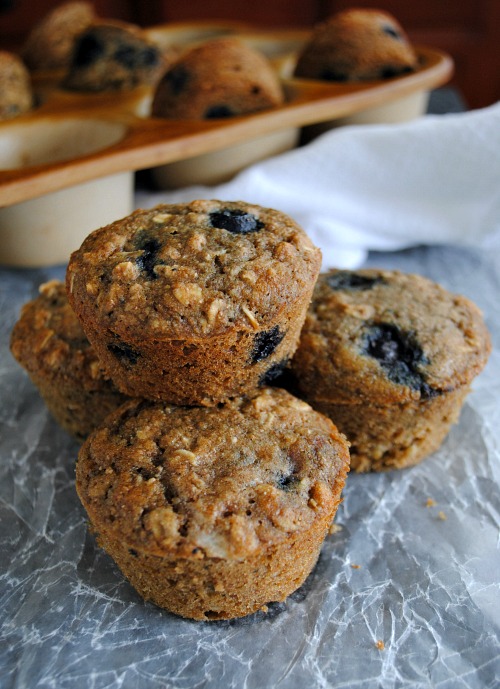 I'm excited about these muffins because they are healthy, and taste good, plus they rose up quite well for a low fat baked good. These are not going to take the place of a regular sweet blueberry muffin with all the fat and sugar, but it will be something you can grab on the go in the morning for breakfast or for a snack. You can leave the guilt behind and eat two of these muffins and still not break your diet plan because they come in at 111 calories per muffin, of course that's without the pat of butter. I checked on the calorie and nutrition facts of my regular blueberry muffin recipe and I was pretty surprised at the difference in the two recipes and how drastically everything changed. The calories were cut in half, the sugar went from 25 grams to only 4 grams, total carbohydrates went from 38 grams to 16 grams, finally fat grams went from 7 grams to 4 grams, if your mouth is on the floor don't worry mine was too. It's pretty amazing that some positive changing in how we eat can really affect our diet. Since I've been trying to cut back on baking and eating it the last few weeks I'm really happy about these muffins, they made me feel good about baking, yay!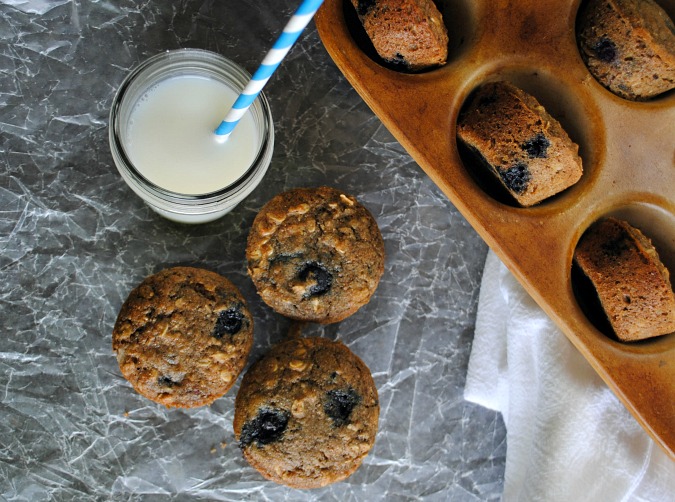 If your planning on making these for your kids you might want to ease them into a low sugar diet because these muffins just have a hint of sweetness from the berries and Truvia. To make the muffins taste sweeter you might try using honey in place of Truvia or agave syrup but in a larger quantity like 1/2 cup. When I created these I was looking to keep my calories, sweetness and fat down but still have a tasty muffin. I hope you give this recipe a try if you are trying a new diet plan or just want to eat a healthier muffin, happy baking!
Healthy Blueberry Muffins
Ingredients:
1 cup whole wheat flour
1 cup whole oats
2 T. flax seed meal
1 tsp. baking powder
1 tsp. baking soda
1/2 tsp. salt
1/2 tsp. cinnamon
2 T. coconut oil melted
1/4 cup Truvia baking blend brown sugar
1/2 cup plain fat free Greek yogurt
1/2 cup skim milk
1/2 cup apple sauce unsweetened
2 large Eggs – whites only
1 tsp. vanilla extract
1 cup blueberries (I used frozen)
Directions:
Step 1: Pre-heat oven to 350 F. Get a regular 12 muffin pan ready by spraying with cooking spray or putting cupcake liners in.
Step 2: In a medium large mixing bowl put the first 7 ingredients in and stir together well.
Step 3: In a smaller bowl mix together the rest of the ingredients except the blueberries.
Step 4: Add the wet ingredients to the dry ingredients and fold together, do not stir. When almost all folded together put the blueberries in and continue to fold the mixture until the wet ingredients are incorporated with the dry.
Step 5: Fill the muffin pan 3/4 full, I only got 11 out of mine. Bake for about 20 minutes inserting a tooth pick in one at the end of the bake time to see if it comes out clear. Let cool in the pan for 5 minutes then turn out onto cooling rack. Store muffins in air tight container to keep fresh.

Nutrition Facts
Servings 11.0
Amount Per Serving
Calories 111
% Daily Value *
Total Fat 4 g 6 %
Saturated Fat 2 g 12 %
Monounsaturated Fat 0 g
Polyunsaturated Fat 1 g
Trans Fat 0 g
Cholesterol 0 mg 0 %
Sodium 471 mg 20 %
Potassium 102 mg 3 %
Total Carbohydrate 16 g 5 %
Dietary Fiber 3 g 10 %
Sugars 4 g
Protein 4 g 7 %
Vitamin A 2 %
Vitamin C 6 %
Calcium 4 %
Iron 4 %
* The Percent Daily Values are based on a 2,000 calorie diet, so your values may change depending on your calorie needs. The values here may not be 100% accurate because the recipes have not been professionally evaluated nor have they been evaluated by the U.S. FDA.