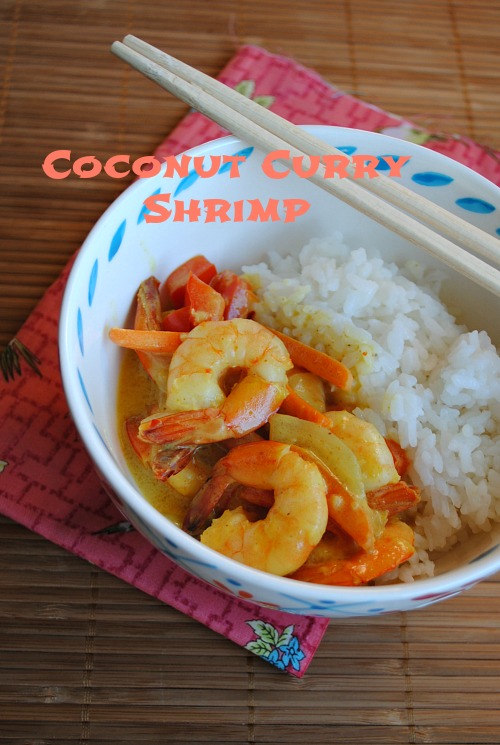 Coconut curry shrimp is delicious a simple weeknight dish that you can have on the table in about 25 minutes from start to finish. I love curry flavor and I'm slowly getting the rest of the family to like it as well, as long as it's not too spicy for my husband and son. I just used what veggies I had on hand so I'm sure you could use what you prefer as well. The coconut milk in this recipe cools down the spiciness of the curry and gives it a smooth tropical feel to the taste buds. If you enjoy heat then add some hot pepper flakes, chopped serrano chile or sriracha hot sauce to each individual portion. In the Thai cuisine they use fresh cilantro and fresh serrano peppers to give a fresh taste to the dishes plus it adds a pop of color and flavor, feel free to add this to your ingredient list. I unfortunately didn't have any cilantro or serrano chiles on hand so I made due with adding extra heat with sriracha hot sauce. If you are a regular to cooking Asian cuisine then you will have most of these ingredients or know where to find them, if not look in the Asian section of your grocery store they should all be fairly easy to find. I hope you enjoy this easy to make flavorful dish and add it to your list of easy favorites.
Coconut Curry Shrimp
Ingredients:
1 cup short grain rice
2 cups water
2 T. vegetable oil
1/2 a large onion
1/2 a large red bell pepper
1/2 to 3/4 cup carrots
1 large clove of garlic pressed
2 tsp. of fresh grated ginger
1 1/2 tsp. curry powder
1 cup unsweetened coconut milk
1 tsp. cornstarch
1/4 cup chicken broth or water
2 tsp. fish sauce
1 pounds of large deveined uncooked shrimp (I used frozen straight from the freezer)
Directions:
Step 1: In medium saucepan put two cups water in and turn to high heat add a pinch of salt. When water comes to a boil add the rice and stir, put the lid on and let rice comes to boil then turn heat to low and set timer for 20 minutes.
Step 2:While rice is cooking, cut veggies up. I julienned the peppers then cut into smaller stips. I had baby carrots so I cut those into quarters leaving them in strips. Julienne onion as best you can, here is a video that will help you.
Step 3: Press garlic and grate ginger fine and set aside. In a small bowl measure the coconut milk, together with the water or chicken broth and fish sauce then add the cornstarch and stir well.
Step 4: Heat a large skillet or wok on medium high heat and add the oil let get hot and stir fry veggies until onions are starting to turn translucent then add the curry powder, garlic and ginger stir well for about a minute.
Step 5: Add the coconut mixture to the veggies and stir well turn heat to medium then add the shrimp. Stir well put lid on and cook for a few minutes turn the shrimp until they turn pink. When all the shrimp are turned pink turn down the heat to low and simmer until rice is ready.
Serve: hot with rice, makes enough for 4 people.