Pin It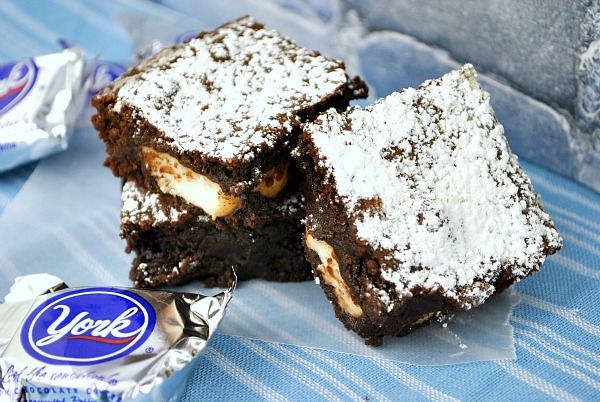 I love mint and chocolate together and these brownies really hit the spot, they are moist,chcolatey and minty. This recipe is not the one that you may see on the back of the York peppermint patties which I have made before and is very good. The recipe I used is adapted from Ghirardelli chocolate cookbook. Soon I will be doing my annual baking for gift giving and these brownies will be on the list because they are so good.

York Peppermint Patty Brownies
Ingredients:
4 ounces of unsweetened baking chocolate chopped
1/2 cup butter
1 cup packed brown sugar
2 eggs
1 tsp. pure vanilla
3/4 cup plus 2 T. all-purpose-flour sifted
1/4 tsp. baking powder
1/2 tsp. salt
16 York peppermint patties
powdered sugar optional
Directions:
Step 1: Melt chocolate and butter together in a double boiler stirring until melted or in the microwave on high stopping to stir every 20 second until melted.
Step 2: Add brown sugar,vanilla and eggs to chocolate mixture and stir well.
Step 3: Sift the dry ingredients together and add to the wet ingredients, stir well.
Step 4: Spray a 8 X 8 X 2 inch pan with cooking spray. Spread half of the brownie mixture in the pan. Now place the unwrapped mints evenly in on top of mixture, then add the rest of the brownie mixture on top and spread evenly.
Step 5: Bake at 350 degree oven for 25 to 30 min. until a tooth pick comes out clean. Let cool for 15 min. then sprinkle with powdered sugar if you like.