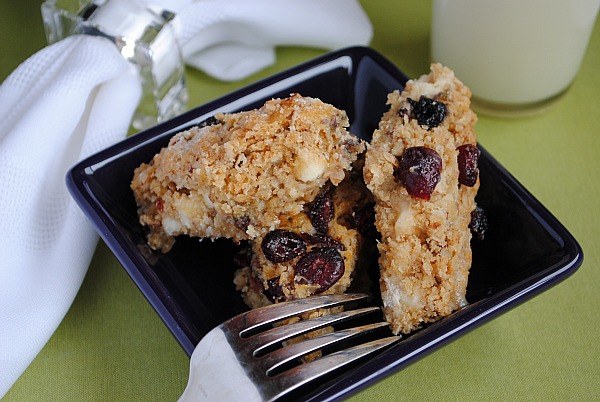 Ever since I made oatmeal cranberry white chocolate cookies I haven't been able to get them off my mind.  I've been wanting to make them again for about a month, but instead of making the same cookie recipe that I made before I made up something  new that was similar but in bar form and better too.  I'm calling my new bars,White Chocolate Berry Oat Bars, I know kind of long.  I thought they were pretty good but sometimes you never know if the husband is just being nice.  Then I took them to church for our potluck and people really liked them, and asked for the recipe (good sign).  What I love about this recipe is they are really simple to make and the added flavor from the orange zest gives them a zing.  The mixture of  dried cranberries, cherries and blueberries are not plain Jane especially when soaked in orange juice to plump them up. Toasted pecans adds crunch to these bars, while sweetened condensed milk gives them the oey gooey factor. Oatmeal makes you feel like they aren't that bad for you so you can have 2 instead of one!  Hope you all enjoy this recipe.
White Chocolate Berry Oat Bars
2 cups quick cook oatmeal
1 1/2  cup flour
1 cup brown sugar
1 cup chopped nut (your favorite kind)
1/4 tsp. salt
1 tsp. baking soda
1 cup melted butter
1 cup of mixed dried berries divided
1/4 cup orange juice
1 1/4 cup white chocolate chips
1 can of sweetened condensed milk
zest of an orange
Directions:
Step 1 : Preheat oven to 350 degrees.   In a small bowl put 1/2 the berries in with the orange just and set aside.  Zest an orange and add to the berries in the orange juice.  Toast nuts in a  dry small sauce pan over medium high heat keeping them moving until they smell toasted and are browned a bit. (about 5 min)
Step 2: In a large mixing bowl add oats, flour, brown sugar, toasted nuts, baking soda, and salt.
Step 3: Melt butter and add to the flour mixture, using paddle attachment turn mixer on to low until the ingredients are combined.  The mixture will be crumbly.
Step 4: Measure out 1 1/2 cups of the oat mixture and set aside.  In a 9X13 press the remainder of  the oat mixture in the pan.
Step 5: Drain berries from the orange juice and sprinkle over the crust, then sprinkle white chocolate chips over crust.  Open can of  sweetened condensed milk and pour over all staying away from the edges of the pan.
Step 6: Take the oat mixture that you set aside and evenly sprinkle over the top.
Step 7: Mix the remaining 1/2 cup berries with 1 T. granulated sugar and sprinkle berries over the top pressing in slightly.
Step 8: Bake at 350 for 25-28 minutes or until the top is lightly browned.