Pin It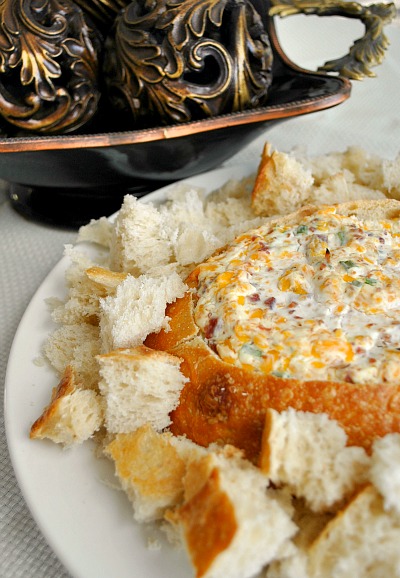 Happy New Year!! It's so hard to believe we are in 2012. I hope you all had a great New Years celebration. We just got home from visiting family in California and came home to party with other family members. One of the appetizers we had at my SIL's house was from a mutual friend Kelli, she has this awesome recipe for warm and cheesy bacon dip, so I'm sharing it with you. I know your already liking the 2 ingredients mentioned, cheese and bacon…pretty much any combo like that has got to be good right? It gets even better, by adding cream cheese, smooth sour cream and green onion tops to the mixture it's simply delicious! I couldn't stop munching on this dip and everyone else loved it too. I liked this dip with some crackers better than sourdough bread because I like a mixture of textures. Give this recipe a try for your next get together, it's sure to please the crowd.
Warm Creamy Bacon & Cheese Dip
Ingredients:
1 16 ounce container of sour cream
1 8 ounce package cream cheese at room temperature
2 cups shredded cheddar cheese
3 ounces of bacon bits (not the fake kind)
1 cup of chopped green onions
1 large round sourdough bread loaf
Directions:
Step 1: Hollow out the bread loaf by cutting a large circle around the top of the bread but do not all the way through. After cutting around gently grab a hold of the circle you cut and pull out then using a spoon hollow out the rest of the bread to make a nice size bowl.
Step 2: Pre-heat oven to 400 degrees Fahrenheit.
Step 3: Combine all the remaining ingredients into a medium size bowl and mix together thoroughly.
Step 4: Scoop the mixture into the bread bowl and then bake uncovered on a cookie sheet  for 25 to 30 minutes.
Serve warm with cut cubes of sourdough bread or crackers.