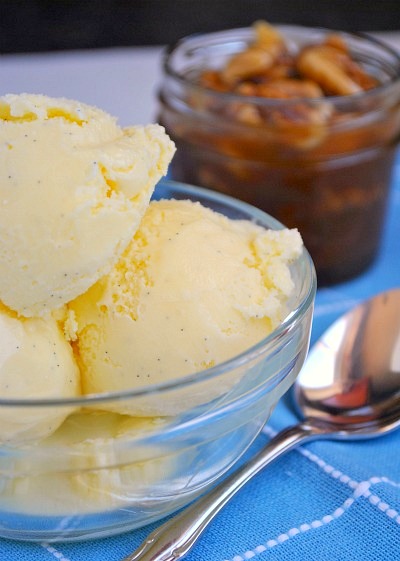 Gelato is an Italian ice-cream that I have been wanting to try for a while now and thanks to Dessert Wars for having a giveaway of 3 vanilla beans from Beanilla and hosting this months dessert challenge to use vanilla  in 3 ways in your dessert, I was able to try this ice-cream out.  As for using vanilla in 3 ways I used the vanilla bean in the ice cream, and vanilla sugar in the ice cream then I made this fabulous vanilla bean caramel sauce with walnuts. I happen to love vanilla so I was happy to have this challenge, and I really wanted to make vanilla the star of the dessert, so that is why I choose something rather simple. If I am the chosen winner for April's challenge look  at the prize package I will receive:
Whisk and cupcake necklace from Moon & Star Designs
Plus this cookbook from King Arthur flour  
I am crossing my fingers that the judge likes my dessert as much as my taste buds did and I can relish the prize package, but if not I still enjoyed the vanilla beans and making this dessert.
If you were wondering the difference between gelato and ice-cream, I can tell you that they are similar but our American ice-cream has more cream in it, and the gelato uses a bigger ratio of whole milk verses cream.  The gelato uses a cooked custard base just like many traditional ice cream recipes.  Cooking the custard deemed a challenge to me, my first attempt sadly ended in a scramble egg type mess.  I hated to throw out the custard but is was not fixable.  On the second try I  was more careful heating the custard slowly as to not over heat and scramble the eggs in it.  Don't be hesitant in trying this recipe out because I messed my first attempt up, it really isn't a difficult recipe. I  adapted the recipe from the foodnetwork .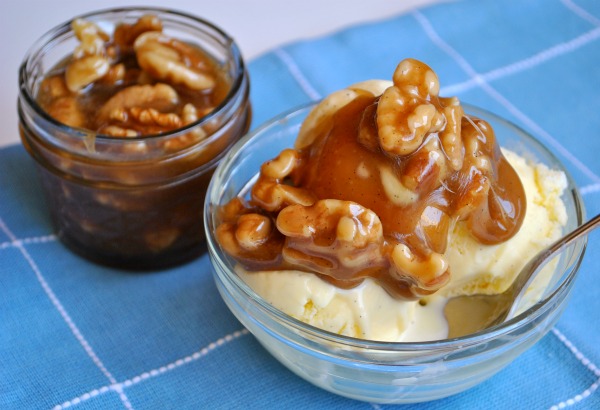 The vanilla bean caramel walnut sauce is my own creation. It's surprising easy to make and your family and friends will be so impressed that the caramel sauce was homemade.  Like  most everything else homemade, this caramel sauce is so much better than the store bought type.
Vanilla Bean Gelato
Ingredients:
5 large egg yolks
3/4 cup of vanilla infused sugar
2 1/4 cup whole milk
1 cup of heavy cream
1/2  vanilla bean
Directions:
Step 1: Whisk egg yolks and sugar together in a medium large bowl until light in color.
Step 2: Combine the whole milk, heavy cream and 1/2 vanilla bean, sliced in half lengthwise in a saucepan. Heat the mixture just until it starts to bubble along the edges. Do not allow the mixture to boil. Remove from the heat.
Step 3: Remove the vanilla bean and scrape out the seeds with the tip if a small knife and add the seeds back into the milk mixture. Discard the vanilla bean shell.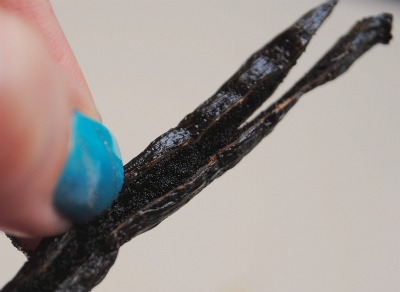 Step 4: While whisking the egg mixture add in about a cup of the warm milk mixture and combine together. Then add in the rest of the egg mixture to the milk. Heat the mixture slowly to 175 to 180 degrees F. The custard should be thickened and coat the back of a wooden spoon. Do not allow the custard to simmer.
Step 5: Strain the custard through a fine mesh sieve (optional- I didn't strain mine), cover and refrigerate until well chilled.
Step 6: Pour custard into your ice-cream maker and follow manufactures directions.
Step 7: When ice-cream is done put in a container with a lid and freeze until firm, 6 hours or overnight.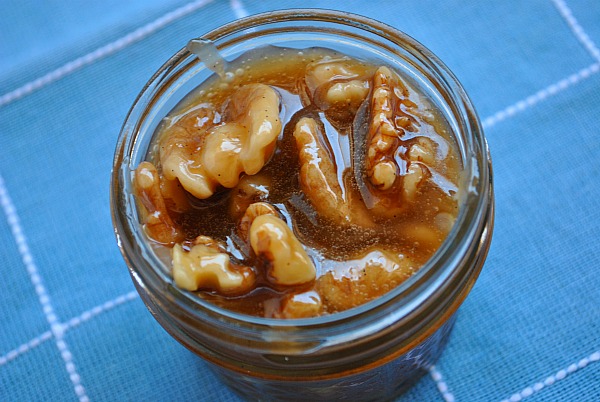 Making the Vanilla Caramel Walnut Sauce
Ingredients:
1/2 cup brown sugar
1/2 cup corn syrup
2 T. butter
1/2 vanilla bean
1/2 cup walnuts toasted
Directions:
Step 1: Toast walnuts in a dry saute pan on medium heat for about 4-5 minutes or until the nuts begin to release their oils and look slightly toasted, set aside.
Step 2: In a small sauce pan combine the remainder of ingredients and cook on med-high heat until it boils, then stir in nuts and take off heat.  Let sauce cool until warm and pour over the gelato and enjoy.