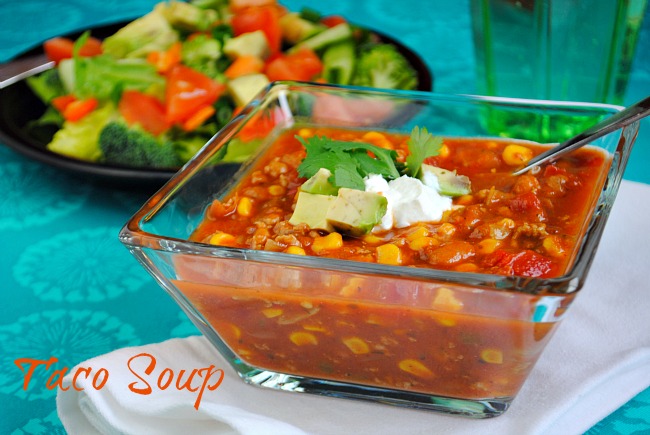 Soup is such a comforting food in the cold months it's easy to make a few pots a week and enjoy a bowl with a nice green salad or homemade corn bread or rolls. I am always looking for an easy throw together one pot wonder and soup seems to be one of my go-to-meals. This recipe is a little more like what Rachel Ray calls a "stew-oup" because it's a tad heartier than your average soup. Whether you call this a soup or stew, it's awesome.  I adapted the recipe from miss Paula Dean so you know it's going to be good but it doesn't have a pound of butter in it. I make this soup healthier by using ground turkey in it, plus I'm just not a ground hamburger kind of gal. My family all loves this soup and my kids are not soup lovers like myself. I always seem to make this soup at the beginning of the new year because we are all so tired of eating garbage, I mean sweets :), I hope you enjoy this soup as much as we do. I'm also sharing this recipe with Bush's Beans Comfort Recipe Exchange and Give away so "Join Aggie's Kitchen and Real Mom Kitchen and share a family favorite Winter Comfort Food recipe for the Bush's Beans Recipe Exchange!"
Taco Soup
Ingredients:
1 pound ground turkey
1 yellow onion chopped
1 bell pepper chopped
1-2 stalks of celery chopped
1 28 oz. crushed tomatoes or chopped tomatoes
1 can rotel tomatoes and green peppers
1 4 oz. can chopped green chile peppers
1 14 oz. can corn drained
1 14 oz. can
Bush's chili beans
or pinto beans or
Bush's black beans
undrained
1 pkg. taco seasoning mix
1/2 pkg. spicy ranch dressing mix or reg. dry ranch mix
1 1/2 to 2 cup water or chicken broth
Garnishments:
sour cream
shredded cheddar
chopped avocado
tortilla chips
Directions:
Step 1: Chop pepper and onion and celery. In large stock pot cook the ground turkey or hamburger with onion, peppers and celery until the meat is cooked through. If using hamburger meat then drain the meat, is using ground turkey it has little fat so it's not necessary to drain.
Step 2: The rest is easy just add the remainder ingredients and stir. Let the soup come to a boil then simmer it for 30 minutes.