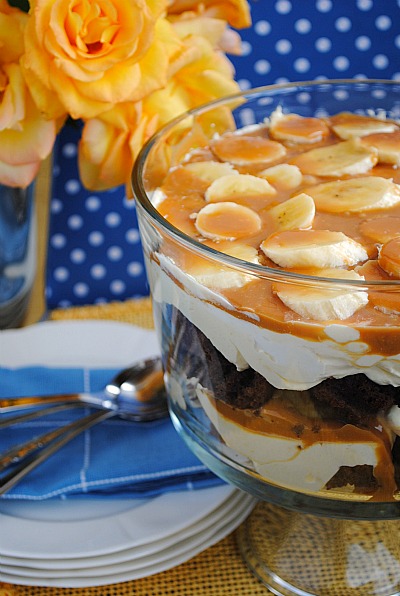 The easiest way to use a cake that you may have messed up is to turn it into a trifle.  I hate to admit it but I don't always make a perfect cake, when my cakes don't turn out perfectly moist and fluffy I can't just throw it out.  This cake was a homemade devil's food cake that I thought was a bit dry and less than high and fluffy so I decided to make it into a trifle.  A trifle is much less stressful because there is no frosting it  perfect, in fact it's the complete opposite, and a little fun breaking the cake up into bite size chunks. Usually, a trifle consists of layers of cake, some type of pudding/whipping cream, and sometimes fruit too put into a pretty glass pedestal bowl, although the pretty bowl isn't necessary because any large bowl will do.  If you haven't messed up cake (give yourself a pat on the back) and want to make this yummy trifle then you might want to use this cake recipe.  If your a box cake kinda person then go ahead and make your favorite brand of box cake.  I use this basic recipe for all different types of cakes like carrot cake just skip the caramel and add nuts, or white cake, use fresh macerated strawberries, even yellow cake with blueberries and lemon pudding the possibilities are endless just use your imagination and have fun.

Sunday Spotlight Recipes- Semi-Homemade Chocolate Banana Caramel Trifle
Ingredients:
2 cup whipping cream
2-3 bananas
1  small box vanilla pudding
1 cup of milk
1 chocolate cake
1 jar caramel ice cream topping
Directions:
Step 1: Mix dry pudding mix with 1 cup of milk until it thickens, then set in refrigerator.
Step 2: In a large mixing bowl beat whipping cream until stiff peaks form.  Then fold the whipping cream into the pudding, trying not to stir or the fluffiness will be lost.
Step 3: Break up cake into bit size pieces and put half into the bottom of the trifle bowl.
Step 4: Put half the whipping cream mixture on top of the cake layer and spread with a small spatula.  Then slice banana and put on top of whipping cream mixture. Pour half a jar of caramel sauce on top of banana layer.
Step 5: Repeat above, then refrigerate for 2-3 hours until set and cold.