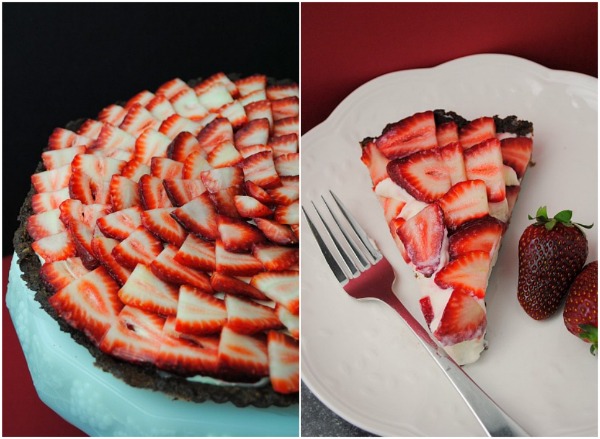 It's officially Spring, and how do I know…by the strawberries that are in abundance at the grocery store. I have a love for these little berries and I never get tired of trying out new recipes with them. Strawberry tart falls into the category of traditional, but using a chocolate crust is not so traditional. The white chocolate mousse is delectable on its own, but in this tart with a chocolate crunchy crust, smooth soft mousse and juicy red strawberries it's a perfect trinity.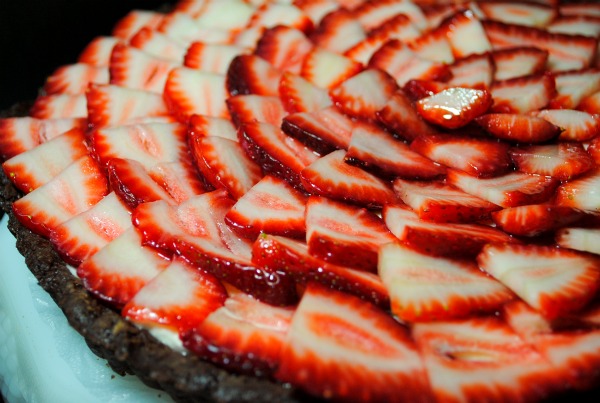 Sunday Spotlight Recipes and Strawberry White Chocolate Mousse Tart
Ingredients:
Crust: adapted from
Blue Eyed Bakers
(again :))
1 cup plus 2 tablespoons all-purpose flour
1/4 cup unsweetened cocoa powder
1/4 teaspoon salt
10 tablespoons butter, chilled and cubed
1/3 cup sugar
1 beaten egg
Directions:
Step 1: In a food processor put in flour, cocoa, salt and sugar and pulse a few times to get things mixed together.
Step 2: Add chilled and cubed butter and turn on until the dough looks like small pebbles.  Then add the egg and turn on until dough begins to form.
Step 3: On lightly floured surface dump dough out and form into a disc.  Wrap the round disc in plastic wrap and put in the refrigerator for 1 hour.
Step 4: After chilling for an hour.  Roll dough on lightly floured surface to the size of your tart  pan, (mine is 9 in. round) Gently lay the crust into the tart pan and form to the pan.  Put pan in the freezer for 30 min.
Step 5: Put a piece of foil or parchment paper in the inside of the tart crust and put pie weights or dried beans on the parchment paper or foil. Bake crust at 350 degrees for 15 min. with pie weights inside the crust then take out the weights and bake for about 15 min. longer until the crust looks dried.  Cool crust completely on cooling rack.
Making the Filling:
Ingredients:
6 oz. of baking quality white chocolate (I used Baker's White Choc.)
1 1/2 cup of whipping cream
1/2 tsp. vanilla
2 large baskets of fresh strawberries
Directions:
Step 1: Chop the white chocolate into small chunks. Melt white chocolate with 1/4 cup of whipping cream in a microwave safe dish on 50% power in 1 minute intervals, stirring frequently until all is melted and smooth. Set a side to cool to room temperature.
Step 2: When white chocolate is room temp. Whip cream on medium speed of electric mixer with vanilla until soft peaks form.
Step 3: Add half of the whipped cream to the chocolate by gently folding the whipped cream in. Then add the remainder of the whipped cream and gently fold .
Step 4: When crust is cool you may take the crust out of the pan by putting your hand under the bottom and allowing the sides to drop down.  Put crust on a decorative plate or cake stand.  Spread half of the filling into the crust and smooth out with spatula.  The remainder of the filling can be used to dip fruit into for eating later, piped onto the tart, or eaten straight up.  Chill the filled tart for about an hour.
Step 5: Decorate the top with sliced or whole strawberries.  To decorate the top as I did.  Slice the tops off the berries.  Slice the berries thin then starting on the outer rim of the crust lay each slice down and slightly over lap each slice after that. Continue to go around until the tart is completely full.
Step 6: Cover tart with plastic wrap and refrigerate for another hour until the filling has firmed.
Serves 8-10 people.
Garnish with additional berries and cream filling or just like the tart is.