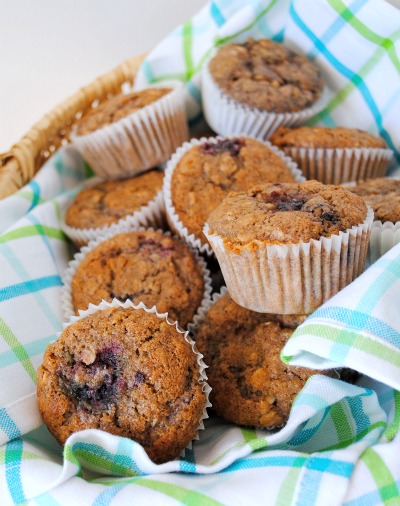 I'm super excited to host my first ever link party for you all!  I know it will take a while to get going good but please link whatever recipe you choose and put the button or Sunday Spotlight Recipes title with a link back on your post.  Pass along to your friends that you linked up here at you made that and let's enjoy a variety of great recipes.
My recipe for the Sunday Spotlight Recipes is this berry oat nut muffins.  Who wouldn't love a basket of warm muffins on the weekend, heck any day would be great for me.  These muffins are healthier than most muffins because of the whole rolled oats ,wheat flour and egg whites.  They can be made even healthier if you used less sugar and less oil but my blackberries were on the tart side so mine need the sugar.  I have a ton of frozen blackberries from last Summer so using black berries in muffins was the prefect answer.  This recipe is pretty versatile, you can use any type of berries or even dried ones too, so play around with different flavors.  The addition of almond extract gives these muffins a great taste and doesn't compete with the pecan nuts.
Sunday Spotlight Recipes-Healthy Oat Muffins with Blackberries
Healthy Oat Muffins with Blackberries
Ingredients:
1 cup rolled oats
1 cup buttermilk
1/2 cup canola oil
2 large egg whites
3/4 cup packed brown sugar
1/2 tsp. almond extract
1 cup whole wheat flour
2 tsp. baking powder
1/2 tsp. baking soda
1/8 tsp. nutmeg
1/2 cup chopped pecans
1 cup blackberries (I used frozen thawed with 2T. sugar)
Directions:
Step 1: In a large bowl put first six ingredients in and stir.
Step 2: In a small bowl mix together the wheat flour and remainder ingredients except blackberries.
Step 3: Add the flour mixture to the wet mixture and stir just until moistened. Fold in blackberries.
Step 4: Fill muffin tins or papers a little more than 2/3 full, should be about 18 muffins.
Step 5: Bake at 375 degrees for 20-25 minutes. Should be light brown on tops of muffins, take out and cool in pan for 5 minutes.
Step 6: Remove from pan and let cool long enough so you don't burn your mouth, spread some butter on and enjoy!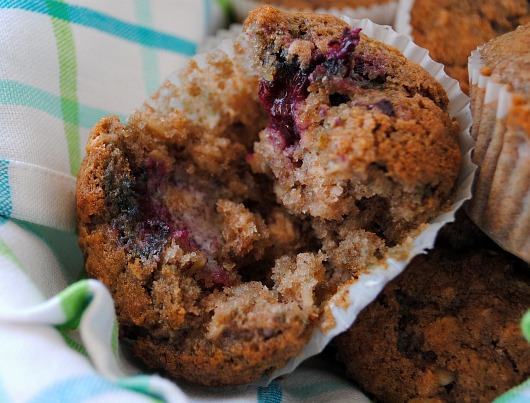 Linked to Skip to My Lou