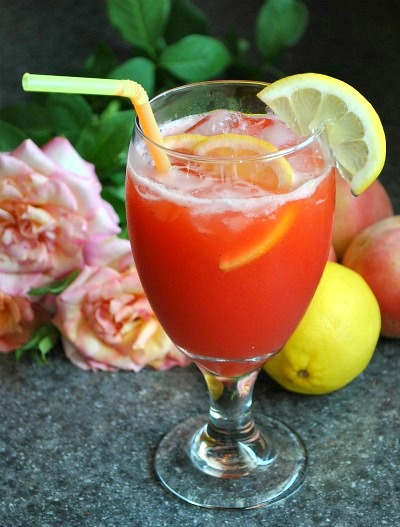 My dilemma the other day- fresh strawberries about to go bad in the fridge because of an abundance of fresh fruit.  Lots of nectarines from my tree on the counter ripening, some more than others.
Solution-a fresh fruity drink that the pickiest eater liked (of  course it was sweet).  This drink was seriously fruity with a hint of lemon and the sweet flavor of strawberries and nectarines. I wish all my dilemma's ended this sweet 🙂
Strawberry Nectarine Lemonade
Ingredients:
1 basket of strawberries
3 nectarines
2 oz. fresh lemon juice about 3-4 lemons
1 cup sugar
4 cups water divided
Step 1: In small saucepan put in sugar and 1 cup of water, cook until water dissolves, set aside to cool.
Step 2: Core strawberries and peel nectarines and slice then put into a blender or food processor, add the juice of the lemons and blend until smooth.
Step 3: Now add the simple syrup and the rest of the water and strain through a fine sieve.  I strained my juice twice straight from the blender with sieve over the top of a pitcher then back to the blender with the sieve or the top.  You can even skip this step entirely, your juice will just have more pulp in it.
Makes: 1 1/2 quarts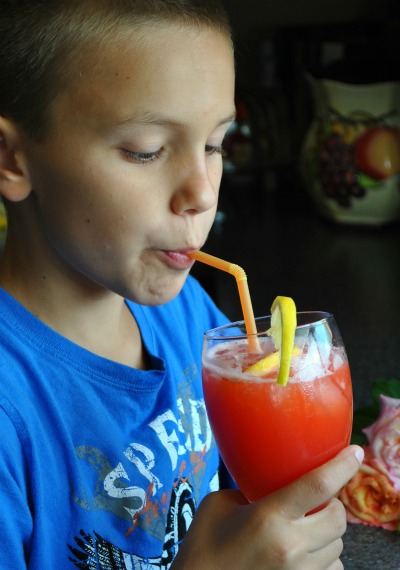 (I asked my son to take a drink of this while I took his picture, he was unsure but quickly decided it was really good)
After I was cleaning things up someone else wanted his picture taken after I saved him from going down the drain. This praying mantis hitched a ride in the house with my fresh cut roses.  I found him in the sink as I was washing things down the drain and I was just going to include him into the stuff and turn the garbage disposal on.  But… I felt a little sorry for the critter as he struggled to not get washed down the drain so instead I helped him out and onto the counter where he quickly found my ripening nectarines and hopped on top of one.  I thought he is was rather neat looking so I watch him a bit then decided he would make a pretty picture atop the nectarine, so here he is.