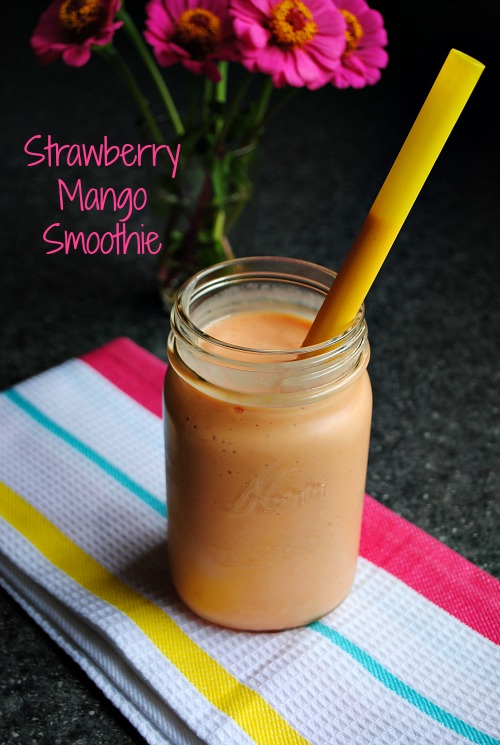 Good mornings start with delicious smoothies at my house. Smoothies are hands down my favorite things to have in the morning for breakfast besides pancakes, waffles or omelettes and the list goes on :), okay so I'm a breakfast kind of girl. Smoothies can be made anytime of day and can be healthy if you just add fruit and unsweetened juice and for added protein yogurt is a must. If you don't have or want juice then use milk, soy milk or almond milk will do just fine. I like my smoothies to be thick like shakes and so I freeze my fruit and sometimes I have to throw in some crushed ice if it's not thick enough. Runny smoothies are not tasty to me 🙁 , I have to have them super thick and creamy.
Recently Chobani yogurt contacted me to see if I wanted to try their yogurt and of course I did! They were nice enough to send me three different types of Greek yogurt, one of my all time favorites. I love the tanginess that Greek yogurt gives and how thick it is. Did you know that Greek yogurt has more protein than the regular yogurt, another reason to love it. Plus, yogurt has all those good probiotics in it to help aid in the health of our gut which inturn helps everything else. I just gave you a few good reason to eat more yogurt and now I'm going to tell you to try out Chobani's Greek yogurt. They have some really tasty Greek yogurt and one of the best ones was vanilla flavored Greek yogurt. I baked some lovely quick bread using the vanilla flavored Greek yogurt that I can't wait to share. My smoothie here contains the lowfat Greek yogurt and oh is it creamy. I usually buy the nonfat Greek yogurt but now I may have to change to low fat :). Chobani has a lot of ideas for using yogurt in your dishes you might want to check out their Pinterest page where you will find recipes from bloggers and anyone who loves Chobani. If you trying to add more healthy food to your diet Greek yogurt is a great substitute for sour cream in recipes.My opinions in this blog post are mine and I was not paid.
Strawberry Mango Smoothie
Ingredients:
3/4 cup no sugar added apple juice
3/4 cup frozen mango chunks
1/2 cup frozen sliced strawberries
1/2 of a ripe banana
1/2 cup Chobani Greek low fat yogurt
Directions:
Step 1:  Gather all the ingredients, measure juice and yogurt put into a blender. Toss the rest of the ingredients in, put the top on blender.  Turn on low at first then high to get all the fruit pureed completely.
Step 2:  Pour in glass and enjoy makes about 16 ounces, enough for 1 or 2.