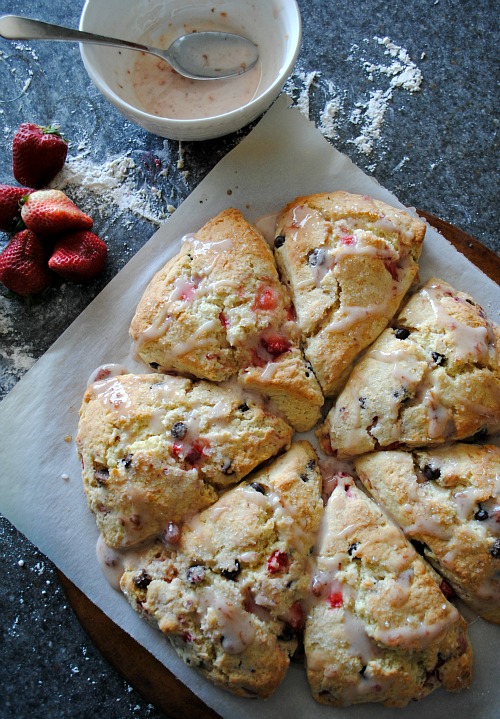 Strawberry season is here, and I couldn't be happier. I made these sweet tender strawberry and chocolate chip scones for the chocolate party that I have participated in the last few months. Roxana from Roxana's Home Baking started this party because of her love for chocolate and each month we are given a secret ingredient to use in the recipe. April's secret ingredient is buttermilk and my decision to make these scones did not come easily.   I had thought I was going to make a chocolate buttermilk pie for Easter but that didn't happen, I ended up going out of town for most of the weekend and getting home in time for church and dinner hosted at my house.  Then, I thought about making homemade buttermilk biscuits with chocolate gravy since I do live in the South and biscuits and gravy are a staple here, that didn't happen either.  In the end my love for scones won out and strawberries goes so well with chocolate.
Did I mention that I'm in love with scones? I have only made two recipes for my blog so it was time to add a third. I am really pleased with how these strawberry chocolate chip scones turned out, the buttermilk made them tender and the crumb was moist so that each bite melted in your mouth.  I sprinkled the top of the scones with large sugar crystals  before baking them for added crunch since the hubby likes them like that.  Then I made a glaze with powdered sugar, milk and a little homemade strawberry jam and like they say "that was the icing on the cake".  My husband was eating his scone while I took photos of the the others and he wasn't swooning over them so I was a little worried, I asked how he liked them and he said "oh, they are good".  I kept on doing my photos but was worried these were not as good as our favorite blueberry scones.  Finally, my turn came to dig into my cooling scone…yes you got it I was in scone heaven, savouring every bite and eating slowly and deliberately :).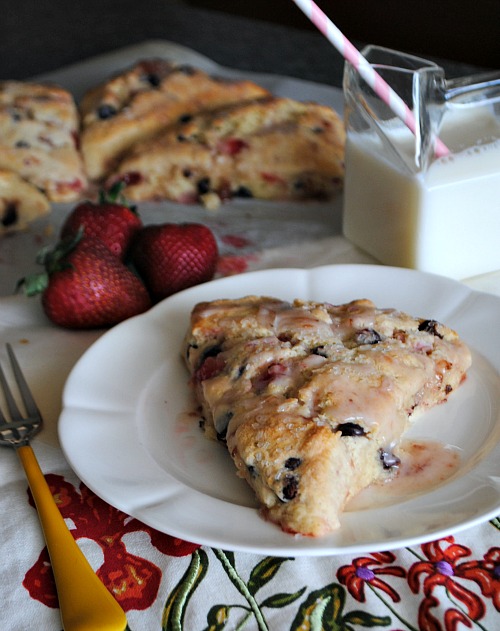 If you are interested in joining the party then please do, we chocolate lover's need to stick together.  The chocolate party is headed up by Roxana's Home Baking and the rules are easy: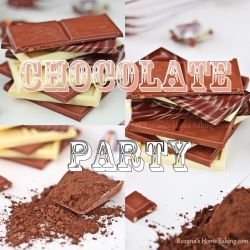 The recipe must be a new one.
The recipe must include the secret ingredient.
Include a link back to this post or the Chocolate party page. Optional, add the Chocolate Party logo in your blog post or on your sidebar.
For more information on the chocolate party check out my friend and organizer of the party Roxana at Roxana's Home Baking.
We also have a Facebook Group Page and Pinterest Group go see all the other delicious chocolate recipes and get inspired to make something sinful.
Strawberry Chocolate Chip Buttermilk Scones
Ingredients:
3 1/2 cups all-purpose flour
1/2 cup sugar
1/2 tsp. salt
1 tablespoon baking powder
1/2 tsp. baking soda
3/4 cup unsalted butter
cold
, cut into chunks
1 large egg
2 tsp. vanilla extract
1 cup buttermilk
1 cup
frozen
chopped strawberries
1/2 cup chocolate chips
1  tablespoon melted butter
large sugar crystals (optional)
1/2 cup powdered sugar
1 tablespoon strawberry jam
1 tablespoon milk
Directions:
Step 1: Pre-heat oven to 400 degrees, line a cookie sheet with parchment paper or silicone mat.
Step 2: In a food processor put cold butter cut into chunks, then flour, sugar, salt, baking powder, baking soda and turn on until the butter is in small beads.
Step 3: Add egg and vanilla and turn on food processor then add soured milk until the dough forms into a ball.
Step 4: Turn dough out onto a floured surface and knead in chopped strawberries and chocolate chip.
Step 5: Roll dough out into a circle and cut with a pizza cutter like a pie.
Step 6: Brush top with melted butter or egg wash and sprinkle sugar on top
Step 7: Bake for 18 to 20 min.
Step 8: To make the glaze:  in a small bowl put 1/2 cup of powdered sugar, 1 tablespoon of strawberry jam and 1 tablespoon of milk. Stir well and drizzle over the top of the scones.