Pin It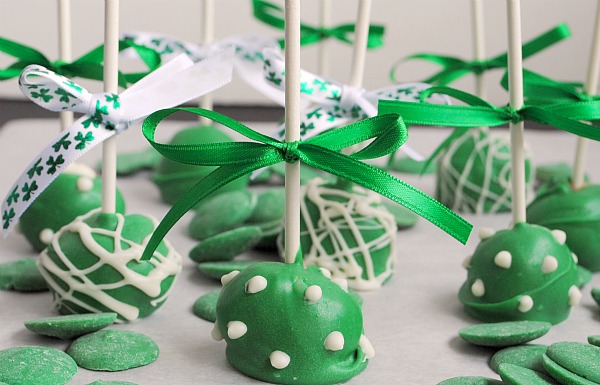 Do you love cookie dough but feel a little funny eating it because of the eggs in it?  Yes, how long have we heard don't eat raw eggs it will make you sick?  For as long as I can remember it seems,  I don't worry about it personally at home when I'm the cook .  But I really don't like eating store bought cookie dough ice cream and such because of that little voice in my head reminding me I could get sick.  Well, thanks to my blue eyed friends over at Blue Eyed Baker's they posted a recipe for cookie dough truffles that doesn't have eggs in it. Yay!  We can all rest assured no bacteria and pop this cookie dough in without a second thought to feeling sick, unless you eat too many truffles that is.  I thought I would honor St. Patricks Day by dipping my cookie dough truffles into some green melting candy, yum!  Now I think I will have to make some more dough and try out cookie dough truffle ice-cream mmm…doesn't that sound delish.  Happy St. Patrick's Day may you find your pot o' gold!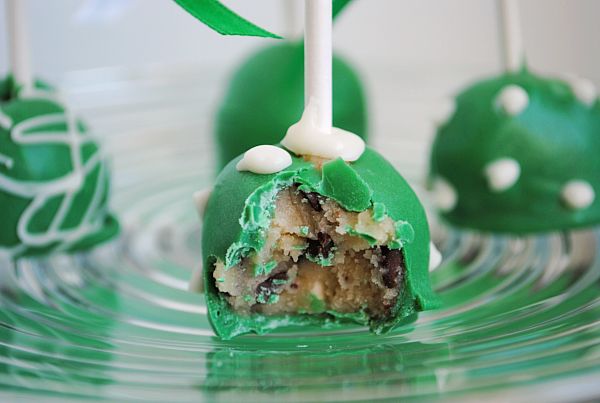 St. Paddy's Day Cookie Dough Truffles
Ingredients:
1 cup butter, room temperature
3/4 cup sugar
3/4 cup light brown sugar
1 teaspoon vanilla
1/3 cup milk
2 1/2 cups flour
1 teaspoon salt
1/4 teaspoon baking soda
1 cup of mini chocolate chips
14 oz candy melts
4 inch lollipop sticks
Directions:
Step 1: In a large mixing bowl mix together butter and sugars until fluffy.
Step 2: Add vanilla and milk to the sugar mixture and mix well.
Step 3: Add flour, salt, and baking soda and mix until dough comes together.
Step 4: Stir in chocolate chips and chill dough for 30 minutes.
Step 5: Take out dough and shape into small bite size balls.  Put one stick in the middle of each truffle then freeze for 30 minutes.
Step 6: Melt candy in microwave safe bowl according to package directions.
Step 7: Take truffles out of freezer and dip each one into candy until coated.  Add sprinkles now or leave plain.
Makes: about 2 dozen