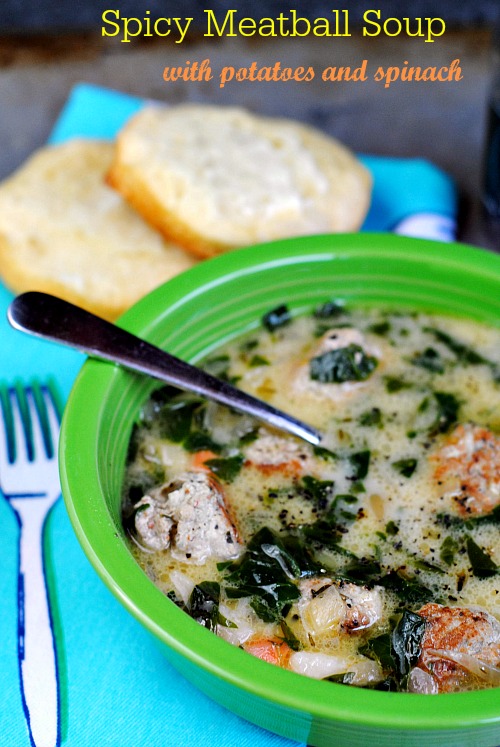 Have  you ever been to the Olive Garden restaurant before and ordered the Zuppa Toscana soup?  It's really good with spicy sausage, kale and potatoes in a creamy flavorful broth like soup. My soup recipe here really reminds me of that soup except it has spicy meatballs instead of spicy sausage and a few other differences but overall has the same feel which is "homey comfort food".  I am a soup lover because they are simple, homey, one pot meals that are so good with some crusty bread or a nice crisp salad. I could eat soup every day for dinner but unfortunately it's a bit too hot where I live in the summer to eat soup unless it's a cold soup. Also I know the meat eaters in the family wouldn't like soup daily.
If you know me and my blog, I'm not a huge hamburger fan so that is why I use ground turkey in many of my recipes.  So you're not a ground turkey fan no big deal, change it up and use spicy sausage or ground hamburger if you like that better.   I wouldn't skimp on the half and half,  the fresh thyme  or the garnishment of grated parmesan they really do make a difference to add good flavor.  Enjoy this tasty soup.
Spicy meatball soup with potatoes and spinach
Ingredients:
1 pound ground turkey
1/3 cup panko bread crumbs
1 egg
6 medium sprigs fresh thyme
1 tsp. dried basil
2 cloves garlic pressed
1 tsp. red pepper flakes
2 tsp. onion powder
1 tsp. salt
4 T. olive oil
1 large yellow onion chopped
1 bay leaf
1 large potato, peeled, chopped bite size
3/4 cup chopped carrots
5 cups chicken broth
2 big handful baby spinach leaves, chopped roughly
1/3 cup half and half
Garnish with grated Italian cheese such as parmesan, asiago, or romano
Directions:
Step 1: Put the turkey in the medium bowl and add the bread crumbs, egg, basil, red pepper flakes, 1 clove of garlic, 1 tsp onion powder, 1/2 tsp salt, the leaves of 3 fresh thyme leaves, 3 tablespoons grated onion or minced, mix all together until well blended.
Step 2: Make small 2 bite meatballs and brown them on all sides in 2 tablespoons of olive oil in a medium large stockpot, add the other 2 T. oil if necessary. When the meatballs are cooked take them out and set them aside.
Step 3: Cook the onions and remainder garlic, 3 sprigs of thyme and bay leaf in the same pot you cooked the meatballs in, until the onions become translucent. Add the potato, and carrots, onion powder, 1/2 tsp. salt and cook for about about 5 minutes.
Step 4: Put the meatballs back in the pot with the other ingredients and add the chicken broth. Let soup come to a boil then simmer until potatoes and carrots are tender, when carrots and potatoes are tender turn off the heat and add half and half and the chopped spinach, stir well. Let sit until cool down a little, pull out the thyme sprigs and bay leaf and then serve with crusty bread and sprinkle each serving of soup with cheese and enjoy.