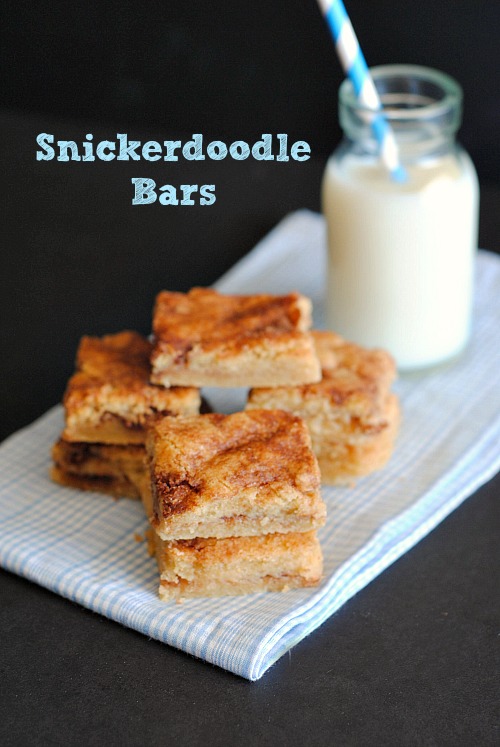 Snickerdoodle cookies are one of my husband's favorite cookies and I hardly ever make them 🙁 , it just seems like the kids always want chocolate chip. I thought I would be nice to my husband and make him his favorite in bar form. The first time I had a snickerdoodle bar was a year and a half ago and it was from She Makes and Bakes and they were delicious. The other day I saw a recipe for snickerdoodle brownies which got my attention so I kind of did my own thing between the two.   Classic snickerdoodles have cream of tartar in them and both of the above recipes didn't have it so of course I had to add some to my version, it gives them that little tart flavor.  I loved these bars just as much as my husband and my son did and they didn't last long at my house.  The bars crunchy top was a nice surprise due to adding the cinnamon sugar on top before they baked.  I probably under baked my bars a little but they tasted so gooey and yummy that way, more like brownies, but feel free to give yours more time in the oven if your not a gooey fan. Another thing you need to be aware of… these bars have lots of sugar in them, if your not ready for all the sugar then I bet you could take a quarter cup or half cup out and they would taste really good still. I hope you love these bars as much as my family.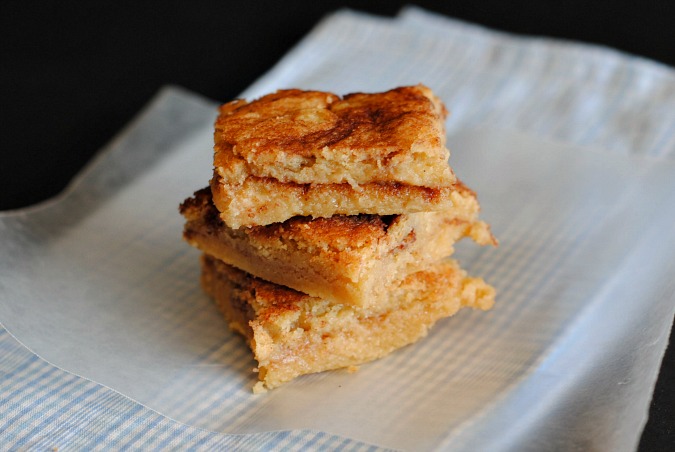 Snickerdoodle bars
Ingredients:
1 cup butter room temp.
1 cup granulated sugar
1 cup brown sugar
(I prefer 1/2 cup only)
2 tsp. vanilla extract
2 eggs
2 2/3 cups all purpose flour
2 tsp. baking powder
1/2 tsp. cream of tartar
1 tsp. salt
2 tablespoons sugar
2 teaspoon cinnamon
Directions:
Step 1: Pre-heat oven to 350 degrees F. Grease a 9 X 13 inch pan with cooking spray or butter.
Step 2: Cream butter and sugars with electric mixer, add vanilla and eggs mix well.
Step 3: Add the flour, baking powder, cream of tarter and salt all at once and mix on low until combined.
Step 4: In a small bowl mix the 2 tablespoons of sugar with the cinnamon together.
Step 5: Put half the dough into the prepared pan and do the best to spread it out evenly. Sprinkle half the cinnamon sugar over the dough. Now spread the rest of the dough on top, it can be difficult to do so I divided the dough and spread it throughout. Press the remainder of the cinnamon and sugar on top of the dough.
Step 6: Bake the bars for about 20-25 minutes. Take out and cool before cutting.