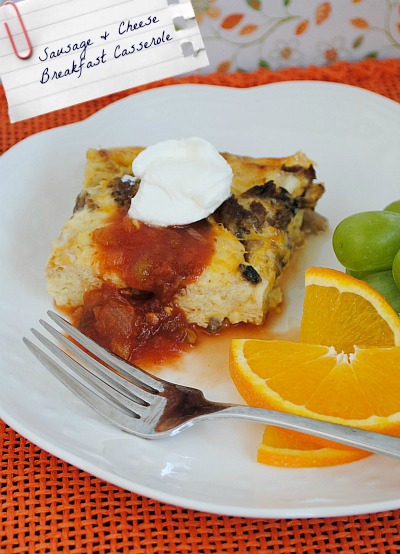 Say "Good Morning" with this delicious breakfast casserole.  It is so easy to make the night before and bake in the morning, perfect for company, a lazy weekend or a brunch.  If you're like me and like to change things up in recipes and create your own then you might try using cooked onions and bell peppers as well as mushrooms.  The recipe calls for bread, I use store bought wheat bread, but white bread would be fine, homemade bread would be even better.  Remember homemade bread is much more dense generally speaking so the liquid may need to to be increased.

Sausage and Cheese Breakfast Casserole
Ingredients:
12 oz. of reduced fat breakfast sausage cooked and crumbled
6 slices of bread cubed (I used thick french bread)
2 cups of cheese
5 large chopped mushrooms about 1 cup
8 eggs
2 cups milk
1/2 cup cream or half and half
Step 1: In a large skillet cook the sausage and mushrooms until the meat is no longer pink, drain any fat.
Step 2: In a large bowl whisk eggs, milk and cream together.
Step 3: Add the cubed bread, sausage, and cheese and mix together.
Step 4: Spray and 9 X 13 inch pan with cooking spray and pour ingredients into pan spread out evenly.  Cover with foil and refrigerate overnight.
Step 5: In the morning take out casserole and bake at 350 degrees for 45-55 minutes until middle is set and does not jiggle.  Let casserole stand for 5-10 minutes and serve.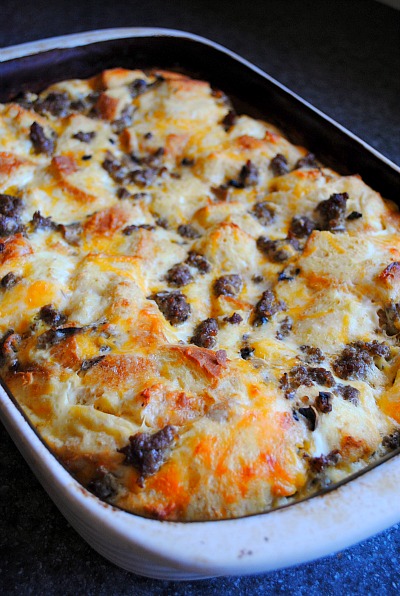 Notes:
When the casserole is baked it rises nice and high then falls when it is cooled.
Can use all skim milk and no cream for a lighter dish, the texture changes a bit as well.
Garnish with salsa and sour cream.
This dish goes well with fruit or fruit salad.
Serves 12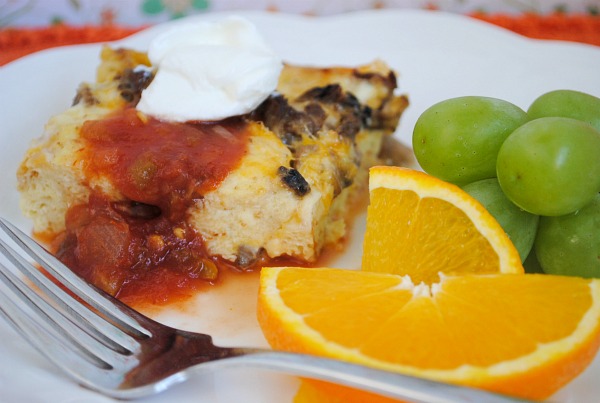 Linked to: Mommie Cooks