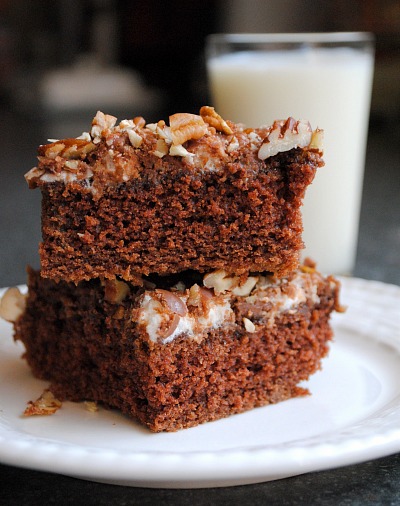 Texas Sheet Cake is one of my "go to" cakes to feed a crowd because everyone loves it, its easy to make, and I usually have all the ingredients on hand.  I like to make the cake with rocky road frosting to make it a little different, but if you are not fond of nuts and marshmallows then just make the frosting without them, no matter which way you decide to make the frosting you will love the cake. The cake is moist, soft and buttery, with the frosting it makes it perfect.

Rocky Road Texas Sheet Cake
Ingredients:
2 cups unbleached flour
2 cups sugar
1 cup of butter
1 cup water
1/3 cup cocoa powder
2 eggs
1/2 cup buttermilk
1 tsp. baking soda
1 tsp. vanilla
Frosting Ingredients:
1/2 cup butter
6 T. buttermilk
4 T. cocoa powder
1 tsp. vanilla
3 cups powdered sugar
1 cup chopped nuts
2 cups mini marshmallows
Directions:
Step 1: Spray a 10 X 15 in. pan with cooking spray or grease the pan with butter.  Pre-heat oven to 400 degrees.
Step 2: In a large mixing bowl mix flour and sugar together.  Heat butter, cocoa powder and water in a medium size saucepan until it boils.
Step 3: Pour the hot chocolate mixture into the flour sugar mixture and mix well.
Step 4: While mixing add one egg at a time, then add buttermilk, vanilla and baking soda.
Step 5: Pour into prepared pan and bake for 20 minutes.
Making the Frosting:
Start the frosting about 5 minutes before the cake is done.
Step 1: In a small saucepan melt butter with cocoa powder and milk together until it comes to a boil.  This mixture will look curdled but don't worry it will all come together when the powdered sugar is mixed in.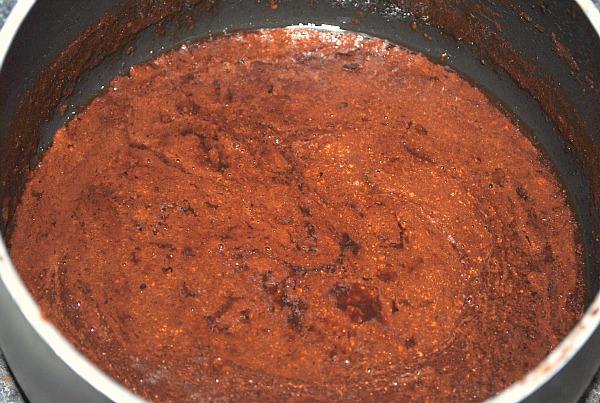 frosting looks curdle but will come together when you beat in the sugar
Step 2: When the timer goes off for the cake take out and carefully place the marshmallows on the top.  Turn the oven off and put the cake back in the oven in until they get puffed up and slightly browned.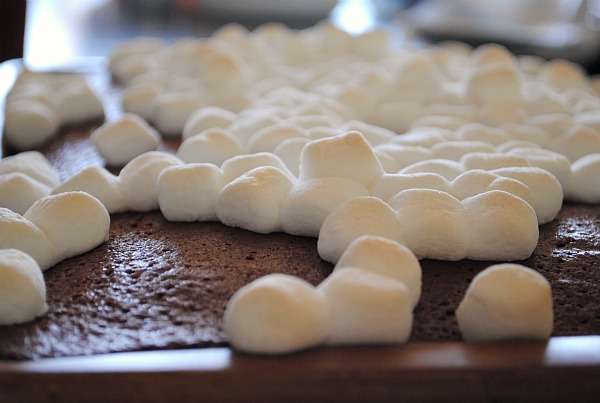 Marshmallows will brown and puff up like these
Step 3: While the marshmallows are puffing up finish the frosting.  Put the hot chocolate mixer in a med-large mixing bowl and add all the powdered sugar, mix on low until all the sugar is incorporated then turn to high and beat until it creamy and no lumps are in it.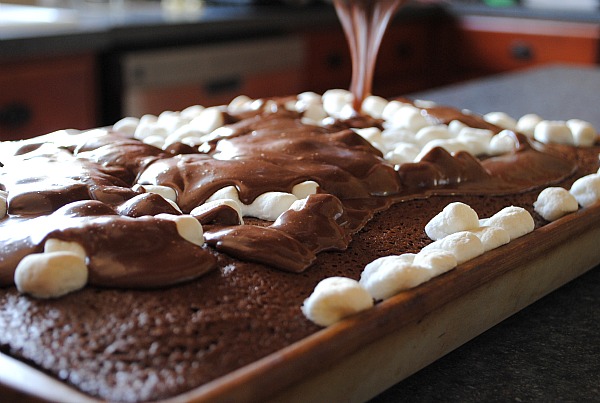 Step 4: Take out the cake and pour the frosting as evenly as possible over the hot cake.  Then gently spread the frosting around to cover any spots that might not have been covered.  Do not go over the frosting very much with your spatula because it cools quickly and will crack and loose it's sheen.  Sprinkle nuts on top immediately, if you wait too long to put the nuts on the frosting will cool and not hold the nuts.  Cool completely and cut into squares.
Serves 18-20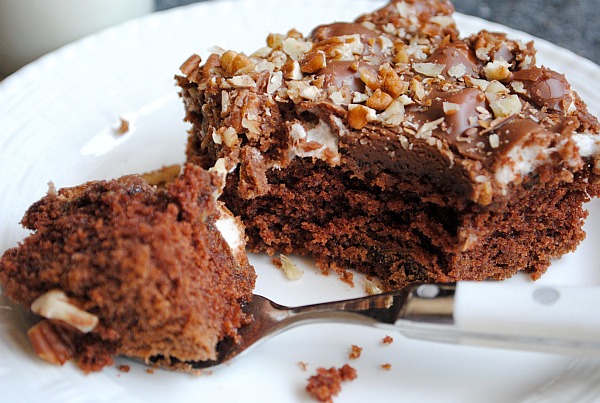 Linked to: Joy of Desserts