Pin It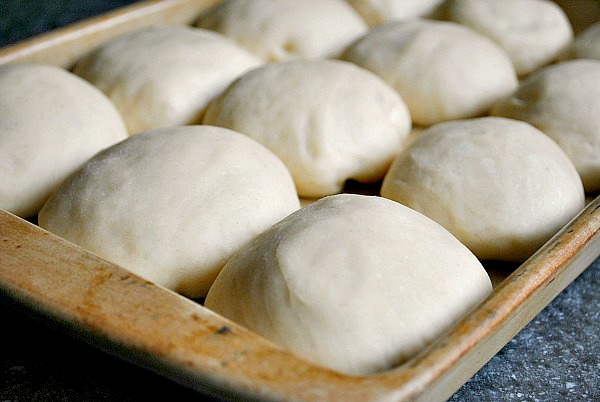 No trip to the moon on these rolls but you will be over the moon in love with them! I'm not the best roll or bread maker but this recipe is by far the BEST roll recipe I have every made or eaten that has come out of my kitchen. The photos do not do these justice because the taste and texture of these rolls were wonderful, it took everything I had not to eat all of these. The recipe comes from Rebecca Rather and her cookbook The Pastry Queen, I have made a few of her recipes some haven't turned out like a I had wanted but I can't blame the recipe because sometimes it's the cook 🙂 although with this recipe I'm pretty sure you can't mess them up. Like I said in the beginning I'm not the best bread or roll maker or I should say not experienced but these rolls make you feel like a star in the kitchen. The unique thing about the rolls besides the name is that they have a hint of cinnamon that reminds me of donuts, they are sweet rolls but not too sweet. Now for the funny name, Rebecca Rather owned a restaurant called Rather Sweet Bakery and her colleague wanted to know if they were making rocket rolls. She explained what she was meaning, the sweet white rolls with the fluffy insides. Rebecca knew what she was talking about, but laughed at the cute name she came up with instead the original torpedo rolls. From that day on they were called rocket rolls.
Rocket Rolls
Ingredients:
3 (1/4 ounce) packages active dry yeast or about 1 tablespoon
1 cup lukewarm water (105 to 115 F)
1/4 cup light flavorless oil, such as canola or safflower oil
1 large egg
3/4 cup sugar
1 1/2 cups water (more if needed)
6 1/2 cups bread flour
1 T. sea salt
Pinch of cinnamon
Extra Virgin Olive Oil for brushing on top of warm rolls or butter
Directions:
Step 1: Dissolve the yeast in a large mixing bowl with 1 cup of lukewarm water. Let it stand for about 5 minutes.
Step 2: Add the oil, egg, sugar and the rest of the water. Whisk together by hand.
Step 3: Add the flour and mix on medium low speed until the dough holds together about five minutes. The dough is wet looking but if it doesn't form a cohesive ball add a few tablespoons of flour. If the dough is too dry add a tablespoon of water until it doesn't seem dry. Let dough rest for 20 minutes, then add the salt and cinnamon and knead well.
Step 4: Spray a large mixing bowl with cooking spray and put the dough in the the bowl and cover with plastic wrap or tea towel and let rise for about an hour and half.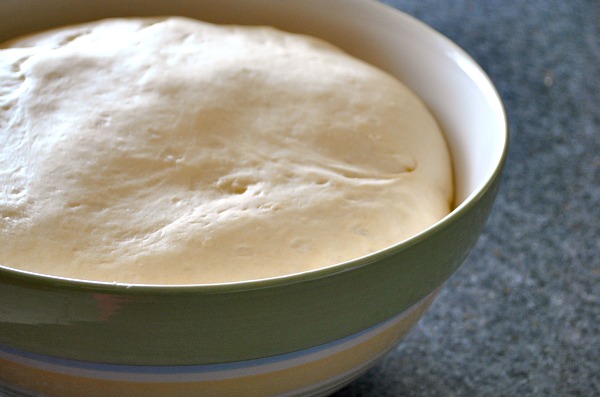 Step 5: Pre-heat oven to 350 degrees Fahrenheit and get a large sheet pan spray with cooking spray or line with partchment paper or silicone mat.
Step 6: Punch down dough and pinch off pieces of the dough and roll into golf ball size for dinner rolls, or tennis ball sizes for sandwich rolls. Arrange the dough on the pan about 2 inch apart then cover with a tea towel and let rise for 20 minutes. The rolls will not double in bulk on the second rising.
Step 7: Bake rolls for 18 to 30 mintues or until golden brown. When they come out of the oven brush lightly with olive oil or take a stick of butter and rub on the tops.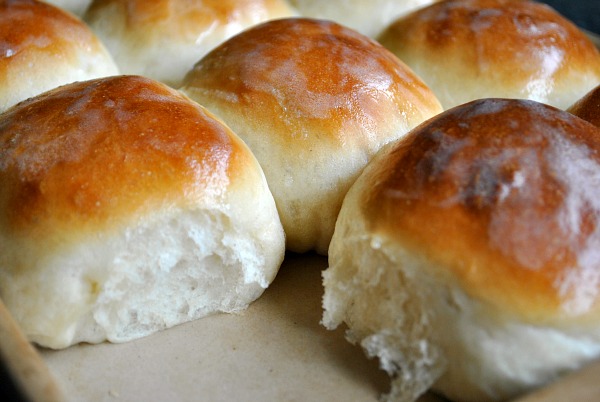 Makes: 32 dinner rolls or 16 sandwich rolls.