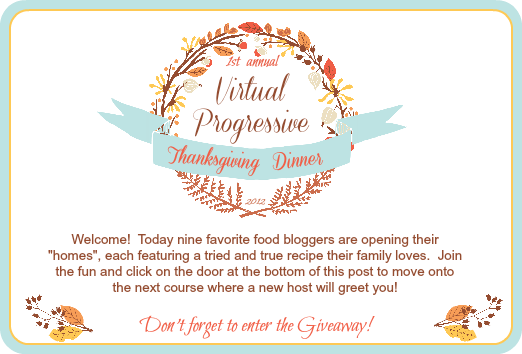 Happy November 1st!  Today I'm participating in a virtual progressive Thanksgiving dinner brought to you by The Mother Huddle. Let me explain how it works for you.  In a traditional progressive dinner you would eat your first course at one home and then the second course at another home and so on and so forth until the meal is complete.  The same concept is happening here so when you finish reading my recipe please be sure to click on the  front door at the end of the post  to go to your next course. Don't forget to check out the giveaway at the end, it's awesome. Have fun!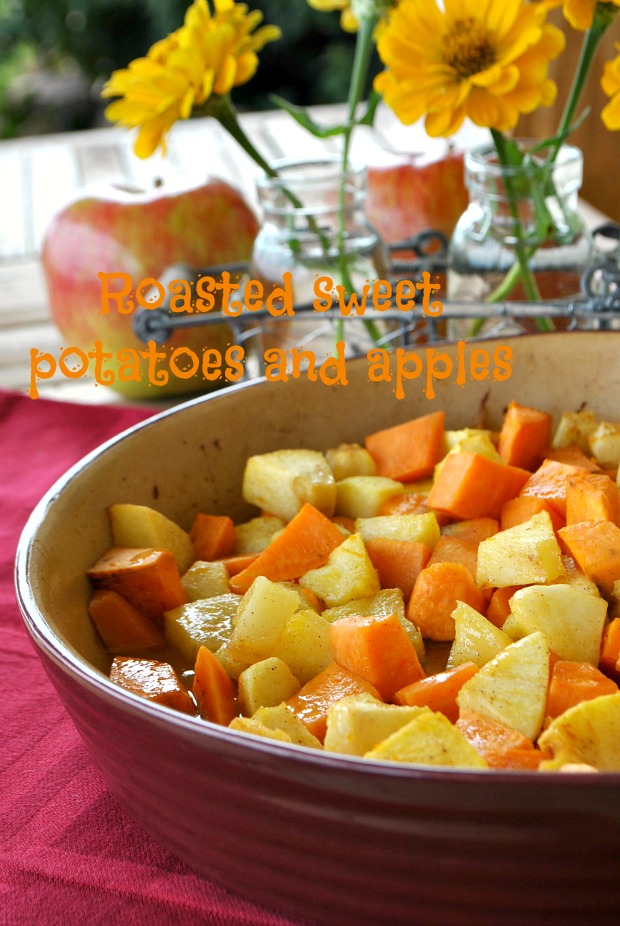 What happened to the brown sugar, the marshmallows, and the sweet potato puree? I decided to go a tad bit healthy for this virtual Thanksgiving. Don't get me wrong I love the traditional American sweet potatoes with the browned marshmallows on top but I wanted to be able to really tell what I was eating and call it a vegetable and a fruit together in harmony. The light sprinkling of cinnamon and punch of citrus give this dish more flavor without all the sugar.  This simple and healthy side dish will help you feel less guilty about eating that second piece of pie.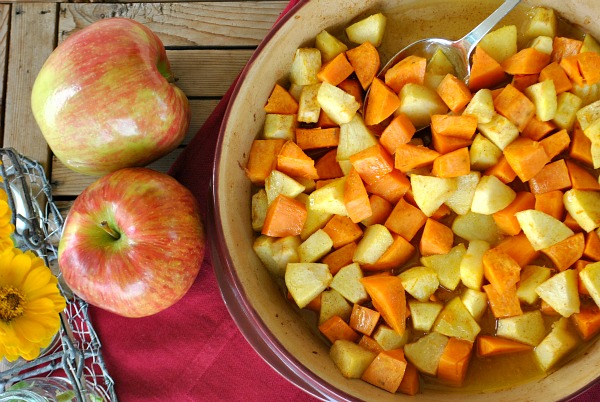 Roasted Sweet Potatoes and Apples – A Virtual Progressive Dinner
Ingredients:
3 cups of peeled and cubed sweet potato (1 large)
3 cups of peeled and cubed Honey Crisp apples or other sweet but crisp apple (2 large)
1 orange zested and juiced
1/4 cup melted butter
sprinkling of cinnamon
1/4 cup warmed honey
1/4 tsp. orange extract or 1 drop of orange oil
Directions:
Step 1: Spray a shallow baking dish or sheet cake pan with cooking spray.
Step 2: Put the sweet potatoes and apples in the dish, there should be one layer.
Step 3: Sprinkle the orange zest over the top of sweet potatoes and apples, then pour melted butter and orange juice evenly over the top. Sprinkle lightly and evenly ground cinnamon on top. Toss the apples and sweet potatoes so all are coated evenly.
Step 4: Bake at 350 F for 45 minutes or until soft but not mushy.
Step 5: Heat honey and orange oil or extract and drizzle over the top of sweet potatoes and apples and serve.
Optional: Try making these candied citrus nuts to sprinkle on top when ready to serve the dish.
Serves: 4-6
The following food bloggers are particapating in today's progressive dinner so go give them some love :).
What's Cooking With Ruthie
Six Sister's Stuff
The Mother Huddle
Inside BruCrew Life
Cooking Classy
You Made That?
A Pretty Life in the Suburbs
The Sisters Cafe
Jamie Cooks it Up
It wouldn't be a party without a door prize now would it? Using the rafflecopter below put your name in the "hat" for a $200 gift card to 1 store of your choice: Target, Kroger, or Walmart – to cover your Thanksgiving dinner. That's right, we're going to pay for someone's Thanksgiving dinner! To enter just pin this page to Pinterest. For a couple more entries you can follow the new Pinterest board Simple And Delicious Weeknight Meals, and follow the new Simple and Delicious Weeknight Meals Facebook Page. Won't these be handy for the busy Holiday weeknights?
Open to US Residents only. See terms for alternate entry. Winner will be notified by email on November 10, 2012.