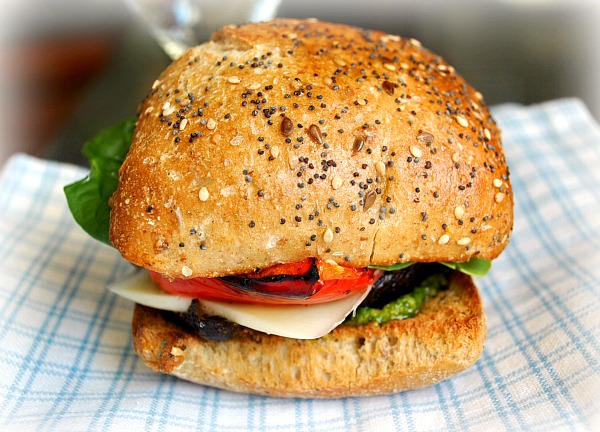 I feel like I have been absent from the blog for a while now since I haven't posted a recipe in two weeks. I have been cooking but as you all know not all recipes are winners. For instance, I made this beautiful pie the other day which I had planned to share on here but cut into it and it wasn't cooked long enough :(. I was so disappointed too because the ingredients were not cheap, plus it was the second recipe from this cookbook that I have tried that didn't turn out, I followed the directions to the T but to no avail. The week before I was busy making a wedding cake and baking cookies for it also and…getting sick ugh. I managed to get some malware on my website that had really messed things up and google had me on their black list for suspicious site that may harm your computer. I had to hire someone to get the problem fixed and now all should be well and hopefully I won't have anymore problems with that issue.
If you are a mushroom lover then you will really appreciate this post if not well I guess you probably aren't even reading this far down anyway :). I wanted to make this sandwich again and take better pictures but it's just didn't happen so sorry they aren't the best photos but the sandwich now is seriously good. I have seen and heard about making Portobello mushroom burgers and wondered how good they really would be well, this one was awesome! Not trying to toot my horn at all because balsamic vinegar is no secret, I just wondered why I never did this before. I found a small Portobello at the grocery store and thought it would be perfect for one since I wasn't sure the rest of the family would like a mushroom sandwich.  A few splashes of balsamic vinegar and extra virgin olive oil on the mushroom and bell pepper then salt and pepper,a good roasting in the oven and it's done. I'm telling you the sweet tangy flavor of the balsamic paired with the fresh pesto and flavorful Asiago cheese was perfect.  I was surprised at how well I liked the texture of the mushroom it really did feel like meat to me.  I am a big texture person if the texture of something is too slimy feeling I generally do not like it.  The sweet roasted red bell pepper it  on top of the mushroom was enough to where I wasn't feeling like I was eating a bread sandwich with a few veggies on it.  I hope you enjoy this recipe as much as I did, I couldn't stop talking about it and I inhaled it so fast I'm surprised I got any pictures of it at all.

Roasted Portobello & Red Pepper Sandwich on Whole Grain Ciabatta Bread
Ingredients:
Portobello mushrooms, 1 per sandwich
red bell peppers 1/2 per sandwich
balsamic vinegar
olive oil
fresh spinach leaves
fresh shaved Asiago cheese or Parmesan
ciabatta rolls or bread store bought or
homemade
fresh pesto store bought or make your own recipe
here
mayonnaise
Directions:
Step 1: wipe off the mushrooms with a paper towel to remove any dirt. Then cut the stem off and with a spoon lightly scrape out the gills of the mushroom (the underside brown part).
Step 2: Wash peppers and cut in half, cut out core and seeds.
Step 3: On a cookie sheet or bar pan lay mushrooms and peppers out and sprinkle generously with balsamic vinegar and olive oil, then salt and pepper both sides.
Step 4: Turn oven to broil, put oven rack close to the top but not the very top of oven. Put vegetables in oven for about 10 minutes then turn over and roast for another 10-15 minutes or until the vegetables are evenly browned.
Step 5: While vegetables are roasting get the other ingredients ready. Cut rolls in half and get out the rest of the condiments.
Step 6: When vegetables are done, toast the rolls in the oven until lightly browned. To assemble the sandwich spread pesto on the bottom of the roll then put a mushroom on then the cheese, pepper, spinach and finally spread mayonnaise on the top roll and eat.