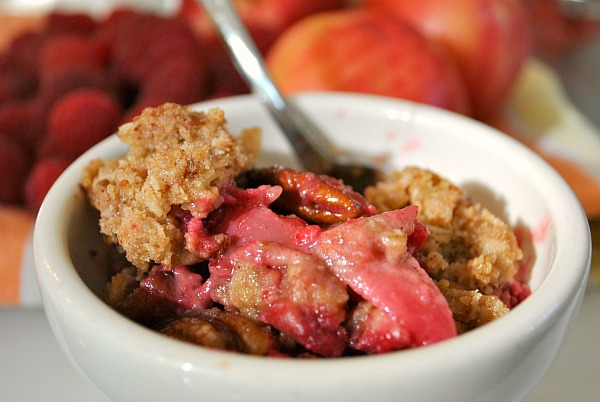 Raspberries and White Nectarines are Summer treats!When you put them together into a rustic dessert with oatmeal nut topping, it becomes a "crisp".  A fruit crisp is the perfect thing to serve at a casual dinner or after a week night meal because it's fuss free. The inspiration for this fruit crisp was a trip to my hometown in CA. and all the luscious fruit that California grows.  I went to a local organic market and oohed and ahhed at all the lovely produce and other healthy foods available :).  I wanted to make something that my mom could enjoy because she is gluten-free due to being allergic. I was thinking that fruit for dessert would be great for her, she agreed, then I remembered I bought some gluten-free flour, so of course a crisp sounds much better than plain fruit.  Some people who are gluten-free can't eat oats, but my mom is only allergic to the gluten found in wheat products so using oats here is not a  problem.  I got out my trusty crisp recipe and made this dessert just for her.  Mom loved the results of this recipe (after all she is my mom) warm bubbly fruit with a crispy, oaty, nutty streusel type topping what's not to love. I didn't add any sugar to the fruit but if you want it to be sweeter you can add about 1/2 cup of sugar to the fruit and then top with the oat topping.  We were wanting to enjoy the full flavors of the fruit without added sweetness plus Dad is diabetic now too.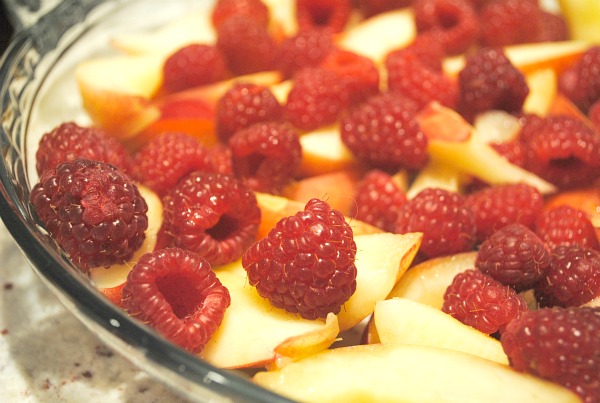 Raspberry & White Nectarine Crisp
Ingredients:


4 white nectarines sliced or more if you like

1 basket of seedless raspberries

1/2 cup butter

1 cup flour

1/2 cup of oats (rolled or quick)

1/2 cup brown sugar

1 tsp. cinnamon

1/4 tsp. all spice

1/4 tsp. cloves

1/4 tsp. salt

1/3 cup of raw nuts chopped (walnuts, pecans or almonds)

Directions:
Step 1: Wash fruit and dry completely. Cut nectarines into slices with or without skin on, I left the skin on.
Step 2: Put fruit into a shallow 9 in. pie pan. May use individual ramekins .
Step 3: In a mixing bowl put all dry ingredients into the bowl and mix, then add cold butter cut into small cubes. Mix with a pastry blender or a mixer until ingredients look like coarse meal.
Step 4: Pour over the top of the fruit and spread evenly. Bake at 400 degrees for 30 minutes or until bubbly.
Cooks Notes:
The streusel topping could be halved if you like less topping and more fruit, but I'm the opposite.
If you don't like nuts just leave them out.  I forgot to add my nuts until the end so I sprinkled them on top but they got a little crisp in some spots.