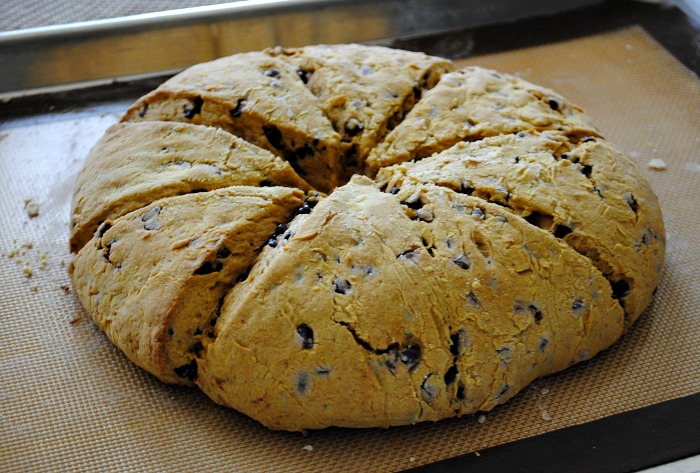 Happy Fall ya'll!
Autumn is my favorite time to cook and bake, and pumpkin is a favorite flavor of mine. I made these delicious scones in honor of all the pumpkin lovers of the season. I like the warm spices that give pumpkin its unique flavor, because without cinnamon, nutmeg, allspice and cloves pumpkin is just a bland tasting squash. Mini-chocolate chips are great to use in these soft scones because they spread out more evenly, giving a bit of chocolate in each bite.
Put this recipe on your weekend to do-list when you have time to savor the flavors of Fall. These scones would make a great start to a day set aside to go to a pumpkin patch searching for the perfect pumpkin to carve. The dough can be made ahead of time rolled and cut then freeze or refrigerate the dough, and pop in the oven when you're ready.

Pumpkin Chocolate Chip Scones
Ingredients:
2 3/4 cups flour
1/2 cup brown sugar
1 T. baking powder
1 tsp. cinnamon
1/2 tsp. all spice
1/4 tsp. fresh grated nutmeg or regular ground
1/2 cup cold butter, cubed
2/3 cup pumpkin puree
1/4 cup buttermilk
1 egg
1 tsp. vanilla
3/4 cup mini chocolate chips + 1/4 c. for drizzle
Directions:
Step 1: Pre-heat oven to 400 degrees, line a cookie sheet with parchment paper or silicone mat.
Step 2: In a food processor put cold butter cut into chunks, then flour, sugar, baking powder, spices and turn on until the butter is in small beads. If using a pastry blender by hand just use it mashing the butter into the dry ingredients until the butter is in small beads.
Step 3: Add egg and vanilla and turn on food processor to pulse then buttermilk and pumpkin until the dough forms into a ball.
Step 4: Turn dough out onto a floured surface and knead chocolate chips.
Step 5: Roll or pat dough out into a circle about 8 in. around and 1-1 1/2 in thick and cut with a pizza cutter like a pie.
Step 6: Bake for 18 to 20 minutes or until lightly browned.
Step 7:For chocolate drizzle: melt 1/4 cup of chocolate chips with 1 tsp. of coconut oil in microwave at 30 second intervals stirring after each 30 seconds until completely melted and smooth. Drizzle over the top of the scones after scones have cooled for about 20 min. and enjoy.