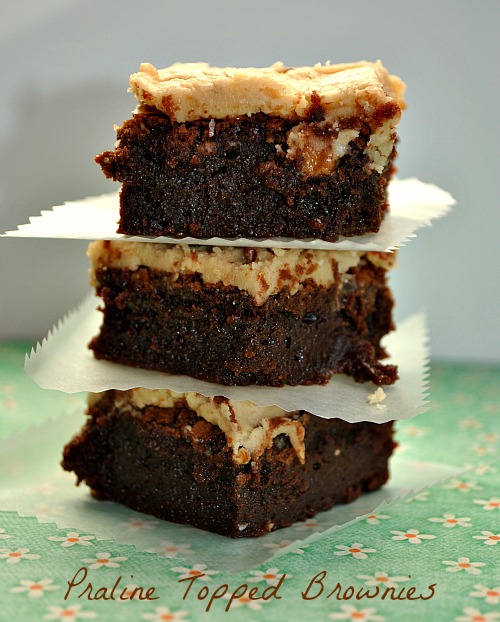 Praline candy is a southern treat that I happen to love, add it to the top of some ridiculously chocolaty rich  homemade brownies and I am a very happy  girl 😉  Wondering what pralines are, they are a rich buttery, sugar and nut candy that has a slightly brown butter taste to them. I fell in love with them on a trip to Charleston, South Carolina.  Pralines and cream ice cream is one of my most favorite ice creams too.   Anyway, making the frosting for these brownies is simple but it wants to set up quickly so you will need to spread quickly and use the tip I included at the bottom of the post.  The praline  frosting really makes these brownies extra special.
Praline Topped Brownies
Ingredients:
1 cup butter
4 (1-ounce) squares unsweetened chocolate
1 cup  semisweet chocolate chips
2 1/4 cups sugar
6 large eggs
2 teaspoons vanilla extract
1/2 teaspoon salt
1 1/4 cups all-purpose flour
Praline Topping
5 tablespoons margarine or butter
1/3 cup packed light brown sugar
1 T vanilla extract + 2 T water
2 cups confectioners' sugar
1/2 cup pecans, toasted and coarsely chopped
Directions:
Step 1: Preheat oven to 350 degrees F. Line 13- by 9-inch metal baking pan with foil; grease or spray foil with cooking spray.
Step 2: In heavy 2 quart saucepan over low heat, melt margarine or butter and chocolates, stirring frequently. Remove saucepan from heat.
Step 3: Transfer chocolate mixture to a large bowl  and beat in sugar, then eggs, until well blended. Stir in vanilla, salt, then flour just until blended.  Spread batter evenly in pan.
Step 4: Bake brownies 35 min. (toothpick inserted in brownies will not come out clean). Cool brownies in pan on wire rack. If not using brownies within 1 day, cover cooled brownies with foil and refrigerate or freeze for longer storage.
Step 5: In 2-quart saucepan over medium-low heat, heat butter and brown sugar, until mixture melts and bubbles, about 5 minutes. Remove saucepan from heat. With wire whisk, beat in vanilla and water, then confectioners' sugar, until mixture is smooth.
Step 6: With metal spatula, spread frosting on cooled brownies; sprinkle with pecans. To cut brownies lift the foil out of pan and cut even squares.
Tip: Spraying the back of your metal spatula with cooking spray, makes spreading frosting much easier.
UPDATE: 10/2011  I made adjustments to this recipe- I cut the chocolate chips out, and I replaced 1 cup sugar with 1 cup of brown sugar.  The texture of the brownies changed a little and they were not as rich but still delicious.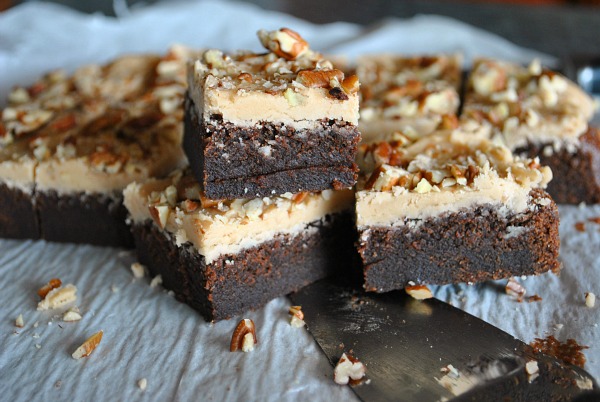 Recipe modified from  Delish.com