Today you get a special treat because I have the pleasure of introducing you to an
old
friend from my high school years.   Anne Shisler Hughes, affectionately known as "Annie" to me and most our fellow classmates, has graciously accepted my invitation to share a recipe with you.  Anne is a contributing author of
Edible Queens Blog,
a blog about the food in the borough of Queens, New York.  Anne is a wonderful writer and we share a love of food.  I think you will really enjoy her recipe for potato leek gratin, it would be the perfect side dish for a traditional Easter dinner.
Potato Leek Gratin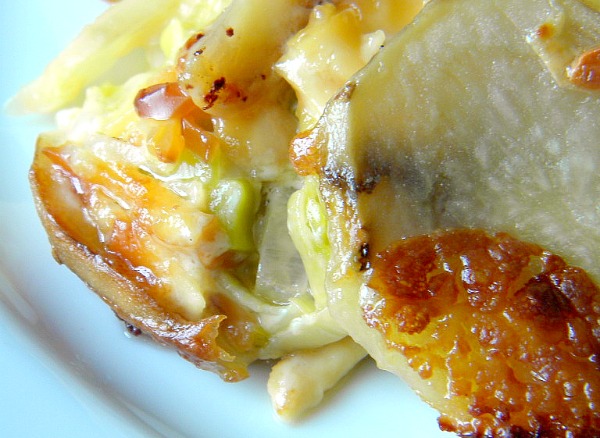 I've been wanting to give an appreciative shout-out to the noble mandoline slicer, one of the few kitchen tools that has significantly improved my culinary life.  I'm not one of those who becomes enamored by – and thus fills the cupboards with – exciting gadgets and appliances, and this American Gen Xer, whose childhood was not filled with scented memories of home-baked pastries, was resistant to the thought of encumbering myself with a French or Japanese (essentially the same) implement whose parts could get separated from the main piece, and which could be tiresome to clean.  However, after slicing endless potatoes, carrots and other vegetables, coupled with the gradual willingness to acknowledge the importance of rendering them as close in width as possible, lead me to try it.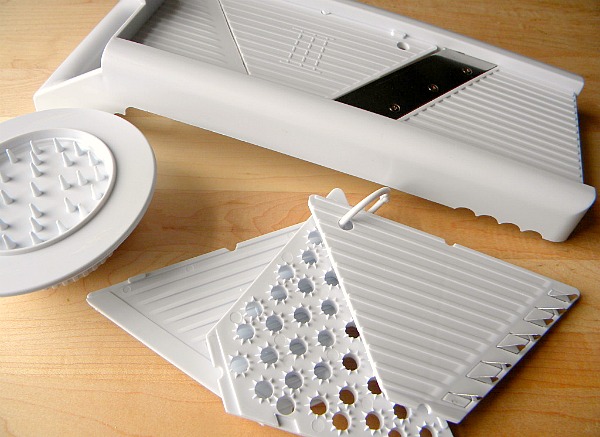 The mandoline, whether fancy and constructed of stainless steel or titanium or such, or made of light-weight plastic, consists of a plane that is raised on one side with a blade diagonally positioned through the middle.  You pass your targeted vegetable over said blade again and again and you get perfectly consistent slices.  There's always a protective handle included that you can jam on the veggie as it becomes smaller so that you don't tear up your hand.  Provided your blade is good and sharp, you can do this so fast you'll be amazed at how quickly you complete your task.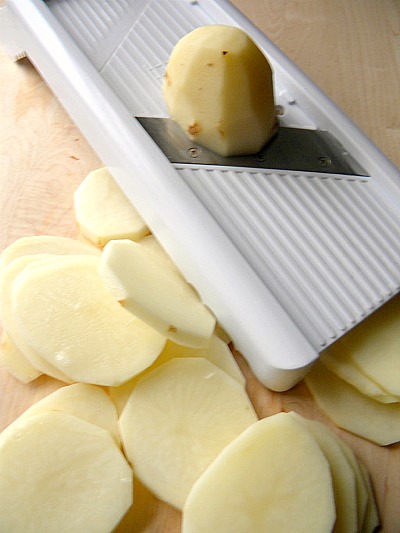 Just going on Amazon gives you a serious variety of mandonlines, the cheaper of which are priced under $20.  There's the Norpro Mandoline Slicer for $16.99, the Benriner Japanese Mandoline for $17.60, and the Kocera Adjustable Slicer, for $22.15, just to name a few.  It's true that everyone was excited when the new, coolly designed OXO Mandoline Slicer came out last year, but you don't have to pay $60.
The potato leek gratin is a truly romantic dish.  It's really about four excellently balanced ingredients: the satisfying potato, the subtly oniony leek, the rich cream and the zesty gruyère cheese.  Sure, this makes a nice winter-time dish, and you can find leeks at the grocery year round, but I like the potato leek gratin at room temperature with a glass of white wine, which is just fine for spring.  And because there is so much slicing to do to put this recipe together, it is also, as we're getting to, a perfect recipe on which to test out and fall in love with the very straightforward mandoline.
Ingredients:
2 large leeks, trimmed, cleaned and sliced width-wise
1 garlic clove, minced
6 medium potatoes, Idaho or Yukon Gold, peeled and sliced width-wise at 1/8 inch, making round pieces
1 ¼ cup grated gruyère cheese
1 ¼ cup heavy cream
3 tablespoons unsalted butter
sea salt
freshly ground pepper
9 X 13 casserole dish, or equivalent
small-medium sauté pan
Directions:

Step 1: Preheat oven to 300° F.  Lightly butter your casserole dish.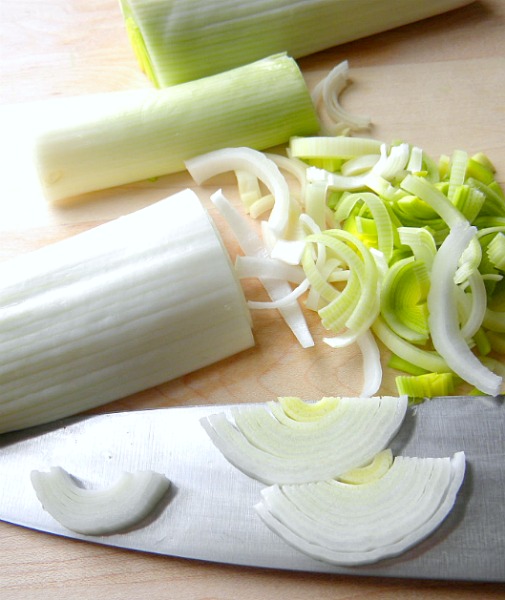 Step 2: Trim the leeks, cutting off the green ends and root stubs.  Slice the remaining white sections in half length-wise and rinse them thoroughly.  Slice the halves width-wise into about 1/8 inch slices.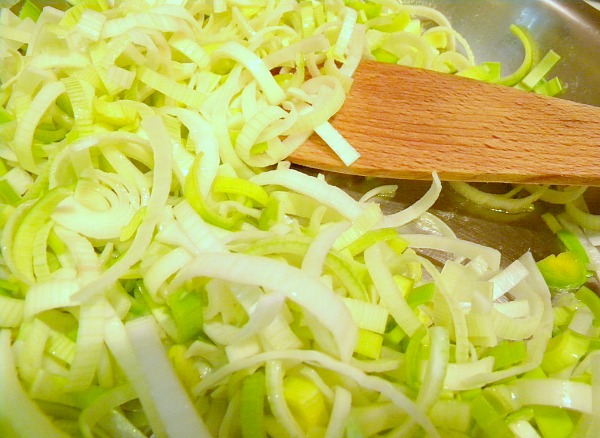 Step 3: Put 2 tablespoons of the unsalted butter in the sauté pan on medium-low heat, melt, and add the leeks, stirring to cover thoroughly with the fat.  Cook until leeks are soft, about 5 minutes.  Add the garlic and sauté for an additional minute.  Remove from heat and set aside, covering to keep warm.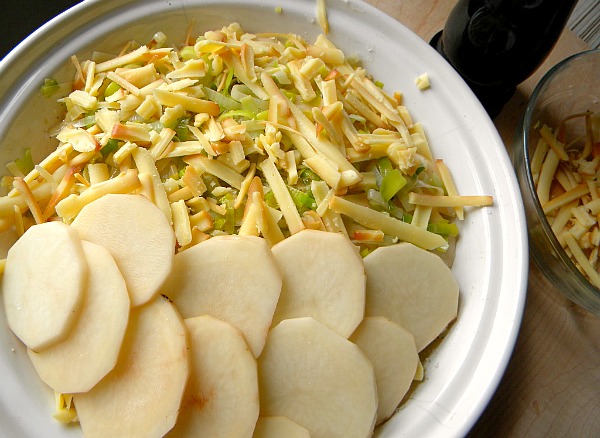 Step 4: Line the bottom of casserole dish with a layer of the sliced potatoes.  Season with salt and pepper.  Add a portion of the cooked leeks, add a portion of the grated cheese, dabble with butter.  Repeat this layering until you've used all of the ingredients; there should be a layer of potatoes on top. Pour the cream over the layers into the dish and add a sprinkle of the gruyère on top.
Step 5: Bake for approximately 1 ¼ to 1 ½ hours.  The cream will simmer but should not boil and the potatoes will be soft but not mushy.  Your gratin should be golden brown on top and crusted around the sides.  Let it set for 15 minutes prior to serving.
Serves 6 as a side dish.
Big thanks to Serious Eats.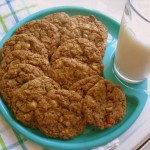 1 yr. ago-Trail Mix Cookies