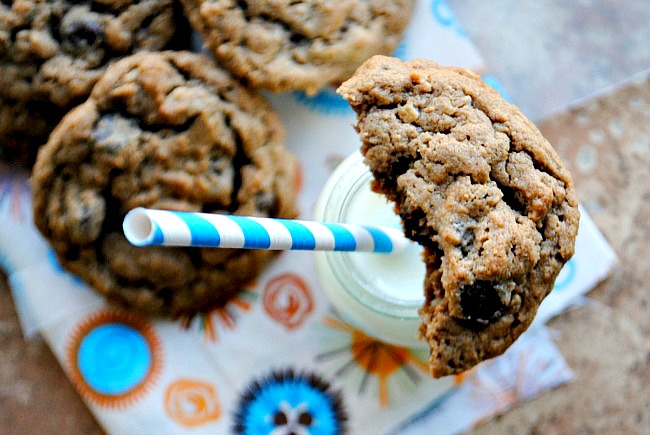 Oatmeal, chocolate and peanut butter come together in this chewy cookie to make them irresistibly good. My son complains each time I make cookies with oatmeal until he tries them and then remembers that he likes oatmeal. Oatmeal makes me feel like cookies are healthy and with the protein in the peanut butter even more healthy right? I really can't say no to oatmeal cookies they seem to beckon me for more with each bite, these little babies are a bit dangerous to have around. Hubby  literally doesn't go a day without peanut butter and the kids love chocolate chips so it seems this cookie meets everyone's needs all in one cookie.
Peanut butter oatmeal chocolate chip cookies
Ingredients:
1 cup salted butter, softened
1/2 cup smooth peanut butter
3/4 cups sugar
3/4 light brown sugar
2 eggs
1 teaspoons vanilla
1  cups all-purpose flour
1/2 cup white whole wheat flour
1 cups rolled oats
1 1/2 TBSP unsweetened cocoa powder
2 teaspoons baking soda
1/2 teaspoon salt
2 cups semisweet chocolate chips
Recipe Adapted from Bake at 350
Directions:
Step 1:  Beat the softened butter and peanut butter until smooth.
Step 2:  Add the sugars and beat until smooth.  Add eggs one at a time, then vanilla and beat until smooth.
Step 3:  In a separate bowl mix together the flours, oats, cocoa powder, baking soda, and salt.
Step 4:  Add the dry ingredients in about 3 batches to the wet ingredients, until all is mixed together.  Fold in the chocolate chips.
Step 5:  Drop rounded tablespoons on a cookie sheet lined with silpat or parchment paper and bake at 350 F. for 12-14 minutes until cookies are done.  Transfer to cooking rack after about 5 minutes to cool completely.