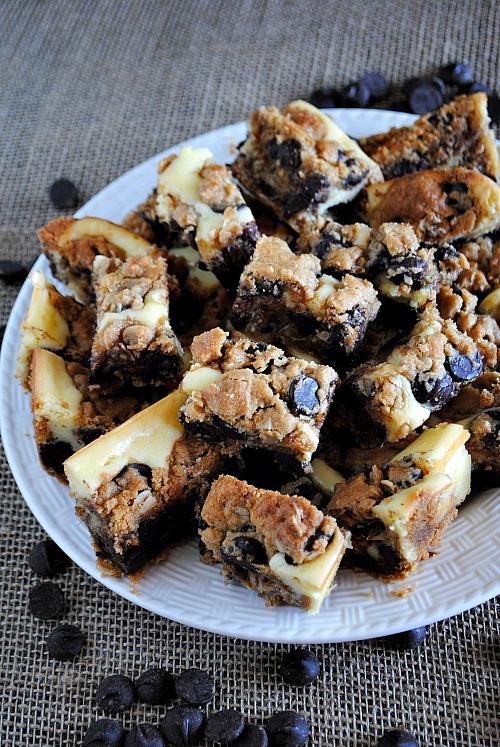 Happy Cinco de Mayo!! I know this isn't a Mexican recipe but it's still a good one. I am joining in with some fellow food bloggers for a Chocolate Party, that's right a chocolate party!! This month's secret ingredient to use with chocolate is peanut butter, so if you love peanut butter you are one happy camper.
New to the chocolate party? Would love for you to join us! here's how it works!
Each month Roxana from Roxana's Home Baking, along with talented blogger friends, decide upon a secret ingredient to use in our chocolate sweets.
The recipes will be shared on the first Monday of each month and you can add your own recipes until the end of the month when the party is over and a new one is opened. You can submit up to 3 recipes each month.
To make sure everyone is having fun, there are a few rules you'll have to follow:
1) Blog about your chocolate treat. Your recipe must include the two ingredients we choose. It can be a simple no bake treat or a sophisticated layer cake, the complexity level of the recipe is totally up to you.
2) Include a link back to a monthly round-up or the Chocolate party page. Optional, add the Chocolate Party logo in your blog post or on your sidebar.
3) Your recipe must be published during the current month. Please do not link old recipes.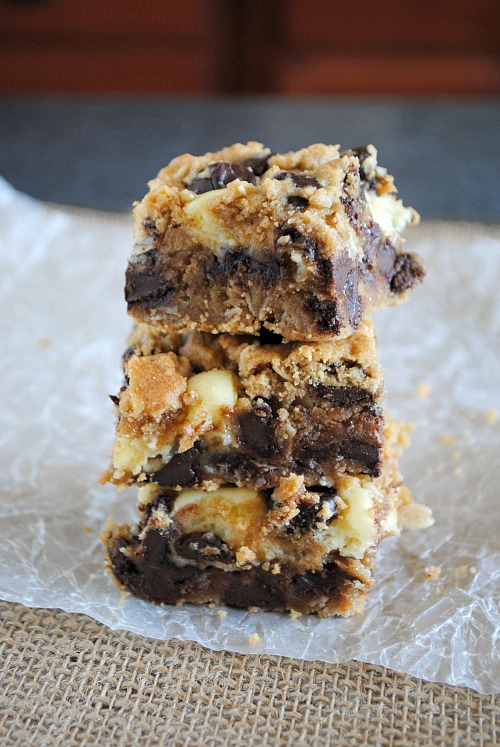 I hardly ever ate peanut butter as a kid, but I think I'm making up for lost time now because it seems like I can't get enough of it. My husband rubbed off on me I suppose because he eats peanut butter daily. Peanut butter isn't as unhealthy as health foodies would have you believe, yes it can be high in fat but it's also high in protein. The sugar content isn't all that high it's really what we put with it that makes it bad :). I hope I convinced you to start eating more peanut butter, if not maybe these photos will. I'm sharing this recipe below from Pinch of Yum and I only changed up the amount of chocolate used in the recipe. My family loved these bars, they loved the gooey chocolaty, peanut butter goodness with the tangy sweet cheesecake layer. I hope you give these bars a try and add your own take on them.
Peanut butter chocolate chip cookie cheesecake bars
Ingredients:
1/2 cup or 1 stick butter softened
1/2 cup granulated sugar
1/3 cup packed brown sugar
1/2 cup peanut butter
1 egg
1 cup flour
1 teaspoon baking soda
1/2 teaspoon salt
1/2 cup rolled oats
1 1/2 cups chocolate chips
Cheesecake layer:
8 ounces cream cheese, softened
1/3 cup sugar
1 egg
1/2 teaspoon vanilla
Directions:
Step 1: Preheat oven to 325 degrees. Prepare a 9 X 9 inch pan with cooking spray.
Step 2: Cream the butter, sugars, and peanut butter until smooth and fluffy. Add the egg and beat until incorporated.
Step 3: In a separate bowl, mix the flour, baking soda, and salt. Slowly add the flour mixture in with the butter and sugar, mixing well after each addition. Stir in the oats and chocolate chips.
Step 4: Cream the cream cheese, egg, sugar, and vanilla until smooth.
Step 5: Press half to two-thirds of the cookie dough in the pan. Pour the cheesecake filling over the dough. Crumble the remaining dough and sprinkle over the top. Cover with foil and bake for 20 minutes; remove foil and bake for another 15-20 minutes, or until tops is lightly browned and cheesecake layer is set. Serve warm or cold and store leftover bars in refrigerator.
Serves: 12 large bars for 24 small.