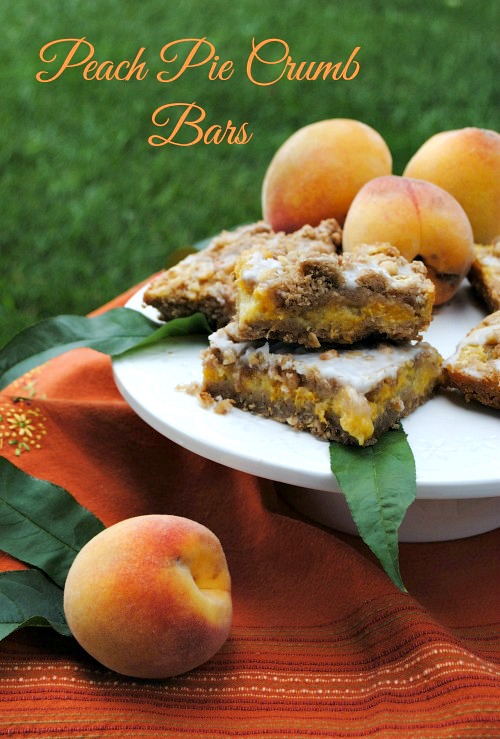 Peaches are in full swing right now and there is nothing better than a fresh peach right off the tree. I'm in California visiting my family and my Dad has a peach tree so I'm feeling pretty lucky. Last year I was in Arkansas when peach season came and I was able to pick lots of peaches at a local farm then enjoy making jam, popsicles, cobbler and more. I wanted to try something a little different this year so I looked at my favorite place on the web Pinterest , and my own board called "Peachy" for peach inspiration.   I found a yummy looking recipe from Sally's Baking Addiction, I made some slight changes and renamed them peach pie crumb bars because that's what they remind me of. My family loved these bars and they disappeared quickly, especially with a touch of whip cream or ice-cream, yum!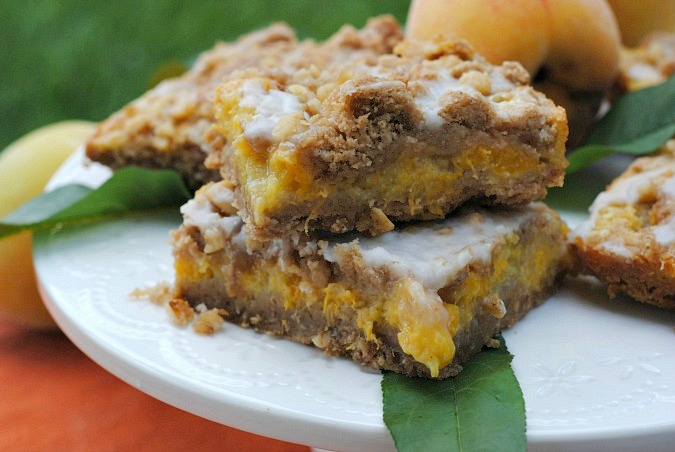 Peach Pie Crumb Bars
Ingredients:
Crust:
2 cups all purpose flour
1 cup oats
2 teaspoons cinnamon
2/3 cup brown sugar
1 1/2 cups cold butter cut into pieces
1/2 cup chopped walnuts
Filling:
2 eggs
1 cup granulated sugar
1/8 teaspoon allspice
2 tablespoons all-purpose flour
1/2 teaspoon salt
2 to 2 1/2 cups fresh peeled peaches chopped
Glaze:
1 cup powdered sugar
1 teaspoon vanilla
2 tablespoons milk
Directions:
Step 1:Pre-heat oven to 350 degrees. Grease a 9 X 13 inch pan. Put the flour, chopped cold butter, oats, brown sugar and cinnamon in a food processor and pulse until the crumbs are small and evenly sized.
Step 2: Dump all the flour-butter mixture into the pan except for 1 1/2 cups. Press the mixture evenly into the pan then bake for 15 minutes. Pour the walnuts into the remaining crust mixture set aside.
Step 3: While the crust is baking make the filling. In a medium size mixing bowl, whisk eggs, sugar, allspice, flour and salt together. Pour the sliced peaches into the egg mixture and fold together.
Step 4: When crust is done pour the filling on top and then evenly sprinkle the rest of the crust crumbs/walnuts on the the top. Place back into the oven and bake for 30-35 minutes or until golden brown.
Step 5:When bars are done let them cool for 30 minutes. Make the glaze at the end of the cool time by whisking together the powdered sugar, milk and vanilla until smooth. Pour the glaze over the top and let cool completely on the counter or speed cooling time up by placing into the refrigerator. Cut into bars 12 to 24 bars depending on the size you would like.