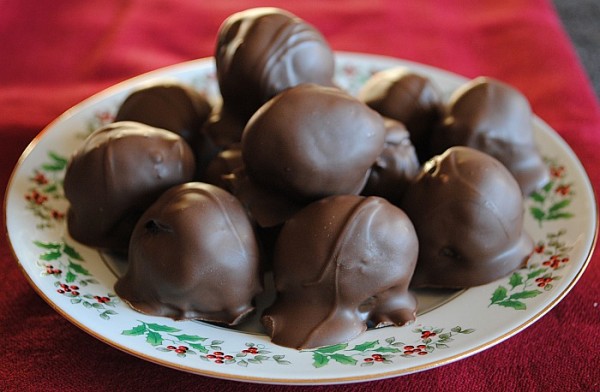 If you want to impress someone with your candy making talents then this recipe is for you. There is no cooking unless you call melting chocolate cooking. These little truffles are rich and delicious and very hard to resists. You can make them with any type of Oreos like, mint, peanut butter or whatever flavor you like. I know the recipe has been around the food blogging world many times but I always meet people who have never had them, so I thought I would share this very simple but to die for truffle recipe.
Oreo Truffles
Ingredients:
1 regular size pkg. Oreo cookies, any flavor
8 oz. of cream cheese
dipping chocolate about 10 oz.
Directions:
Step 1: Put Oreos into the a food processor and turn power on until they are fine crumbs.
Step 2: Cut the cream cheese into chunks and add to the cookie crumbs.
Step 3: Turn on food processor and mix the cream cheese and cookie crumbs until combined into a ball.
Step 4: Roll the dough into bite size balls.
Step 5: Get chocolate ready by cutting into chunks, putting into a microwaveable bowl. Can also use a double broiler. Microwave chocolate on 50% power stirring at 30 second intervals until melted. Drop a ball in one at a time into chocolate, remove with a spoon and let dry on wax paper. Store truffles in the refrigerate. Can't get any easier than this, enjoy the compliments you will get :).