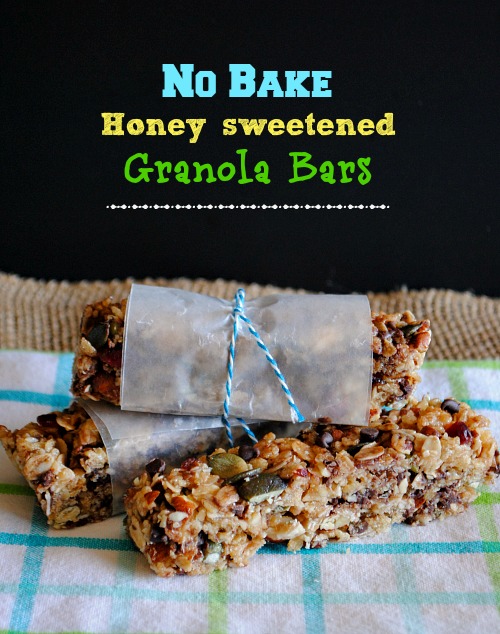 I eat granola bars a lot, especially the ones with added protein because they give me energy and keep me full longer in between meals. These granola bars so good, I had to give half of them away so I wouldn't eat them all! I loved them not only because they tasted great but because they were really easy to make too. I was in and out of the kitchen in no time with very little mess.  While I enjoy the protein packed bars, I really like these because they are sweet and salty with lots of good for you ingredients in them. Roasted almonds and pumpkin seeds, flax meal, dried fruit, oats are just a few of the yummy ingredients that make these bars so delicious and healthy. Hope you give these bars a try and enjoy them for a healthy snack.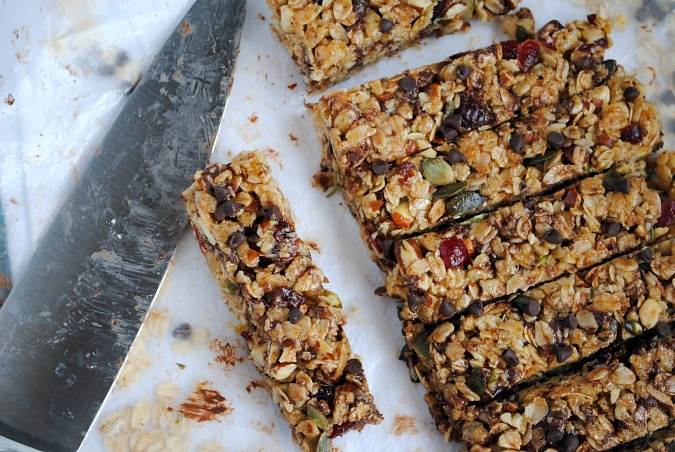 No bake honey sweetened granola bars
Ingredients:
1 cup rolled oats
2 cups rice crispy cereal unsweetened
1 cup roasted chopped almonds
1/4 cup roasted salted pumpkin seeds
1/2 cup dried cranberries
1/4 cup flax meal
1/2 cup unsweetened coconut
1/2 cup honey
1/4 cup coconut oil
1/4 cup Truvia or any sugar you like (you could leave it out too since the honey is enough sweetness)
1/2 tsp. salt
1/2 cup mini chocolate chips
Directions:
Step 1: Toast chopped almonds and flax meal over the stovetop on medium low or in the oven at 350 F. for 10. Take off the heat and let cool down.
Step 2: While the nuts are roasting cook the coconut oil, honey and sugar together until they come to a boil, then let the mixture simmer for 6-7 minutes. Add the salt to the honey mixture and stir.
Step 3: Put the oats, rice cereal, cranberries, pumpkin seeds and coconut together in a medium, size bowl and mix together.
Step 4: When the almonds and flax have cooled down mix them into the medium size bowl.
Step 5:Finally stir the honey mixture into the oat mixture and mix well. Add the chocolate chips when the oats are not hot so they won't just melt together. Pour the mixture out into a 8 X 8 inch pan or 9 X 9 inch pan lined with wax paper, or parchment paper and put a piece of wax paper on top and press down firmly. Put bars in the refrigerator until hardened and not falling apart. Then take out and cut into bars. Makes about 12-14 bars. Store in the refrigerator.