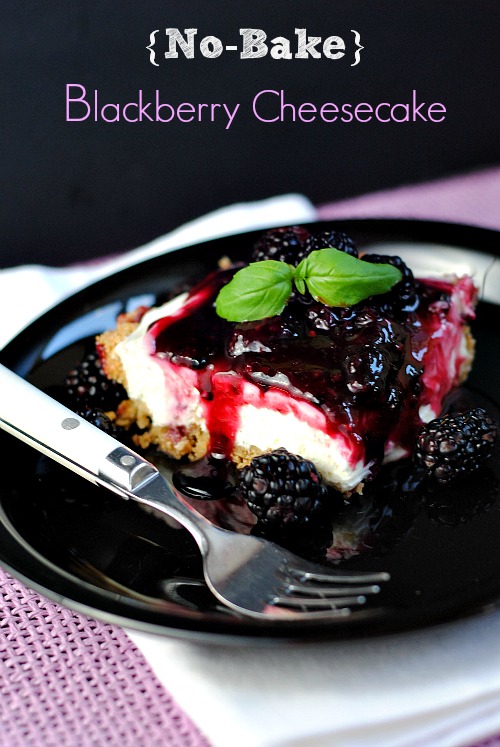 Did you know it's National Cheesecake Day? Just incase you didn't know and want to celebrate with me I have this really easy recipe that you can whip up in no time. I have also joined together with other food bloggers to celebrate and we are sharing our love of cheesecakes. I'm positive you could find any type of cheesecake you're looking for with 65 plus recipes in one place, so don't forget to scroll down for additional recipes. If you're a Pinterest fan then go over to my board labeled none other than "Cheesecakes" for more drool worthy eye candy to get you into the cheesecake mood.
I went blackberry picking this year and had fun with family and friends in the "wee" hours of the morning when I'm normally sleeping. I was sorely tempted to just pay my nephews money to pick me some berries and not get out of  my comfy bed, but I didn't, and here is my iphone pictures to prove it 🙂 .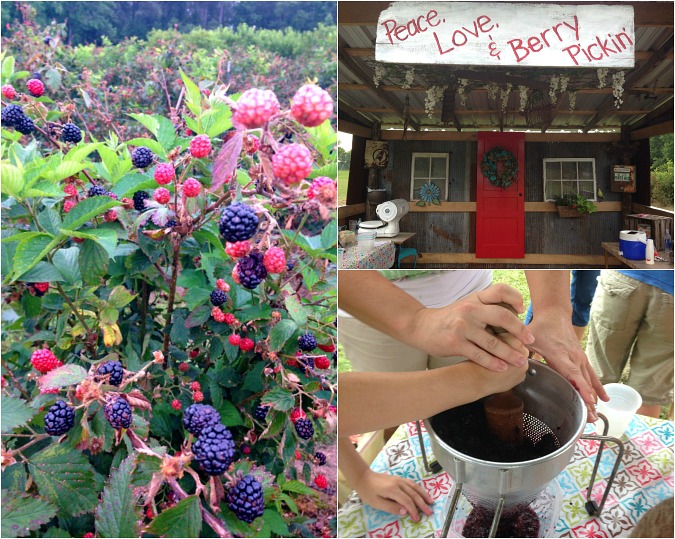 The berry farm we went to had this cute little shack decorated where they weighed the berries, served fresh cold water and a blackberry demo of how to juice them or deseed the berries for making many recipes. The kids got to help with this fun little job and really enjoyed it.  After picking berries I felt so accomplished since it was still early and I picked all these beautiful berries.  I will be sharing several recipe from my blackberry pickings and hope you enjoy them and give a few a try.
The no-bake cheesecake is a delicious and simple way to enjoy cheesecake without heating up the house or much fuss.  I made this cheesecake for my mother-in-law's birthday and it was a total hit with the kids and adults.  I made this cheesecake in a 9 X 13 inch pan but a cheesecake pan would work perfectly too.  If you like other berries instead of blackberries then top it with anything you like.  My son requested a plain cheesecake next time since he prefers it that way but to me that's boring.

No-Bake Blackberry Cheesecake
Ingredients:
Crust:
2 cups graham cracker crumbs
3/4 cup melted butter
1/4 cup granulated sugar
Filling:
16 ounces cream cheese softened
1/2 cup sour cream
3/4 cup granulated sugar
1 teaspoon vanilla
1 tablespoon fresh lemon juice
2 cups whipping cream
Topping:
4 cups blackberries
1 cup granulated sugar
1 tablespoon cornstarch
Directions:
Step 1: Prepare a 9 X 13 inch pan by spraying with cooking spray.
Step 2: In a food processor put about 2 packages of graham crackers in and process until fine crumbs. If you don't have a food processor you can put the graham crackers in a ziplock bag and crush with rolling pin. Add a 1/4 cup of sugar to the crumbs and mix well.
Step 3: Melt butter and mix with the graham cracker crumbs. Pour the crumb mixture into the pan and with the back of a measuring cup spread the crumbs out evenly and up sides. Refrigerate crust until you are ready to pour the cheesecake in.
Step 4: In a large mixing bowl beat cream cheese, sour cream, sugar, vanilla, lemon juice until creamy and no lumps.
Step 5: In another bowl or I like to use my high speed blender beat whipping cream.
Step 6: Fold the whipped cream into the cream cheese mixture and pour into the prepared crust. Spread out the mixture onto the crust and cover with plastic wrap and refrigerate while you make the blackberry topping.
Step 7: I used fresh blackberries but you can use frozen as well. Since I am not a lover of the seeds I took half of the blackberries and blended them in the food processor then put them through a sieve to remove the seeds. In a medium large saucepan I put the the remainder of the berries and the juice of the ones I deseeded plus the 1 cup sugar and cornstarch. Stir well and cook on medium until bubbly and thickened, stirring often. Let berry topping cool completely before pouring onto the cheesecake. If the cooked and cooled blackberry topping is too thick then you may add a tablespoon of water to it until thinned to your liking.
Step 8: Pour the topping on top of the cheesecake and put back into the refrigerator at least 4 hours until cold and set.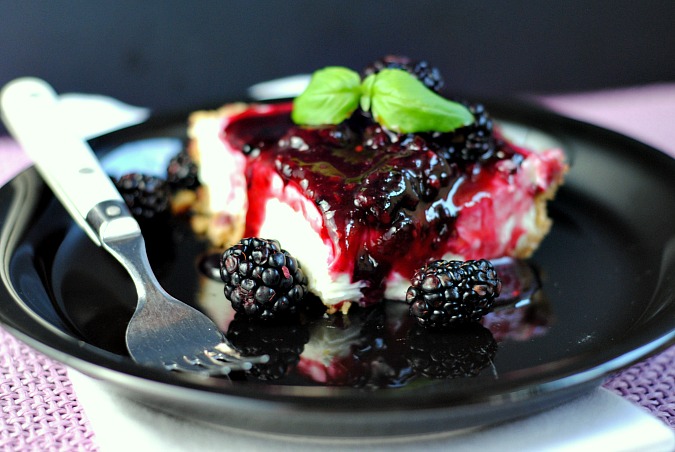 Please check out some great Cheesecake recipes below:
Pear cheesecake with gingersnap crust from Roxana's Home Baking
Strawberry Chocolate Ganache Cheesecake Bars from A Kitchen Addiction
No-Bake Peanut Butter Cheesecake from Crunchy Creamy Sweet
Frozen Peanut Butter Cheesecake with Nutter Butter Crust from Crazy for Crust
Caramel Overload Cheesecake Bars from Crumbs and Chaos
Blackberry Goat Cheese Cheesecake from Baking a Moment
Healthier Peanut Butter Cheesecake Brownie Bars from Texanerin Baking
White Chocolate Raspberry Swirl Cheesecake from Will Cook For Smiles
Coconut Cheesecake with Macadamia Crust from All Day I Dream About Food
Lemon Cheesecake from Shugary Sweets
No Bake Peanut Butter Cheesecake from Dinners, Dishes, and Desserts
Oreo Cheesecake (vegan) from Namely Marly
Blueberry Ricotta Cream Cheesecake from Hungry Couple
Lemon Ginger Panna Cotta Cheesecake with Blueberry Sauce from Girl Versus Dough
Mini Mascarpone Cheesecakes with Strawberry Balsamic Topping from Boulder Locavore
S'mores Cheesecake from The Gunny Sack
Raspberry Cheesecake with Oreo Crust from Hip Foodie Mom
Black Raspberry Cheesecake Milkshake from Blahnik Baker
No Bake Oatmeal Chocolate Chip Cookie Dough Cheesecake from White Lights on Wednesday
Blackberry Cheesecake Popsicles from The Girl In The Little Red Kitchen
Chocolate Nutella Cheesecake Cake from gotta get baked
White Chocolate Frangelico Cheesecake from That Skinny Chick Can Bake
Cherry and Pistachio No Bake Cheesecake with Animal Cracker Crust from Cravings of a Lunatic
Triple Brigadeiro Cheesecake Tart from From Brazil To You
White Chocolate Cheesecake with Macadamia Nuts and Caramel from Taste and Tell
Snickers Cheesecake from Life, Love and Sugar
Cherry Cheesecake Brownies from Inside BruCrew Life
Lilikoi Cheesecake with Macadamia Nut Shortbread Crust from Dieter's Downfall
Strawberry Cheesecake Pots from Barbara Bakes
Mom's Cheesecake from Magnolia Days
Very Berry Cheesecake with Chocolate Oreo Crust from JavaCupcake
Vanilla Bean Cheesecake from Wine & Glue
New York Style Cheesecake from URBAN BAKES
Rainbow Cheesecake from In Katrina's Kitchen
Chocolate Cheesecake w/ Whisky Toffee Shards from girlichef
No Bake Coconut Lime Cheesecake Bars from Beyond Frosting
Lemon Blueberry Cheesecake Bars from Cooking In Stilettos
Ricotta Cheesecake from French Press
Peanut Butter Cheesecake with Nutella Ganache Topping from The Redhead Baker
Chocolate-Covered Strawberry Cheesecake from Savvy Eats
Caramel Macchiato Cheesecake from Wishes and Dishes
Key Lime Pie Cheesecake from Love and Confections
Apricot-Swirl Cheesecake from Take A Bite Out of Boca
Hawaiian Mini Cheesecakes from Pint Sized Baker
Butter Pecan Caramel No-Bake Mini Cheesecakes from Simply Southern Baking
Pumpkin Cheesecake from Lady Behind The Curtain
Mini cheesecakes with a toasted coconut crust (gluten free) from Quarter Life (Crisis) Cuisine
No Bake Blackberry Cheesecake from You Made That?
Mini No Bake Lime Cheesecakes from Miss in the Kitchen
No-Bake Limoncello Cheesecake from Cake Duchess
No-Bake Berry Cheesecake from Food Lust People Love
Key Lime Trifles from Hoosier Homemade
Hawaiian Chantilly Layer Cheesecake from Wallflour Girl
No Bake Cookies and Cream Cheesecake Bars from Garnish with Lemon
Mango Cheesecake (vegan) from Jessiker Bakes
Salted Caramel Apple Cheesecake from Jane's Adventures in Dinner
Chocolate Peanut Butter Cheesecake Bars from Chez CateyLou
Oreo Ripple Cheesecake from Overtime Cook
No Bake Dulce de Leche Cheesecake with Caramelized Peaches from The Food Charlatan
Chocolate Caramel Cheesecake Ice Cream from Chocolate Moosey
Sugar Cookie Cheesecake from Munchkin Munchies
Caramel cheesecake martini from Happy Food, Healthy Life
Frozen PB&C Cheesecake from Noshing With The Nolands
Chocolate Brownie Cheesecake Cookies from Lemons for Lulu