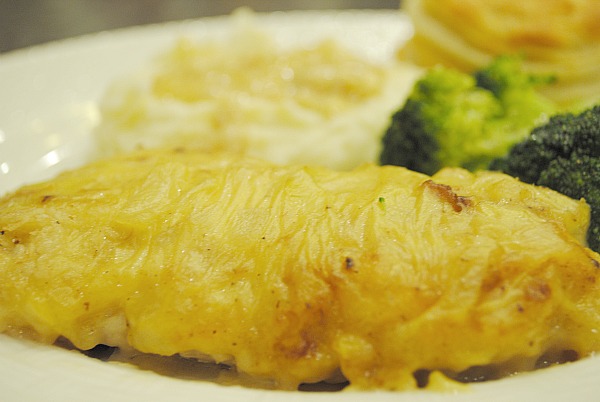 I really wish you all had scratch and sniff on your computer screen because my house smells so good and this chicken taste even better.  This recipe is a combination of lightly frying the chicken first then baking it with the pan gravy.  I learned this years ago when I first got married from my sister-in-law (back when I thought mashed potatoes came out of a box) ;D  Anyway, I've tried to cut down on the the amount of fat there in this recipe by shallow pan frying and draining the chicken on paper towels to soak up most of the oil.  In the original recipe almost all the left over pan oil is used to make the gravy, I do the opposite by emptying all the frying oil and leaving about a tablespoon worth, but I use a pat of butter for more flavor. The end result of the recipe is really moist chicken with some tasty gravy, add some yummy mashed potatoes to go with and it double good.  Even my 9 year old who says he doesn't like onions liked the gravy and ate it all.
Moist Chicken with Gravy
Ingredients:
2-3 boneless, skinless chicken breast split in half
buttermilk
1 cup flour
1/2 tsp. onion salt
1/2 tsp. poultry seasoning
1/4 tsp. pepper
1/4 tsp. celery salt
1 small onion chopped
1 can of condensed cream of chicken soup
1/2 can of milk
Directions:
Step 1: Cut breast in half so they are equal thickness, then pound with a meat malllet to flatten each to make them even thinner.  If the chicken breast you are using are not real big skip the pounding part.  Put chicken in small bowl and pour buttermilk over the top to cover and set aside.
Step 2: In a small 11 X 8 pan or whatever works for you, dump the flour and spices in and mix together.  Pick up one of your pieces of chicken and dredge through flour well so both sides gets a nice covering of flour.
Step 3: In a 10 inch skillet pour about a cup of oil or more just so it isn't very deep. Heat oil on meduium high, when oil is hot lay floured chicken in pan.  I could only cook 2 pieces at a time if you use a bigger pan you be able to get more in.  Over crowding the chicken will take too long to cook.  Cook chicken until it is lighty browned on one side then turn over and brown the other side.  Remember you will be cooking the chicken in the oven so don't over cook it on the stove.
Step 4: Drain fried chicken on paper towels to get excess oil off.  Pour the remainder of the oil from the fry pan into a container to throw away, but don't forget to leave about a tablespoon worth left in pan.
Step 5: Fry onions in the pan for 3-4 minutes then sprinkle a tablespoon of the flour you used to dredge your chicken in, and mix in with the onions.  Pour soup over onions and mix together, then slowly add milk mixing after each bit you add.  Cook gravy until it bubbles and is hot.
Step 6: Pour cooked gravy over the fried chicken breast.  Bake uncovered in the oven for 30 min. at 350 degrees.