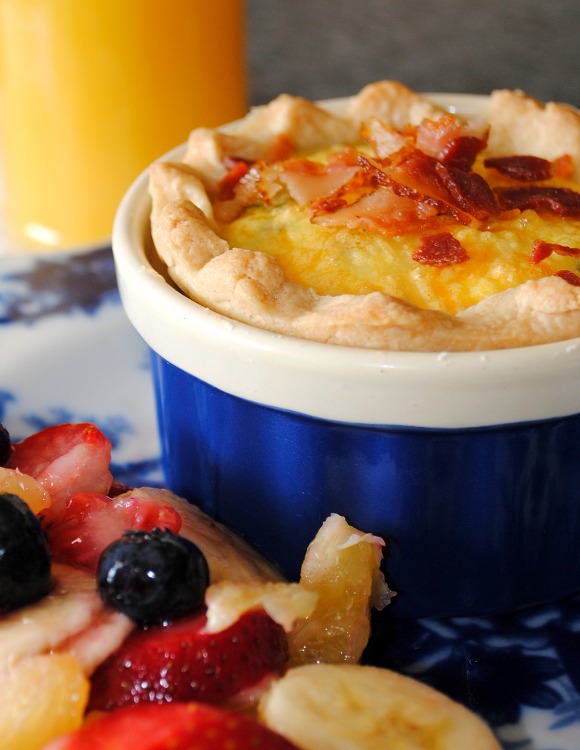 Super simple breakfast, lunch or dinner mini quiches with fruit salad on the side.  I had some left over pie crust dough from Thanksgiving so I wanted to do something fun in my ramekins and this is what I came up with.  Doesn't it look delicious? It was good but I recommend waiting until they cool down a bit before diving in or your tongue will not like it.  How great would it be to have these on Christmas morning, you could do most of the prep-work the night before and throw it all together in minutes.
Mini~Quiches
Ingredients:
6 large eggs
1/2 cup milk
2 T. sour cream
1 cup cheese
onions to liking
6 mushrooms
salt and pepper to taste
hand-full of fresh spinach leaves
8 slices bacon
pie crust homemade or store bought
Directions:
Step 1: Prepare 4 ramekins by rolling out pie dough and fitting to the size of your ramekin. A recipe for a pie crust that has top and bottom should be more than enough. Once the ramekins have dough in them put them back in the refrigerator while the rest of the ingredients are being prepared.
Step 2: Chop onion, mushrooms and spinach small and saute with 1 T. of olive oil. When vegetables are cooked set aside.
Step 3: In a medium bowl whisk eggs, milk and sour cream.
Step 4: Put the sauteed veggies in the ramekins first then add cheese to each one, finally pour the egg mixture in each one. Bake on a cookie sheet at 350 degrees for 30 minutes.
While the quiches are baking cut fruit up of your choice and mix together. I used oranges, bananas, frozen strawberries and frozen blueberries. If you mix your fruit together with a similar flavored yogurt it taste really good.When quiches are done let cool down 10 min. before serving. Enjoy!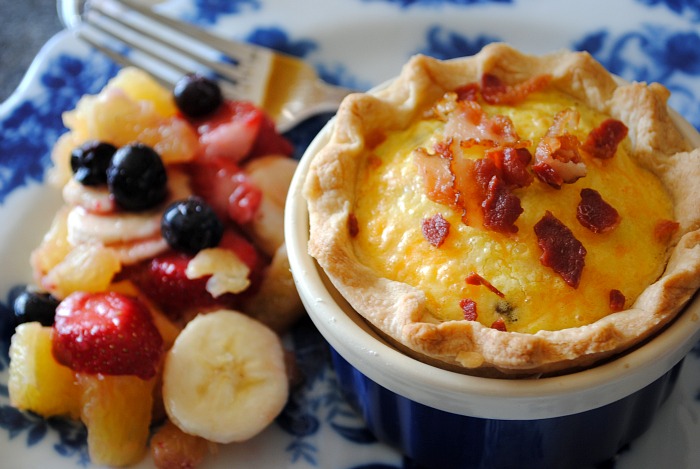 This post is linked to: