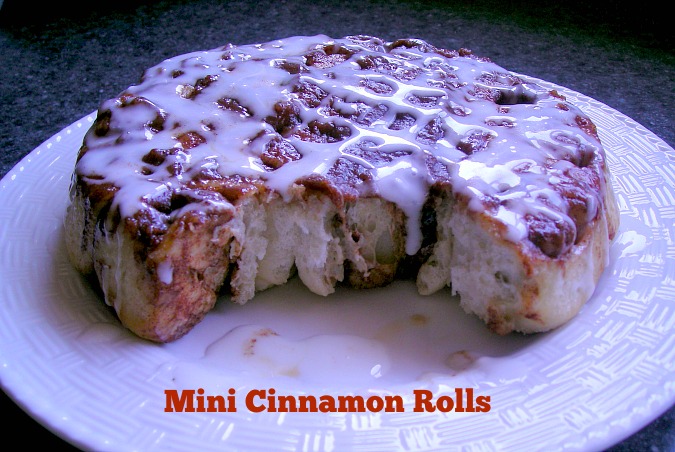 I made my friend Maria's  BBQ chicken pizza again last night and the crust makes enough for 2 pizzas, since I didn't want 2 pizzas I thought "oh make mini cinny's".  We love cinnamon rolls in this house so I knew I was making the right choice.  The next time you make some pizza you might want to make some of these babies for dessert your family will love it.
Mini Cinnamon Rolls
Ingredients:
Maria's Pizza Dough Recipe:
2 cups warm water
2 tsp yeast
1-1/2 tsp salt
1 tablespoon sugar
1 tablespoon olive oil
4-5 cups flour
Cinnamon filling:
1/8 cup of flour
1/4 cup of  melted butter
1/2 cup of brown sugar
1 T. cinnamon
Glaze:
3/4 cup powdered sugar
4 teaspoon milk
Directions:
Step 1: In a large mixing bowl, pour water into a bowl and sprinkle with yeast. Let sit for a few minutes, then add salt, sugar and oil, stir.
Step 2: Add flour and mix on low with a dough hook or stir by hand until dough doesn't stick to sides. Add a little more flour if necessary but try not to exceed 5 1/2 cups of flour.
Step 3: For making the mini cinnamon rolls divide the dough in half.  One for pizza, one for the cinny's. Now divide the dough for the cinny's in half again.  Roll out on about 14 in long and 3 in wide.
Step 4: Mix all filling ingredients together. Spread filling onto the dough,
roll the dough together to seal.  Cut the dough with dental floss about 2 inches wide per roll.  Spray 9 in round pan with cooking spray and put your rolls in.
Step 5: Bake in 350 degree oven and bake for 15 min.  Cool for 10 min. turn out onto plate and let cool completely if you can.  
Step 6: Make glaze by mixing the powdered sugar with the milk, whisking until lumps are out.  Drizzle on top and enjoy.