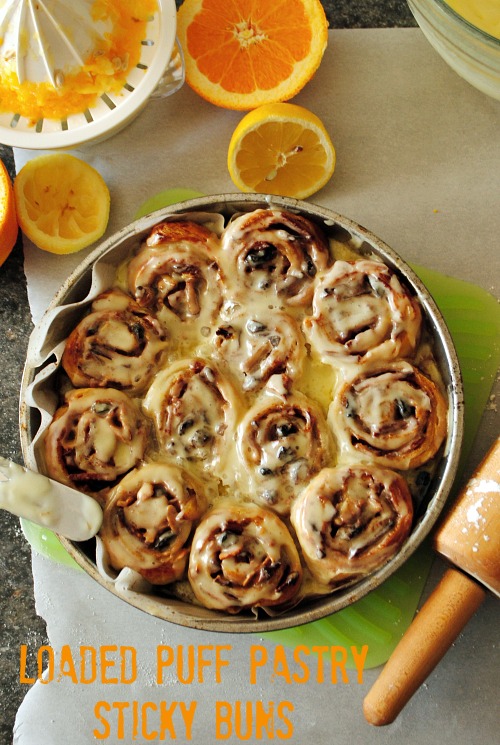 Today I'm joining  with some other bloggers in a group that Kita from Pass the Sushi started called Pass the Cookbook. If you are like many us and have tons of cookbooks that you love to look at but seem to leave the recipes in the book then you should join us and begin cooking those recipes. Kita keeps us updated on the facebook page, she chooses 3 recipes that we may try from a popular cookbook, then we make it and post our recipes or if you are not a blogger you can still share your recipe and photo on the facebook page. It's great fun to see all the recipes and photos so please join us. Pass the cookbook is a group of people who are cooking in those books that you have laying around that it always looks good but for whatever reason it doesn't get done. I haven't participated every month but I'm so glad I was able too this month because when I saw this recipe from the Cookbook Sunny's Kitchen by: Sunny Anderson.  I was really excited to make the sticky buns, it's truly comfort food and we are coming into that season of the the year.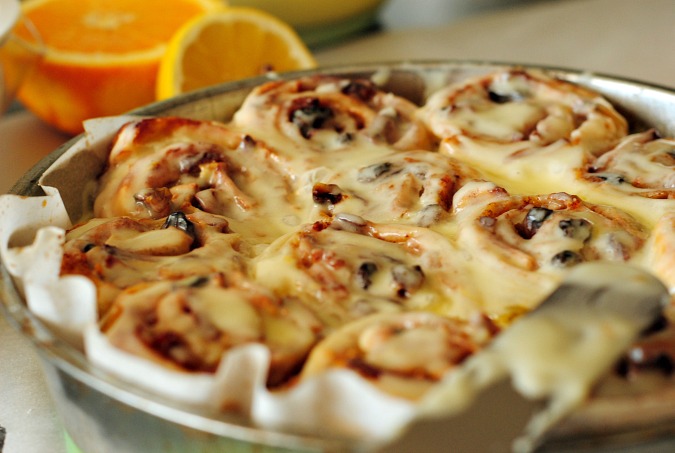 As you can see by the photos the sticky buns lived up to their name, sticky, loaded goodness. Since it's the Fall and apples are in season I loved that we put an apple inside as a nice surprise. I also liked not having to make my own dough, that speeds up the process of making these buns. I am a big citrus fan and this particular recipe calls for lemon and orange zest in the filling and the juice in the glaze, it gives the rolls a bright sunny (no pun intended, well maybe) taste. Sunny's original recipe calls for pumpkin pie spice but I used apple pie spice blend instead and I made half of the recipe without nuts. You can use any nuts you have on hand and in fact that's what I did, I used sliced almonds. I believe this recipe is a keeper and will be used many more times, hope your give this recipe a try.
Loaded Puff Pastry Sticky Buns
Ingredients:
2 frozen puff pastry sheets thawed
5 tablespoons butter
3/4 cup brown sugar
3/4 cup chopped pecans
1 apple, peeled, cored and chopped (I used Granny Smith)
1/2 cup raisins (I used golden raisins)
1 lemon zested
1 orange zested
1 scant tablespoon of apple pie spice
1/4 teaspoon of ground cardamom
pinch of salt
For the Glaze:
3 tablespoons butter
1/4 teaspoon vanilla extract
3 tablespoons fresh lemon juice
3 tablespoons fresh orange juice
1 1/2 to 2 1/4 cup powdered sugar
Directions:
Step 1: Preheat oven 400 F. Grease the sides and bottom of 9 inch cake pan with a tablespoon of softened butter. Cut out a circle of parchment paper and put into the bottom of pan.
Step 2: In a large bowl add brown sugar, nuts, raisins, apple, lemon and orange zest, spices and pinch of salt. Set aside to prepare the pastry.
Step 3: Melt the remainder 4 tablespoons of butter. Unfold the pastry dough and put a little flour down on the counter with a rolling pin roll out the pastry a little so it's not as thick. Repeat with the same thing with the second pastry.
Step 4: Brush melted butter on both pastries leaving one about an inch at one end. Sprinkle the apple mixture evenly on both pastries leaving the one inch end free from the filling.
Step 5: Roll the pastry up by tucking gently and rolling tightly. Press the end with the butter on it to seal it. Cut the ends off and cut each log into 6 even slices. Place the slices in the pan starting on the outside working your way into the middle. Bake for 35-40 minutes until golden brown.
Step 6: While the rolls are cooking make the glaze. In medium size mixing bowl put the melted butter, lemon and orange juice, vanilla and powdered sugar in and whisk well until the glaze is smooth.
Step 7: When rolls are done let them rest for about 10 minutes then pour the glaze on and smooth out with spatula if necessary. Enjoy!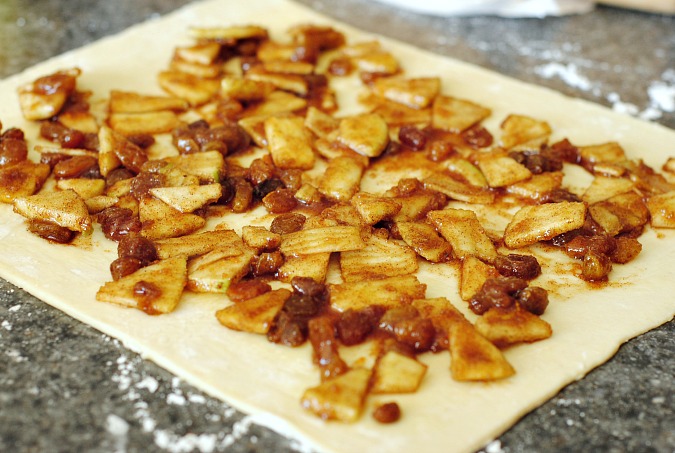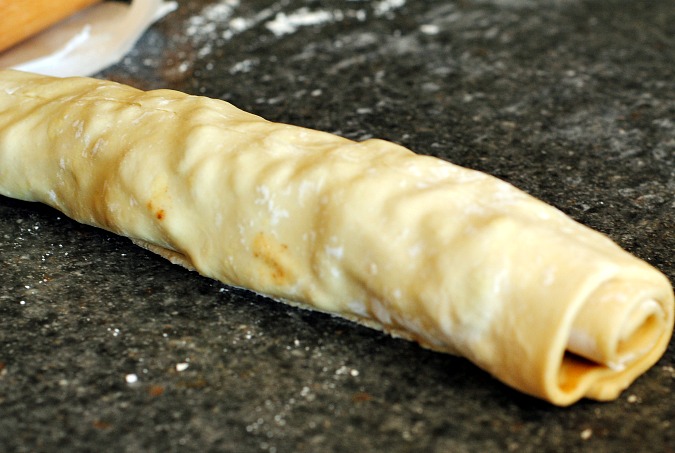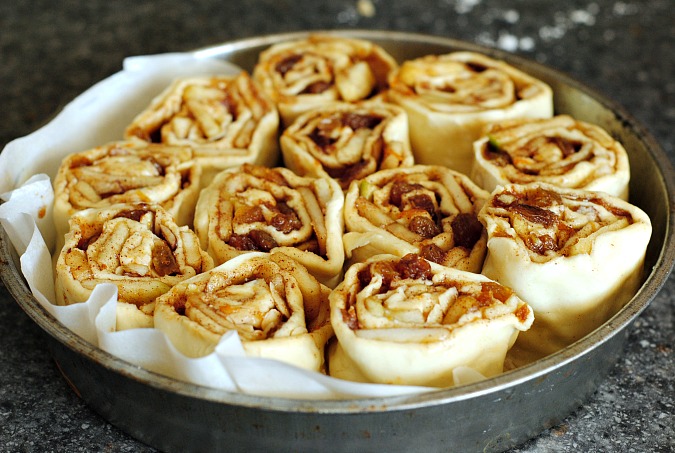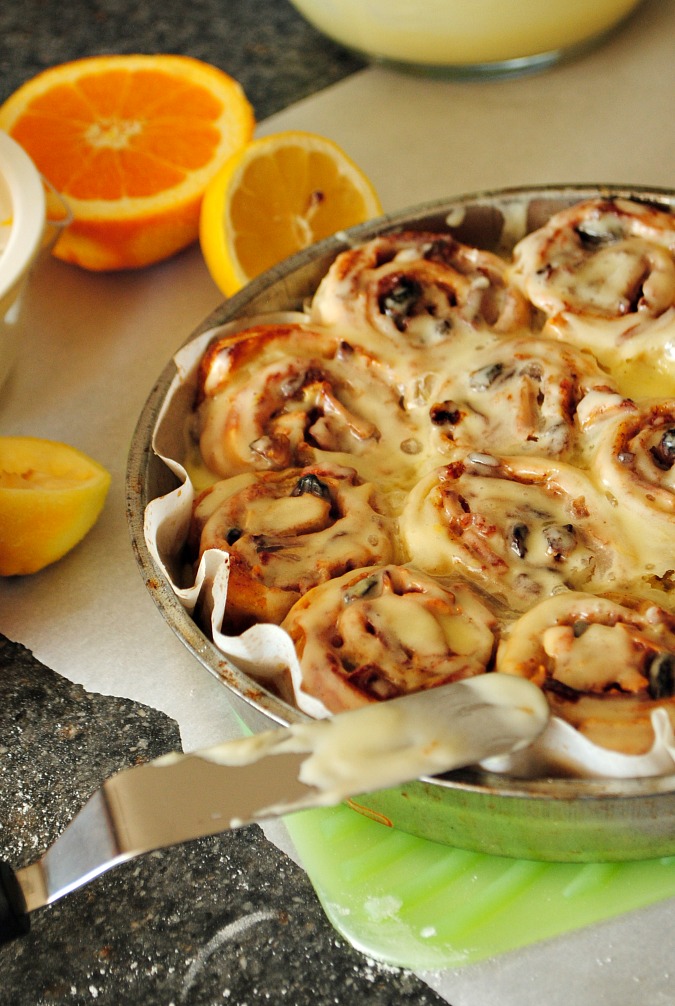 Don't forget to check out the other recipes that people made for the club.