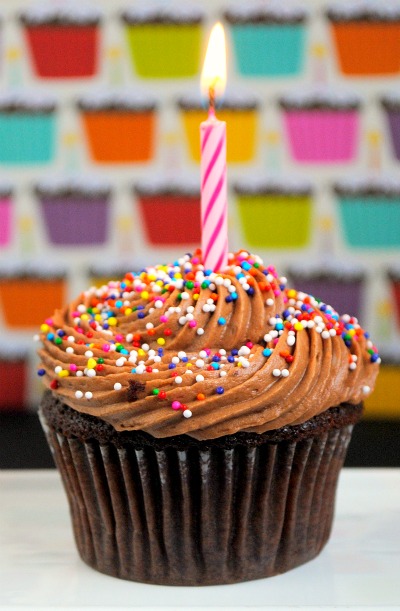 It's YMT's birthday month! Whoot whoot, 1 year ago I decided to start my blog.  It has been fun and I have learned so much and met some really great people and fellow bloggers.  I want to say thank you to all those who read my blog and who make me feel great from your sweet comments. If you are interested in seeing my first blog post then click here, I actually put this recipe on my family personal blog then moved it over here as my first recipe post. You can tell how things evolved since last year.
In honor of my blogs birthday I want to invite you to sit down and grab some punch and a cupcake…mmmm.
Since we are officially in the party mode lets join another party going on right now with
5 Minutes for Mom.com. They are having this huge blog party going on  from April 1-8, 2011 where you can find any type of blog you are looking for all in one place.   Just by clicking over to 5 Minutes for Mom blog then scrolling down and hopping on over to any of the blogs listed 🙂  Isn't that great.  (don't for get to make a few comments to share some love)
In case this is your first visit to my blog then "Welcome" I want to introduce you to some features about my blog.
On to the yummy chocolate cupcakes, I really wish you all were here and could eat them with me because they are oh so good!  I guess you will just have to make the recipe for yourself and celebrate something like the weekend, or some other important event 🙂  These cupcakes are really light in texture and moist.  The frosting is what makes them rich and chocolatey and the sprinkles make them cute.  They take very little time to make and eat so get up and get cooking.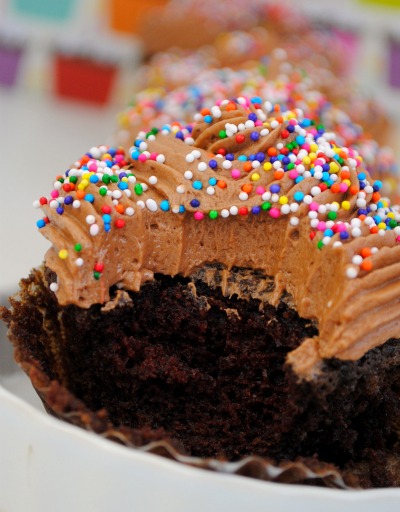 Join the Party Going on April 1- 8
Ingredients for cake:
1 cup of flour
1/4 cup cocoa powder like
Ghirardelli or Hershey's
1 1/4 tsp. baking soda
1/4 tsp. salt
1 egg
1/2 cup firmly packed light brown sugar
1/2 cup granulated sugar
1/2 cup + 2 T. buttermilk
1/3 cup of hot boiling water
1 tsp. vanilla extract
1/2 cup of unsalted butter melted
Ingredients for Frosting:
1 3.5 oz. Lindt 70% chocolate bar
1/2 cup softened butter
2 cups powdered sugar
1/4 cup milk

Directions:
Step 1: Prepare muffin pan with cooking spray or paper cupcake liners.
Step 2: Sift together the flour, cocoa, salt and baking soda into a medium size bowl.
Step 3: In a small bowl whisk together the sugars and egg.  Whisk in milk, melted butter, water and vanilla.
Step 4: Whisk the wet into the dry ingredients until blended.
Step 5: Pour the batter evenly amount the 12 cupcakes, bake at 350 degrees for 20 minutes or until a cake tester comes out clean.
Step 6: Cool on  cooling rack for 10 minutes then turn out of pan and cool completely.
Making the Frosting:
Step 1: Melt the chocolate in the microwave on 50% heat stirring every 30 seconds until melted.  Let cool to room temperature.
Step 2: In a medium large bowl beat softened butter and chocolate until blended well.
Step 3: Add 1 cup of powdered sugar to the chocolate mixture and beat add 1/2 of milk and continue to blend.  Now add remainder of  the powdered sugar and mix in slowly and add the remainder of milk a little at a time until blended to the consistency of frosting.
Step 4: Frost the cupcakes or put frosting in a piping bag with large tip and pipe onto the cup cakes.  Sprinkle with sprinkles and enjoy.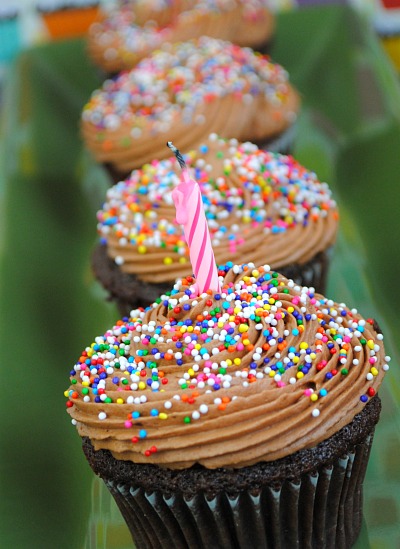 Recipe for cupcakes was adapted from Ghirardelli's Chocolate Cookbook