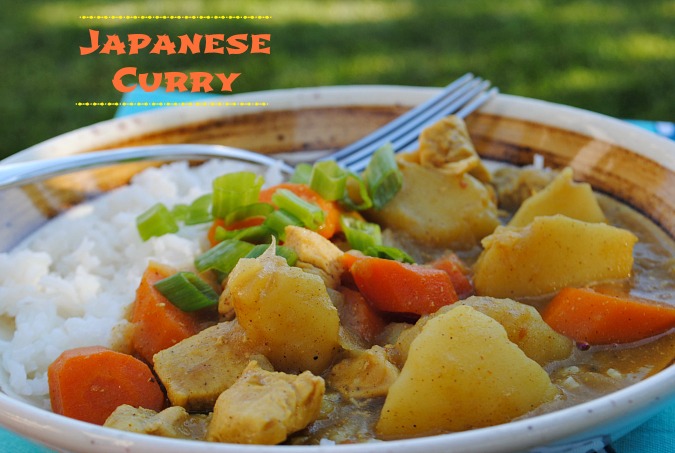 Japanese curry is different than most other Asian curries, I think that Japanese curry is the
best
probably because it was the first type that I tried. I was in college and I had a roommate from Japan, she was a wonderful cook and she cooked daily, unlike the rest of us. One of the first things I remember her making was this curry dish and I tried it and loved it. The flavors are warm, complex, and earthy I never knew how she made it but I remembered how it tasted, one of those foods your palate never forgets. Believe it or not that was over 25 years ago and ever since then I have been willing to try any type of curry but I never had that same taste that I vividly remembered.  I had Thai curry  and it's very good, but didn't taste  like what I was looking for, Indian curry is good also but more bold than Japanese curry. One day my friend
Nami
from
Just One Cookbook
blog posted this
recipe
and I thought I have got to make this and see if it's the taste I've been looking for. The recipe had an ingredient I didn't have called garam masala but for the most part the recipe looked doable for me. After buying the spice I needed I set out to make it. In the past my experience trying to make something curry turned out too hot or spicy, I was a little concerned that it would go that direction this time and my family couldn't eat it. I made the recipe almost exactly as she directed.  Finally, the dish was complete and I put my spoon in the pot for a taste…you guessed it, it was
spot on
just like I remembered!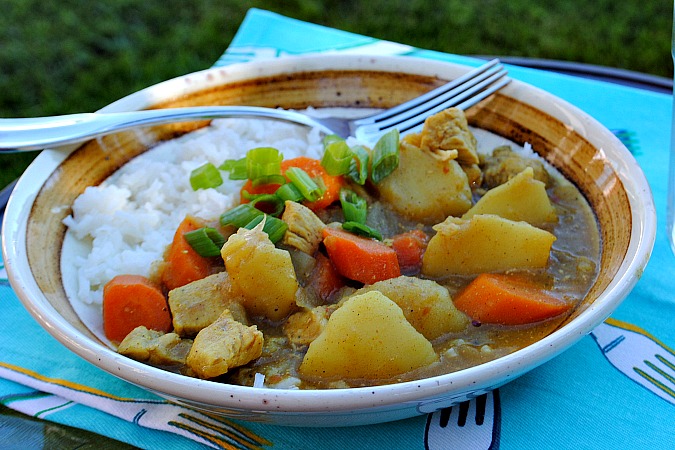 I was thrilled to finally have found the dish my taste buds had been looking for :). Nami says this is one of those go to dishes that she can make in a hurry or can count on. I think I have to agree now that I have made it twice because it's rather simple to make but taste like it's been simmering for hours. Curry can be made with chicken, shrimp, beef or pork even just vegetables so don't feel like this is the only way to make it. The first time I made it I added a bell pepper to the veggies and used chicken breast both times instead of thighs. Thigh meat is much more tender and would produce a more tender curry. I didn't have the availability to buy ready made curry roux so I followed Nami's simple directions to make my own. If you have ever made a roux for gravy it's very similar except the spices added here.  I hope you enjoy this recipe as much as I have, it will be made over and over again at my house.  Thank you Nami, for this wonderful recipe. 🙂
Japanese Curry
Ingredients:
1 pound of boneless skinless chicken thighs or breasts cut into bite size chunks
salt and pepper
2 carrots peeled and sliced
2 onions cut into wedges
1 large or 2 small potatoes cut into 1.5 pieces
1 tablespoon of grated ginger
2 cloves of garlic pressed
1 qt. chicken broth or water
1 apple peeled and grated
1 tablespoon of honey
2 tsp. salt
1 1/2 tablespoon soy sauce
1 tablespoon ketchup
Curry Roux:
3 tablespoons unsalted butter
4 tablespoons all purpose flour
1 tablespoon garam masala powder
1 tablespoon curry powder
1/4 teaspoon cayenne pepper(optional for heat)
Directions:
Step 1: Rinse chicken and pat dry with paper towel, trim fat, and cut into bite size pieces. Sprinkle with salt and pepper and set aside.
Step 2: Peel and cut carrots. Peel onion and cut in half and into wedges. Peel potato and cut into 1. 5 inch pieces and set in a bowl and over with water to take out the starch.
Step 3: Peel about a thumb size piece of fresh ginger and grate so it equals 1 tablespoon. Peel garlic and pressed.
Step 4: Turn on a large stock pot to medium high and pour about a tablespoon of vegetable oil let get hot and add the onions and cook until translucent, then add the ginger and garlic. Now add the chicken and cook until it changes color and it not pink any longer.
Step 5: Add the carrots, chicken broth or water and let it come to a boil. Skim the fat or scum that comes to the top.
Step 6: Peel the apple and grate it into the pot. Turn down the heat and add the honey and salt. Let it come to a simmer uncovered about about 20 minutes.
Step 7: Add the potatoes and cook for 15 minutes. While the potatoes cook make the curry roux.
Making the Roux:
Step 1: In a small saucepan melt the butter, when it's completely melted add the flour. Stir the flour around until the butter is absorbed into the flour. Keep stirring the flour butter mixture for about 15-20 minutes.
Step 2: Add the curry powder, masala powder and cayenne pepper stir and cook for 30 seconds. Take off heat.
Step 3:  Ladle some of the broth from the stock pot  into the saucepan and stir well.  Now add this to the stock pot and stir well. Add the soy sauce and ketchup and stir, let the curry cook on low until it thickens.
Serve with hot rice and garnish with green onions.