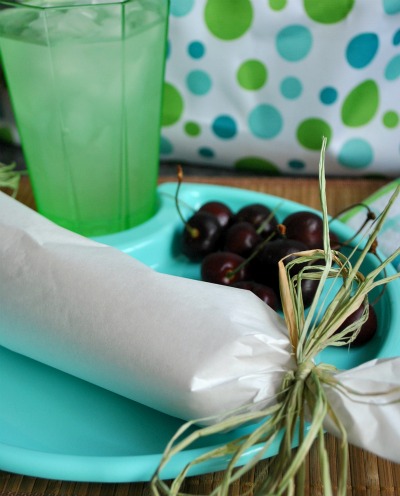 It's a wrap- unfortunately all good things must come to an end, well… my vacation to my home town has come to an end but I have this recipe as a remembrance of  a tasty lunch.  While I was in Southern CA. enjoying the beautiful weather and my family and friends, I happened to eat an incredible salad while meeting up with  my old friend Debi. We shared a huge BBQ Chicken salad at a local spot around town and I couldn't get it out of my taste bud memory so I had to re-create it.  I decided to make the salad in a wrap because its picnic season and I won a fabulous picnic basket set from a wonderful blogger Patti at Comfy Cuisine.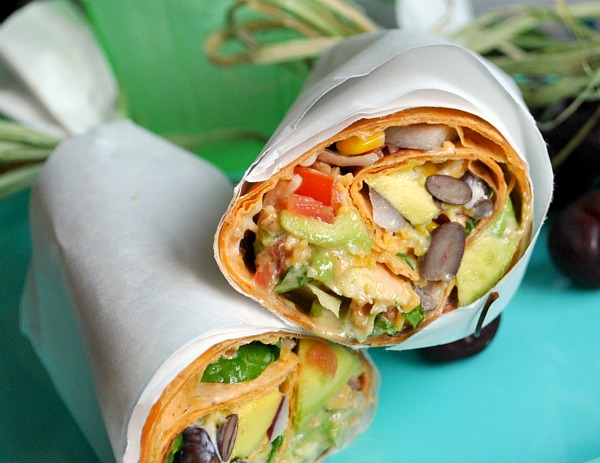 I have to brag for just minute on Patti, who not only is a blogger but a Pampered Chef consultant.  She was so generous with her readers by giving away a Pampered Chef' picnic set that came with a insulated collapsible basket, colorful plastic plates with cup holder right on the plate and matching plastic glasses.  The vibrant colors are perfect for Spring or Summer and the basket is big enough to take to the beach, lake or park for a picnic.  The only thing that was a bummer about getting the giveaway was, it wasn't filled with Comfy Cuisine food inside, but I guess the post office guy could have eaten it ;). Thanks Patti for this fun gift!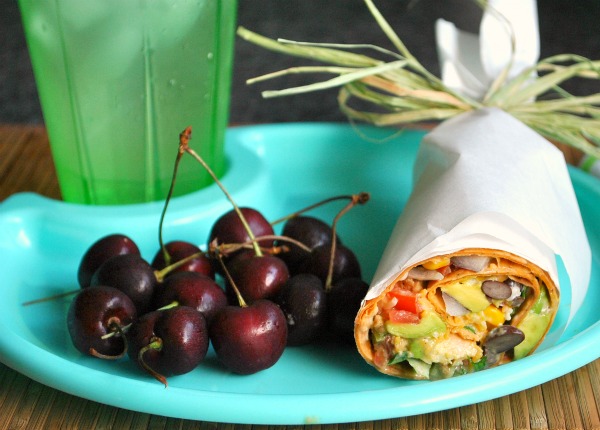 On to the tasty Southwest BBQ chicken wrap, like I said it is basically a salad wrapped up pretty to take in a basket.  The ingredients are all simple and can be changed for your personal taste.  Some of my favorite ingredients make up this wrap like black beans, avocado, corn, bell pepper, fresh home grown tomatoes, and of course grilled chicken and crunchy bacon.  The chicken is grilled first then cut into bite size pieces and covered with BBQ sauce. Crisp romaine lettuce sliced thin with your choice of cheese is sprinkled in and buttermilk ranch tops it all off.   When I took my firsts bite my taste buds agreed this was just like the salad I ate,  might I add, better 😉 I hope you agree if you try this recipe out yourself.
Southwest BBQ Chicken Wrap
Ingredients:
Grilled chicken or rotisserie cut into bite size pieces (about 1/2 cup per person)
Cooked bacon chopped about 2 per person
1 can of black beans rinsed and drained
1 cup frozen corn rinsed and drained
Cheese your choice, I used Colby Jack
tomatoes chopped
red onion chopped
avocado chopped
yellow bell pepper or what ever color you choose chopped
Romaine lettuce chopped thin
Large tortillas, I used Mission Brand tomato basil flavor
Your favorite BBQ sauce
Buttermilk Ranch dressing
Directions:
Step 1: Prepare all the salad ingredients and set aside. Mix rinsed and drained black beans and corn together into a small bowl and set aside.
Step 2: Marinate chicken for 5 hours in a large bowl in refrigerator or in plastic Ziploc bag. I used my marinade recipe here. The way I figure chicken per person is half a breast per person.
Step 3: Grill the chicken until done and let rest for a few minutes until cool enough to handle. Slice chicken into bite size pieces, put chicken in medium bowl and pour BBQ sauce over the chicken and mix well.
Step 4: Get a large piece of wax paper or freezer paper and lay a tortilla on it. Assemble the wrap by first laying down some romaine lettuce, then vegetables, beans and corn, chicken, bacon, cheese, finally pour your desired amount of ranch dressing on top. If you would like to gently mix the salad together you may or just leave it like it is and wrap up like a burrito. I like to close both ends of my burrito so nothing falls out.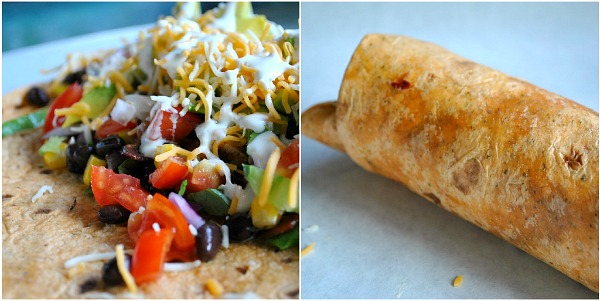 Step 5: If you want to make yours be wrapped up like the photo, I used freezer paper which has one side that is waxy so if something is wet or greasy it won't tear through.  If you don't have freezer paper then use wax paper then wrap it in whatever paper you have like butcher paper, wrapping paper etc. To wrap I use a rectangle piece and start at one corner and roll and wrap all the way up.  If using wax paper first then wrap up but tuck in your corners like the burrito then wrap it up in the prettier paper not tucking in the sides and tying ribbon on the ends.