Pin It
Lemons are one of the most versatile fruits in my opinion because it can brighten any dish in flavor and appearance. Lemon can be used in sweet and savory dishes and I can't decide which I prefer. I love baking so I probably use lemon in my baking more than I do in my savory meals. With that being said you might be wondering why then lemon infused olive oil? Olive oil is another lovely ingredients that is healthy for us and flavors dishes wonderfully so I decided it was time I combined the two for my cooking and get the benefits of both olives and lemons.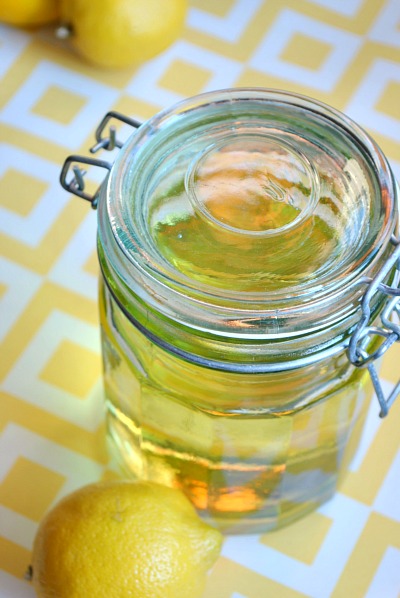 Now before I get started explaining the simple method I used for making this lovely oil I need to clear up a few things.  My blog site here has had some glitches as of late, security issues a few months ago and now design issues. My regular readers probably thought I fell off my rocker sending out posts half done.  Some were just photos as in this one with one sentence and other partial recipes with a photo or two.  I assure you I'm okay but some computer tech-y people are sometimes not so smart when it comes to how blogs work (if you are a tech-y and are literate here then I mean no disrespect) I talking about the ones who have never blog hopped long enough to know that we are not static pages on the web.  Consequently the people who were supposed to be fixing the problems kept posting drafts and checking to see if the problem existed with newly published posts. I'm happy to report (fingers crossed) that they are done TESTING DRAFTS and the problem is fixed 🙂
Lemon Infused Olive Oil & Site Maintenance
Ingredients:
lemons
Olive Oil about 3 cups
Sharp knife
Jars
Sieve
Directions:
Step 1: Wash lemons and carefully peel them. If you get any of the flesh with the peel then cut it off. NO FLESH CAN GO INTO THE INFUSING PROCESS since the oil is not being heated.
Step 2: Put peel into the the jar of your choice. I used 2 jars and because I didn't have a large enough jar at the time. One quart size jar would work fine.
Step 3: Pour oil into the jar and cover with lid and let sit for 2 weeks.
Step 4: Strain the oil through a sieve and discard the peel. Pour into a jar of your choice and enjoy.
If you are wondering how you will use this lemon infused oil just hang tight because I have a few recipes up my sleeve.  Come back to find out what I will be making with this oil sweet and savory. If you get started on making your own oil then by the time yours is ready I should have a recipe up for you, have fun.