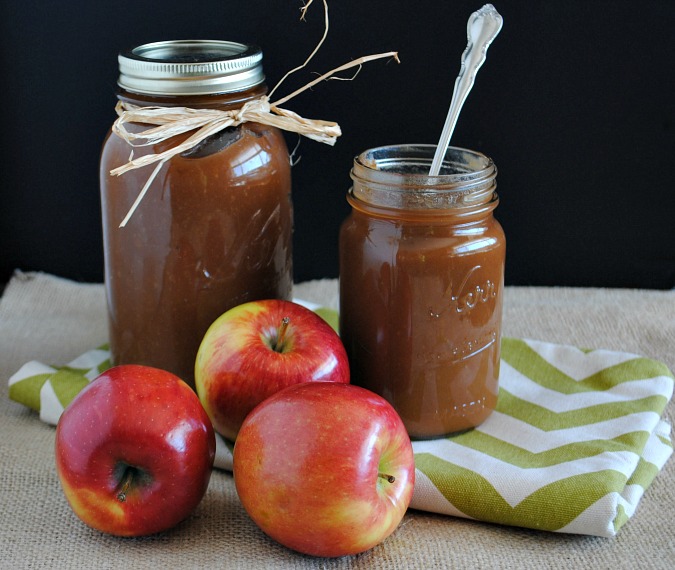 It really doesn't get any easier than this to make applesauce, really! I just tossed all the ingredients into the crock pot and waited and enjoyed the smell throughout the house for 12 hours or so! After about 12 hours I just used my immersion blender and blended it all up. It's up to you if you would like to run the sauce through a fine mesh strainer to get any small bits of skin out but it's not necessary.
The recipe here is not only easy it's really tasty as well. The great thing about making your own sauce is you get to sweeten it how you want or flavor it how you want, in fact you could leave out the honey if you wanted too and make it sugar free. I hope you give this recipe a try and enjoy making your own apple sauce the easy way.
How to make apple sauce in the crock pot
Ingredients:
4.5 pounds apples (I used a homegrown variety, I would recommend a tart variety)
2/3 cup honey
1 cup apple juice or water
2 tsp. ground cinnamon
pinch of ground cloves
1/4 tsp salt
Directions:
Step 1: Wash, core and slice apples. An apple corer works best but using a knife is fine too. You may peel the apples first, but I just left the peel on.
Step 2:Put the apples and the rest of ingredients into the crock pot and put the lid on, turn the heat to low, cook about 12 hours.
Step 3: Use and immersion blender and blend the apples in the crock pot until pureed well. If you do not have an immersion blender then put batches into a blender, fill to about half full , put the lid on the blend slightly ajar. (use a towel and hold onto the lid and puree) If you wold like to strain the apple sauce then use a fine mesh strainer and push through so that any pieces of skin are left behind.
Step 4: If wanting to can the apple sauce then follow canning directions for a water bath caner or click here to see the technique. I canned mine but you could probably freeze this as well by putting into a freezer safe container and dating it. This recipe made what you see in the photos, 1 quart and 1 pint, or 3 pint jars.