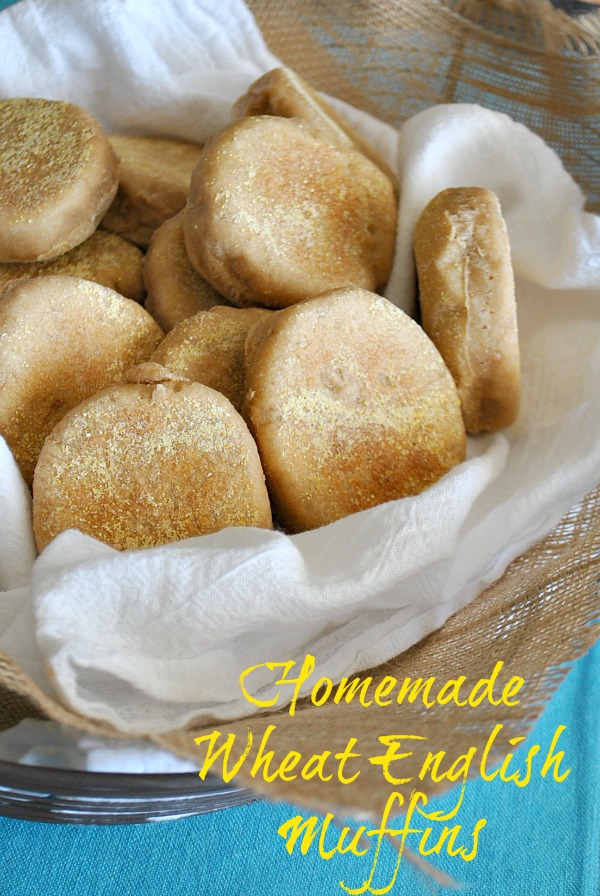 Have you ever thought of making homemade English muffins before? I hadn't either until just a few months ago, then as fast as that thought came it was replaced by something else. Well, the thought came again and this time I acted on it and made them.  I found a recipe for
whole wheat English muffins
and thought that sounded healthier and since we eat lots of egg sandwiches here at my house on English muffins why not make them better for our health too.  I also watched you-tube videos and looked at numerous recipes for English muffins and they all were very similar in ingredients, but some of the muffins in the dough stage were a lot more sticky than these. As I set out to make these muffins all was going well, I just got the dough mixed up and put the towel over the bowl to let them rise,  then my husband calls and says he needs me to come to his work for something that couldn't wait. I was not wanting to leave my dough in the refrigerator overnight but that is just what I had to do because the time window I had to make these muffins was now gone.  For my first attempt at making these muffins I consider it a success and plan to make them more often and maybe with just white flour too. Mine don't have the nooks and crannies like the popular version found in the grocery store but they were just as good. I think the reason no nooks or crannies was a factor had to do with my dough having to sit in the refrigerator overnight. Also be careful not to over work the dough. It was fun not baking these in the oven and seeing them rise on the pancake skillet. It felt strange not putting them on a cookie sheet and in the oven. I imagine these muffins came to be long ago by cooking them in a cast iron skillet over an open fire.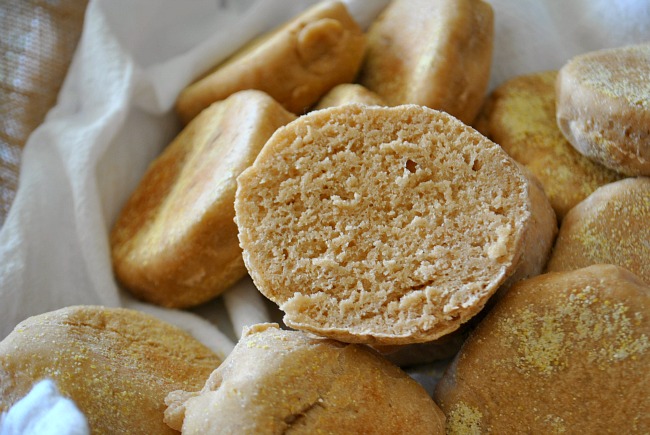 Let me just mention that my husband was the happiest one to find these muffins, because he is the biggest eater of English muffins in our house. He would probably prefer that I make them with white flour but he was happy none the less.  He enjoyed them his two favorite ways, an egg sandwich and smothered with peanut butter.
Homemade Wheat English Muffins
Ingredients:
Original recipe
1/4 cup warm water
1 package dry yeast (or 1 tablespoon)
2 cups whole wheat flour, plus more as needed ( I used white whole wheat)
1 cup white flour, or use all whole wheat –muffins will be more dense
1 tsp. salt
1 cup milk
3 tablespoons oil
1 tablespoon honey or sugar
1 egg
cornmeal as needed
Directions:
Step 1: Sprinkle yeast over warm (about 105° F. is ideal) water and let stand until foamy, about 10 minutes.
Step 2: In a large bowl, mix flour(s) and salt.
Step 3: In a separate bowl, mix milk, oil and honey. Add egg and stir until well blended. Stir in the yeast mixture.
Step 4: Add liquid to about half of the dry ingredients and mix well, with a stand mixer or by hand. Mix in remaining dry ingredients. Dough will be soft and somewhat sticky. Turn dough out onto floured work surface and knead for several minutes. If too sticky to knead, add flour, a tablespoon at a time. Put dough in an oiled bowl, cover with plastic wrap or a damp towel, and let rise in a warm place (see TIP) until doubled in size. Rising time will depend on temperature; allow about 1 hour.
Step 5: Turn risen dough out onto a work surface that has been liberally dusted with cornmeal and pat or roll to about 1/2″ thick. Cut into approximately 3 inch rounds with a cookie cutter, tin can, or jar lid. If you wish, combine the scraps of dough into more muffins, handling as little as possible. Cover the muffins with a towel and let rise for 20-30 minutes.
Step 6: Heat a griddle or large skillet over medium-low heat. Sprinkle with corn meal. Using a spatula, carefully transfer muffins to hot griddle. Cook about 5 minutes on each side, turn and cook for 2-3 minutes per side. Outsides should be golden brown and crusty, insides should be soft, but not gooey. For quality control purposes you might need to sacrifice a muffin or two testing purposes. Remove to cooling rack as they finish cooking. Cook the rest in batches.
English muffins are traditionally split open with a fork, rather than cut, and then toasted, but they will be good however you do it.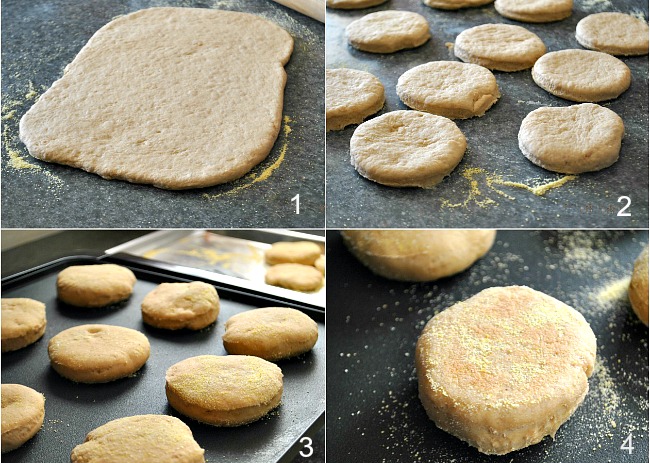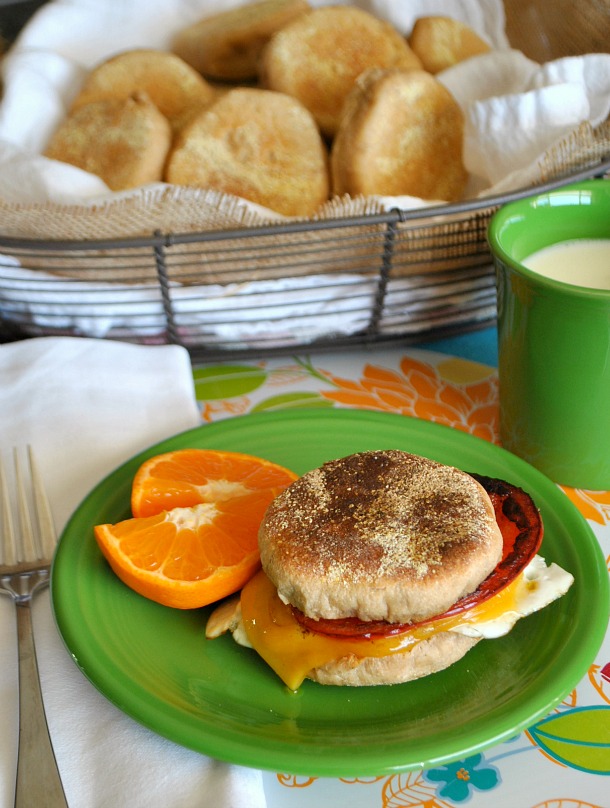 If you are interested in how to make the egg sandwich it's really pretty simple. Cook the egg over medium on stove top. I Roasted half a red bell pepper and put on top then a piece of cheddar cheese on a toasted English muffin and viola!