Warm, soft, garlic-y bread sticks just like the ones from a popular chain restaurant Olive Garden. Wait did I say "just like", I meant "better" than the bread sticks of a certain restaurant. I found this recipe from another blog called Full Bellies, Happy Kids when I was looking for a recipe for great bread sticks. I tried them twice and I think they will be made over and over again. The first time I made them, I did it all by hand, yep kneading the dough and all. It was a workout to say the least but they were good, well the second time I made them I let my stand mixer do the work and oh boy were these the best bread sticks I've ever had or made for that fact. If your experienced at making bread by hand with no stand mixer then go for it but if you have the stand mixer this is a very simple recipe and should turn out wonderful for you. One of the things I liked about this recipe is there is only one rise time, so they don't take too long to make. If you have little ones let them help you roll the dough into small snakes they will have a blast. If you try these bread sticks make sure you have some others to eat them with because I can't be blamed for you eating all of them :).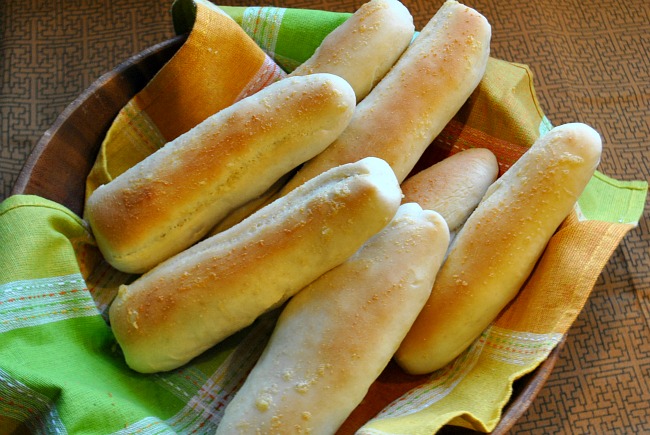 Homemade Soft Bread Sticks
Ingredients:
1 1/2  cups warm water
1 package dry yeast or 2 1/4 tsp.
2 T. sugar
4 1/4 cup all purpose flour
1 T. salt
2 T. melted butter
Ingredients for brushing on top:
1 stick unsalted butter (or 1/2 cup margarine)
2 teaspoons garlic powder
2 teaspoons salt
Directions:
Step 1: Heat water until warm but hot to touch. In small bowl put the sugar and yeast in and add the water, stir and let sit until frothy about 5- 10 minutes.
Step 2: In large mixing bowl of a stand mixer put flour and salt in and mix together.
Step 3:When yeast mixture is frothy add it to the flour then add the butter. With the dough hook attached turn on to stir and let mix together. If you see that the dough is a little dry you may add a tablespoon of water until it doesn't look dry and forms well together. Let it knead for about 5 minutes.
Step 4: Put dough on the counter and form into a square, then cut in half. Cut each half into 4th or until you have about 10 pieces, you can even go smaller to get 12 if you like. Now roll each piece like you would play dough into a snake, kids would love this part. Lay each bread stick on a greased cookie sheet and cover with tea towel or plastic wrap and let rise for 45 minutes to an hour.
Step 5: Preheat your oven to 400 degrees Fahrenheit,  then bake for 6 minutes. While they are baking combine the butter, garlic powder, and salt and microwave until all butter is melted. After 6 minutes, brush the bread sticks with half the butter mixture, then bake for 6 more minutes or until lightly browned. When they come out of the oven brush the bread sticks with the rest of the butter mixture and let cool until ready to eat.
NOTE: I think you could use half of the butter/garlic mixture, it seemed like too much for me and I had leftovers.