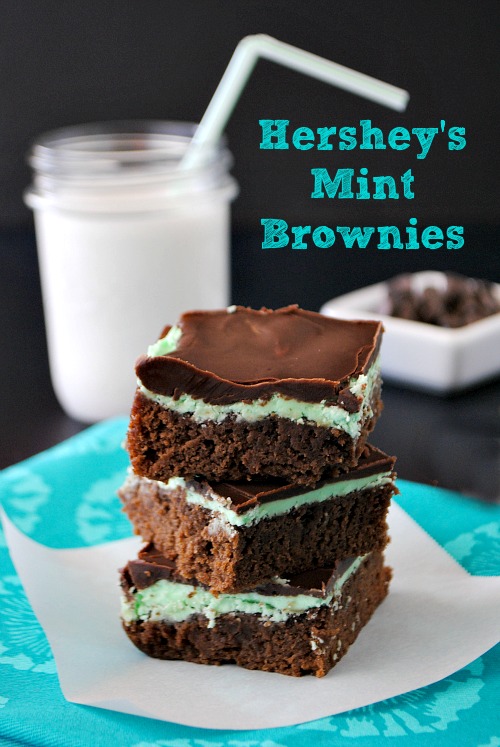 America's most popular chocolate has got to be Hershey's.  Hershey's chocolate is good and readily available to everyone, there are lots of different types of chocolate too.  Years ago back when we cut recipes out of magazines instead of copy and pasting on our computers, I cut this recipe out, but only recently tried them.  After concluding they were blog worthy and green for St. Patrick's day I decided to be share it with you for my first food post for this blog.   St. Patrick's day gives us parents a chance to make some fun memories with our kids, so I started this tradition of making something green for breakfast. One year it was pancakes and green milk, but pancakes are hard to die green without adding a ton of food coloring.  Another year on St. Patrick's Day I made green gravy over biscuits with eggs and that seemed to be the most memorable one the kids liked and wanted the following year. This morning I was reminded by my son as soon as I told him what day it was, "where is the green gravy and biscuits mom?"  Oops…I didn't wake early enough to make the gravy and biscuits so not wanting to let them down totally I made these delicious brownies.  These brownies are not the gooey type of brownies they are more cake like but really good none-the-less. As you read the recipe ingredients you might think I forgot the baking soda or powder but I didn't, it doesn't have any leaven-er in these except the eggs.  St. Patrick's day is definitely not the only time to enjoy these brownies so get into the kitchen and get started.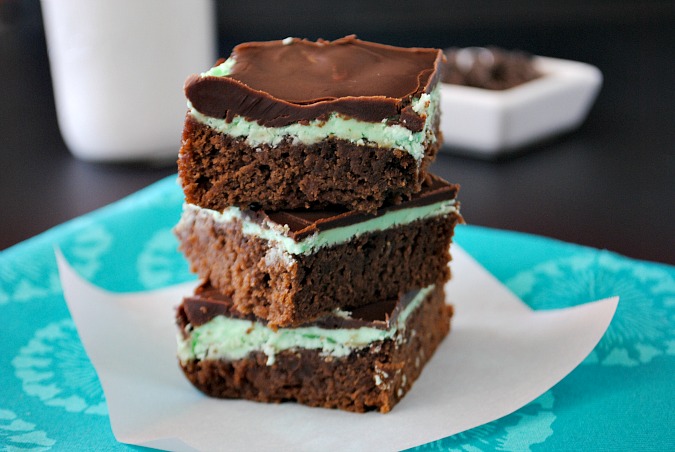 Hershey's Mint Brownies
Ingredients:
Brownies:
1/4 cup butter softened
1 cup granulated sugar
4 eggs
1 1/2 cup Hershey's chocolate syrup (16 oz. can)
1 cup all-purpose flour
Mint creme layer:
2 cups confectioner's sugar
1/2 cup butter softened
1 T. water
1/2 tsp. peppermint extract
3 drops of green food coloring
Chocolate topping layer:
1 cup dark chocolate chips
6 T. of butter
1/2 tsp. mint extract (optional)
Directions:
Step 1: Pre-heat oven to 350 F. Spray or grease a 9 X 13 in. pan.
Step 2: Cream butter and sugar together in a large mixing bowl, then add eggs and mix well.
Step 3: Add chocolate syrup and flour and beat well.
Step 4: Bake for 25-30 minutes. While the brownies are baking make the mint creme.
Step 5: Beat together confectioners sugar, soft butter, peppermint extract, and water until creamy and smooth.
Step 6: When brownies are done let them cool completely. After cooled spread the mint cream mixture on top careful not to tear the brownies. Refrigerate the brownies for about 15 minutes.
Step 7: After brownies chill make the chocolate glaze top. Melt the butter and chocolate chips together in the microwave stirring often until the mixture is smooth. If desired add additional 1/2 tsp. mint extract and stir well. Spread the chocolate glaze over the top of the brownies and smooth to the sides. Put the brownies back into the refrigerator to chill and the chocolate has set.
Step 8: Slice into 24 brownies.
Tip: Wipe the blade of the knife after each cut so the brownies have a cleaner appearance. Also you may heat the blade of the knife up with a hot cup of water and drying off before cutting to help cut through the cool brownies.