Pin It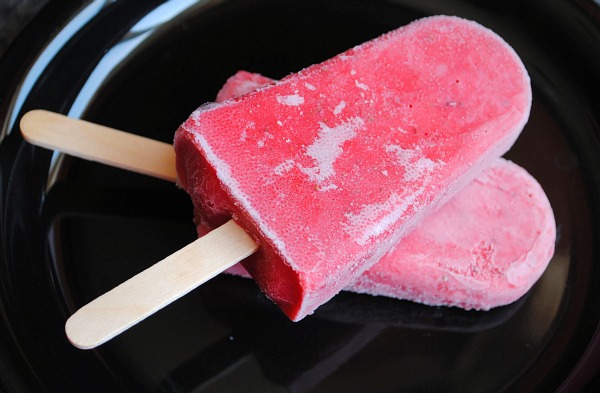 Today's recipe comes from a desire to eat healthier and loose a few pounds.  I know who doesn't want to loose a few pounds from time to time.  I have to be realistic because I love to bake and eat ice cream, so instead of eating a bowl of ice cream every night one of these little pops satisfies that ice cream habit.  I also found out my little boy really likes these strawberry pops so now I'm having to fight him for them, but I'd rather have him snacking on something healthy than the popsicles from the store.
Fresh strawberries have been seriously cheap around here lately so they have been my fruit of choice, plus I love em. I also experimented with bananas and strawberries which turned out yummy too.  I didn't want the snack to be all carbohydrates so I added some plain unsweetened Greek yogurt to give them some protein naturally. If your not concerned about the sugar content of your snacks then use vanilla flavored yogurt or any other flavor you like but be sure to taste before adding any additional sweetener. If you are lactose intolerant then try using tofu for the added protein.  As for added sweetness I used agave syrup which is supposed to be all natural, not sure about that but at least it made me feel better 🙂
Another plus to making these little treats is they are super easy to do and little hands can help too.  Summer is fast approaching us, sooner than later here because it was 90 + degrees yesterday and I can't think of a better snack to cool off with then a healthy frozen fruit  pop.  Having made two different type of frozen pops I keep thinking of all kinds of fruit combos to try like; kiwi- strawberry,blueberry-banana, blackberry-raspberry, watermelon and cantaloupe too,the flavor combos are endless so be creative. It's amazing how eating  fresh fruit with yogurt seems sooo boring, but mix them up and freeze and it feels like an indulgence and that's what I am looking for. Eating healthy is all about planning, planning and more planning and enjoying the taste and textures of the food your eating.  It's much easier to eat diets full of fat and less nutrition because its so readily available but with practice eating healthier can be just as satisfying and simple too.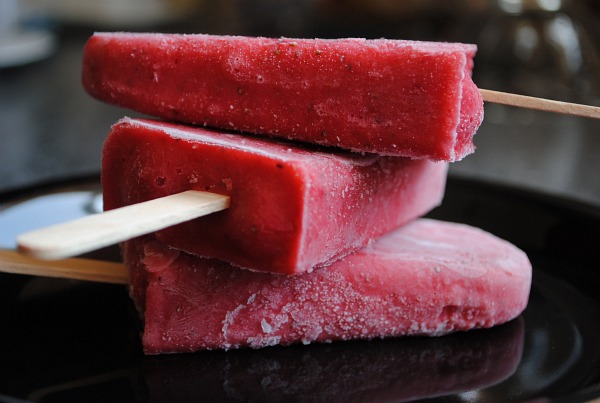 Healthy Frozen Strawberry Popsicles
Ingredients & Supplies:
1/3 cup plain Oikos Greek yogurt
1/8 cup agave syrup
1 pint of berries
Popsicle sticks
Popsicle mold or small cups
clear plastic wrap or foil
food processor or blender
Frozen Strawberry Banana Pops

Ingredients:
1 pint of strawberries
1 ripe banana
1/3 cup Greek Oiko plain yogurt
2 T. agave syrup

Directions:
Step 1: Gather all the ingredients and supplies, wash berries, cut stems off and run then through the food processor.
Step 2: Measure yogurt and agave syrup and add to the berries in the food processor and turn on until smooth.
Step 3: Pour berry mixture into the popsicle molds or cups
Step 4: Cover with Press and Seal plastic wrap or foil and make a slit in the middle of each popsicle with a sharp paring knife.
Step 5: Put popsicle sticks in the middle of each mold and push almost to the bottom, put in the freezer for 4-5 hours or until frozen.
Step 6: When frozen solid if using reusable plastic molds then run them upside down under warm water for a few seconds, then gently un-mold.  If using paper cups just tear the paper cup on the side and pull off.
If you have little ones you might as well plan on making these over and over again because they will become pretty popular and your freezer will not stay closed.  Have fun and enjoy the fruits of Summer.