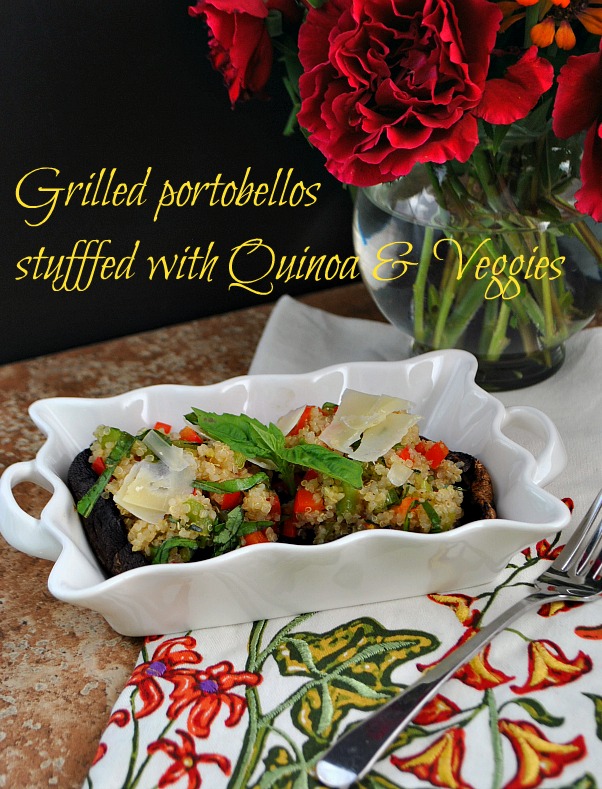 Lunch for 2 became lunch for one as I was making this my husband fell asleep after a long week of work and I didn't have the heart to wake him up or the will power to eat just one ;). I justified saying he really doesn't love mushrooms like I do and all this healthy food isn't really his thing. I did save him some in the form of half a stuffed bell pepper which he probably was thankful for anyway. The one who would have enjoyed this dish was my teenage daughter but she was out with her friends so she didn't get any either, what's that saying you snooze you loose.
If I must say so myself this healthy lunch was fabulous, I'm mean really packed with flavor and goodness. This is only my second recipe with the grain quinoa, my first recipe I made was a Greek Salad. I'd like to incorporate more quinoa into our diet since it's so healthy and it easily takes on what flavors you add to it, much like couscous, rice or orzo. The layers of flavor in this recipe start with the quinoa. I began cooking the quinoa in chicken broth but stock would have been better, then I added garlic powder and cayenne pepper. Next, I tossed a little olive oil and raspberry balsamic vinegar, salt & pepper on the portobellos, I grilled them for about 8 minutes or so. Grilling them gave them that little smokey flavor I like. Finally, I sauteed the veggies together in olive oil until crisp tender and then added about 1/2 cup of quinoa to them. I chopped some fresh basil leaves stirred them in to the quinoa veggie mixture. Last I piled on the quinoa onto the grilled portobellos, added some shavings of Parmesan cheese and viola! Sounds pretty simple right, well is really was.
Grilled Portobellos Stuffed with Quinoa and Veggies
Ingredients:
2-3 portobellos
1/2 cup dry quinoa
1 1/2 cup of chicken broth or stock
1/2 tsp. garlic powder
1/8 tsp. cayenne pepper
1/2 cup finely chopped red bell pepper
1/4 cup finely chopped celery
1/4 cup finely chopped green onion
1/2 cup grated zucchini
1 clove garlic pressed
T. chopped basil leaves
Parmesan cheese for garnish
olive oil
raspberry balsamic vinegar or regular balsamic
Directions:
Step 1: Measure the dry quinoa and then rinse thoroughly. After rinsing put into small saucepan and add the broth, garlic powder and cayenne pepper. Turn heat to high and let it come to a boil then simmer until the quinoa has absorbed the broth.
Step 2: Wipe off the mushrooms and then with a spoon gently scrap out the gulls or inside of mushroom. If the stem is still in it then cut that off level to the inside of the mushroom. Sprinkle the mushrooms lightly with olive oil then raspberry balsamic vinegar making sure both side are coated lightly, then set aside.
Step 3: Saute the bell pepper, celery, green onion, and zucchini in about a tablespoon of olive oil until they are crisp tender, about five minutes. Toward the end of cook time add the pressed garlic to the saute pan and gently stir not letting the garlic burn. When the veggie are cooked to your liking add about 1/2 cup of cooked quinoa to the mixture and stir together. Add about a tablespoon of fresh chopped basil and stir then set a side.
Step 4: Grill the mushrooms on a hot grill for about 4 minutes on each side, they will turn darker and shrink some as well. If you do not have a grill then roast them in the oven on Broil about the same amount of time but keep and eye on them so they do not burn.
Step 5: With tongs put the mushroom on a serving plate and fill with quinoa mixture. Add shavings of Parmesan for garnish and enjoy.
Notes:
Depending on the size of your mushrooms you might have some left over filling then just eat it or stuff something else like a half of a grilled bell pepper.
 You will have plain quinoa left over for sure you can use it for salad or side dish or freeze in an airtight container for another use.