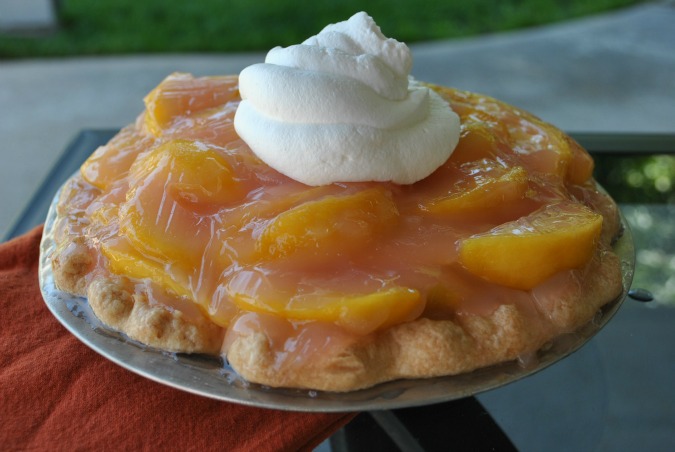 Summer fruit is here and all the many fruits of the season. My sister-in-law makes the best fresh peach pie, I have requested it on my birthday and for other special occasions.  Because this peach pie  is one of life's special treats I'm sharing her recipe with you. It's simple and so delicious you will love it. Go on..get some fresh ripe peaches and your favorite crust recipe and get busy, you will thank me later 🙂  Make your favorite pie crust or buy one but if you don't have a favorite then my friend Maria at
T
he Mother Huddle
has a really good one. After you make the pie crust and bake it, let cool and start working on the yummy filling.
Fresh Peach Pie = Summer-licious
Ingredients:
6-7 peaches depending on the size, more if small, peeled & sliced
1 cup sugar
1 cup water
2 T. peach or orange jello un-cooked
4 T. cornstarch
1 cup heavy whipping cream plus 3-4 T. granulated sugar or can use cool whip
Directions:
Step 1: Cook water, sugar,jello, and cornstarch in medium saucepan until thick.
Step 2: Cool filling then put a layer on the bottom of the pie crust.
Step 3: Add a layer of peaches then filling until you have 3 -4 layers
Step 4: Whip 1 cup whipping cream with 3-4 T.  granulated sugar until stiff peaks form.  Spoon cream onto pie or save in the refrigerator and put a spoonful on each piece of pie and refrigerate a few hours until set and ready to serve.